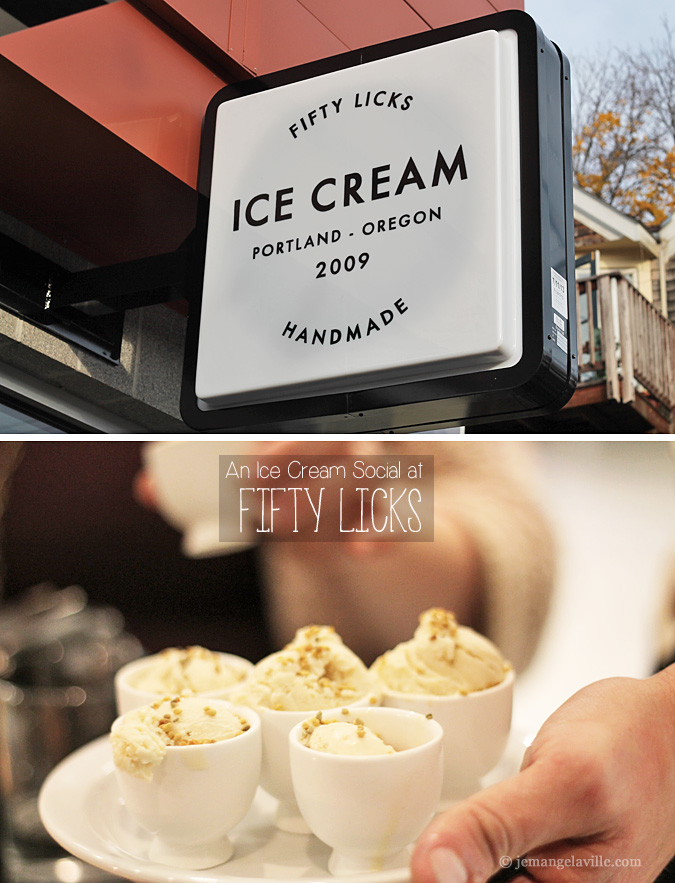 Fifty Licks
2021 SE Clinton Street
Portland, Oregon 97202
Last week, I was invited to an event at Fifty Licks – an ice cream social. Myself and about seven other bloggers tried ice creams, sorbets, and cocktails. And for once, I wasn't the only one taking photos of my food. (That's not even true anymore — it seems a lot of times when we go out anywhere, the people next to us are photographing their food as well. Sigh).
Anyway. This awesome evening at SE Portland's Fifty Licks started with owner Chad Draizin (pdx transplant all the way from south Florida) making Cafe Cubano (Cuban coffee) for everyone and then we dug into the many ice creams, sorbets, and cocktails!
We tried: Stumptown Coffee, Tahitian Vanilla, Oregon Raspberry, Toasted Milk, Jasmine Tea, Blood Orange Creamsicle, Passionfruit with Sichuan Peppercorns sorbet, Coconut Lemon Saffron sorbet, and Chocolate with Toasted Oat Milk sorbet. Oh and also the Furac̣o, Nordic Palmer, and Velvet Shiso cocktails. The ice cream and sorbet flavors were really clean and well defined. No tricky, fancy business going on here Рjust really great ingredients and full, full, amazing flavor!
In a genius and daring move that had everyone marveling at the taste (but also running for glasses of water) the Passionfruit Sichuan Peppercorns was topped with the Ghost Pepper Salt and distributed to all. Oh, and yes. There are surprising and inventive toppings. Also available are bee pollen, and Ovaltine.
Before leaving, we each got an adorable box pint of Cherry Bourbon ice cream to take home. Delicious! We actually finished that off just last night. I can't wait to head back and try more flavors soon, this time with jwa in tow.
I especially want to grab an affogatto made with the Cafe Cubano. Although, the Chocolate with Toasted Oat Milk sorbet was delicious too (we got a sneak peek taste of that one) – maybe with some Ovaltine on top. I'm really glad we're in the neighborhood!