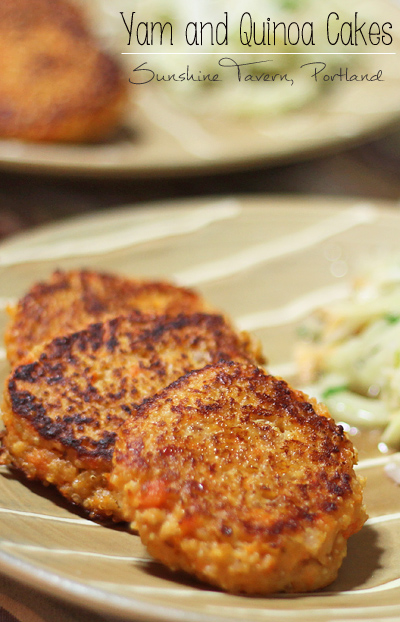 Sunshine Tavern
3111 SE Division Street
Portland Oregon 97202
Seeing that we live just a few blocks away, occasionally we will head out to Sunshine Tavern for pizza and burgers (and of course cocktails and maybe even some candied hazelnuts to start). This is just what happened last Tuesday when we ended up splitting the Garnet yam and quinoa cakes w fennel and almond as a snacky beginning to our meal. And wow – they were so good.
I'm always on the hunt for new quinoa/interesting whole grains recipes and this one definitely got my attention with the warm spices, creamy yam, and a fennel shallot salad on the side. I really wanted to try and reverse-engineer it at home but then I thought maybe I could try and get the actual recipe. It only took asking one contact and I got an email for Jenn Louis, Chef/Co-Owner of Sunshine Tavern. So I sent her a message, asked her for the recipe, and if I could post it here. She got back to me an hour or so later with the recipe. So cool!
This dish will work with either cooked, mashed garnet yam* or pumpkin puree. I would gather that at home, there's no shame in using canned "pumpkin" if you had some on hand that you needed to use. That always happens to me, actually — around October/November, it seems I have about half a can of pumpkin puree that I need to use up. Also, I think this would make a great Thanksgiving side, a way to use up leftover pumpkin/yam from your Thanksgiving feast, or just a really tasty Meatless Monday dinner anytime of year.
Also, be assured that this recipe is quite easy to pull off at home. You probably even already have everything needed. And if you don't have rice flour, it's available in the bulk section at Fred Meyer (and probably other grocery stores). You should get about 14 yam and quinoa cakes from this recipe, which if you figure two (maybe three — if you didn't have lunch) cakes per serving, this will give you about 5-7 servings.
On the side we had a fennel and shallot salad, much like the plate we got at the restaurant.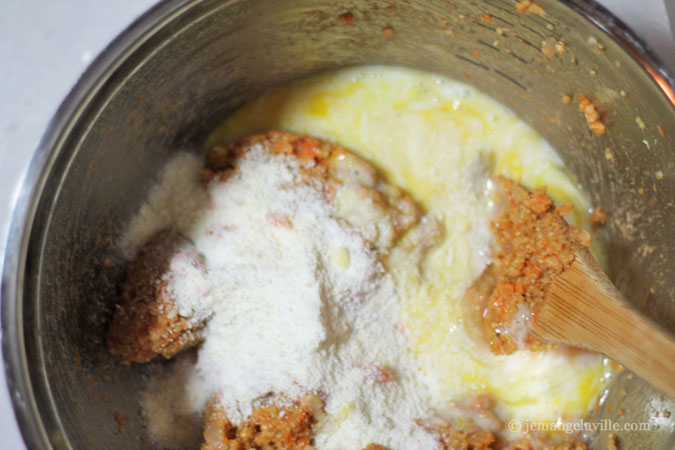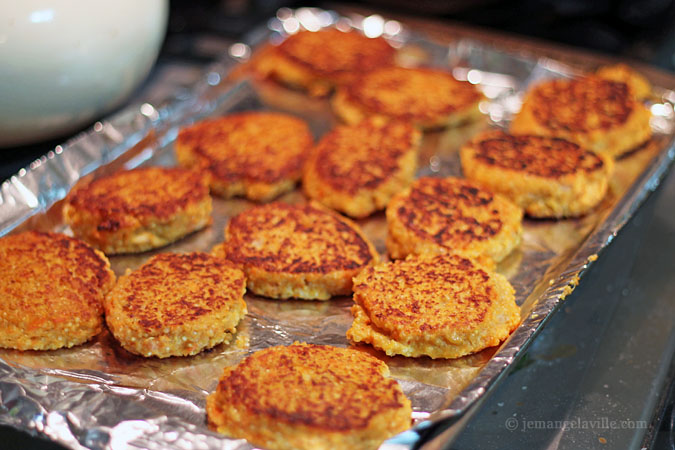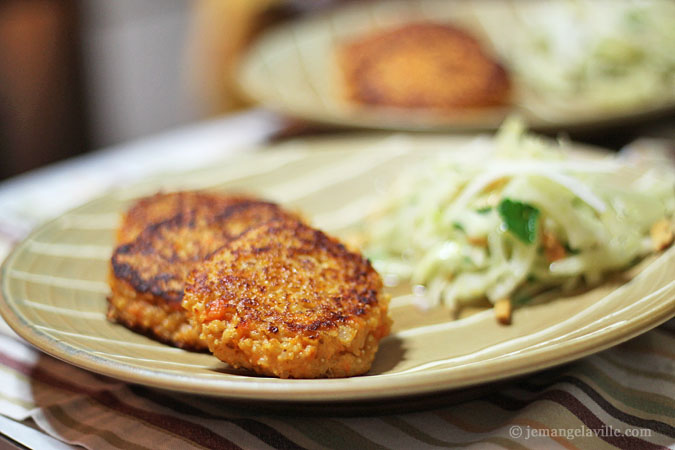 And here's an idea for leftovers: The next evening we each had a yam and quinoa cake reheated (in the oven at 400 degrees F for about 10 minutes), with a poached egg on top. So delicious — in fact, I think that will be a Sunday brunch dish at our house very soon.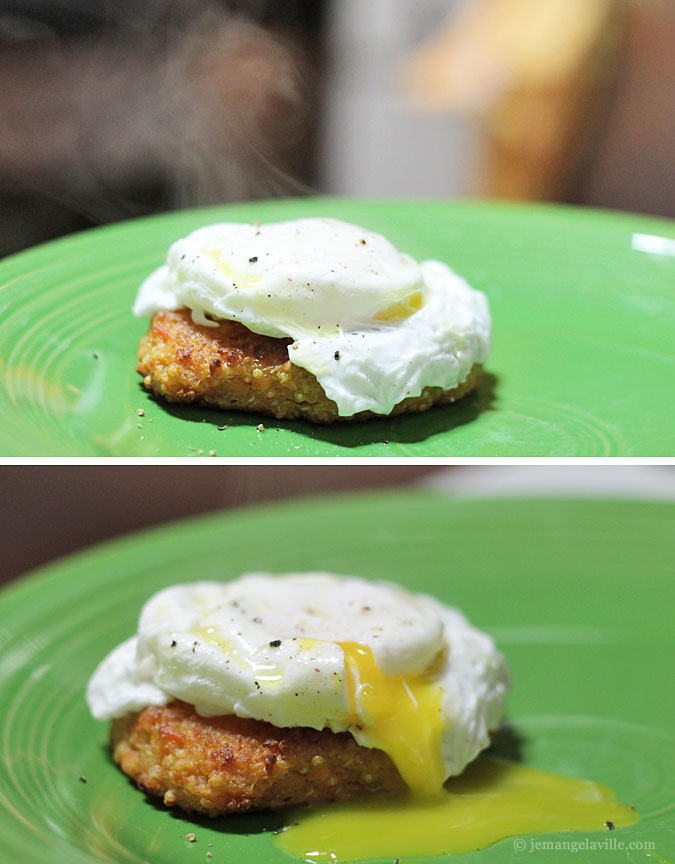 Garnet Yam and Quinoa Cakes
Recipe courtesy Jenn Louis – Sunshine Tavern, posted with permission; Serves 7.
1 cup Quinoa
1 cup cooked, mashed Yam (or Pumpkin Puree)
½ cup Yellow Onion, small dice
2 cloves Garlic, minced
1 tsp whole Coriander Seed
1 tsp whole Cumin Seed
1 tsp Chili Flake
2 Tbsp Olive Oil
2-½ tsp Kosher Salt
½ cup Parmesan Cheese, grated
¼ cup Rice Flour
2 Eggs
3 Tsp Buttermilk
Canola/Olive Oil blend for frying the cakes
Grind coriander, cumin and chili flake in a spice grinder or with a mortar and pestle until very finely ground.
Heat oil in a medium saucepan over medium heat. Add onion, garlic, spices and quinoa and reduce heat to medium low. Cook, stirring frequently, until the onions are translucent and the quinoa is lightly toasted. Do not brown onions and garlic. Add 2 cups of cold water and 1 teaspoon salt to the saucepan and bring to a simmer. Cook over low heat, stirring occasionally, until all the water has been absorbed and the quinoa is fully cooked. Transfer cooked quinoa mixture to a sheet pan and cool in refrigerator.
In large bowl, combine cooled quinoa, mashed yam (pumpkin puree), 1 ½ teaspoons salt, eggs, buttermilk, rice flour, and Parmesan. Mix gently until thoroughly combined.
Heat 1 tablespoon of canola/olive oil in a large cast iron skillet over medium heat. The oil should be hot but not smoking. Using a ¼ cup measuring cup, drop scoops of the mixture into hot oil and press down lightly with the back of a spoon to form an even patty.
Cook until the cake is crisp and golden brown on one side, then flip and brown the other side. Repeat with additional cakes using additional oil to coat the bottom of pan.
—
* I simply peeled a medium yam, diced into 1-inch cubes (or there-abouts), and covered with water (added a little of salt) in a pot. Brought to a boil, then simmered for about 15 minutes (or until fork tender), drained, mashed, and measured out 1 cup.
—
Thanks again, Jenn! 🙂