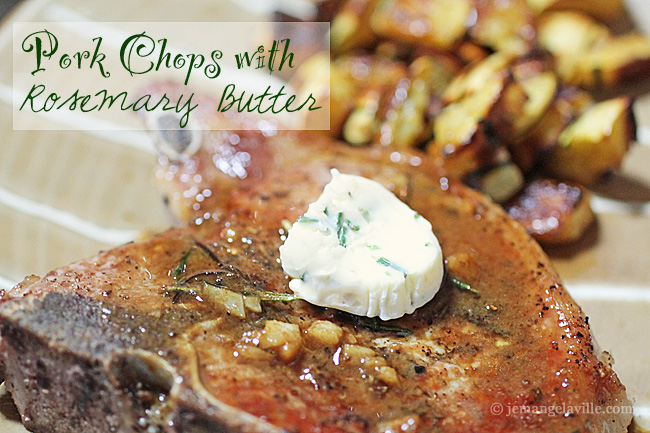 This week's French Fridays with Dorie was originally Veal Chops with Rosemary Butter, but I decided to use pork instead for something I like to call: "Pork Chops with Rosemary Butter." If you want the original recipe, it is online here: Veal Chops with Rosemary Butter.
Now that we've got that intro out of the way, I'd also like to add that I am extremely excited for the International Food Bloggers Conference next week in Seattle and meeting up with a bunch of FFwD people there (as well as seeing Dorie Greenspan, who is the keynote speaker at the conference)! Here's my post about the one I attended last year in Portland. As you can see, I'm expecting this year to be just as delicious.
But back to FFwD: Aside from the pork for veal swap, I stuck mostly to the recipe, we did have some roasted delicate squash (from our garden) on the side. All in all, a pretty wonderful Thursday night dinner by any standards!
My photos are below and a link to everyone's posts are here.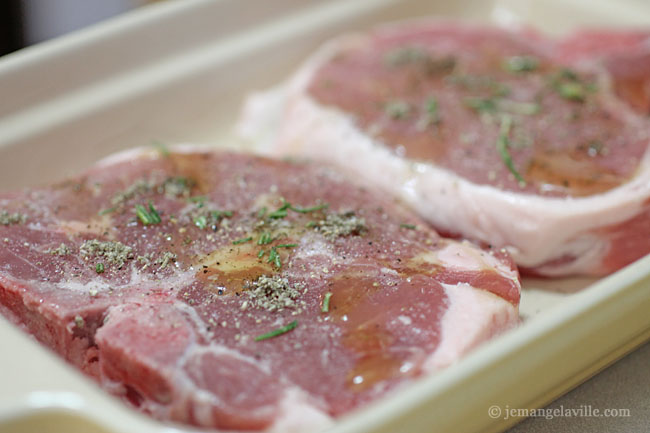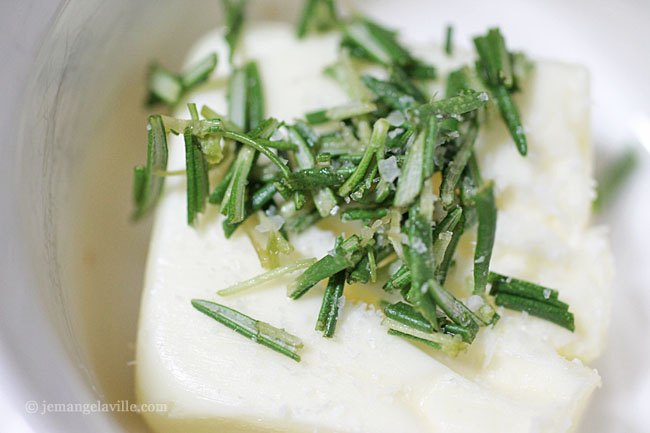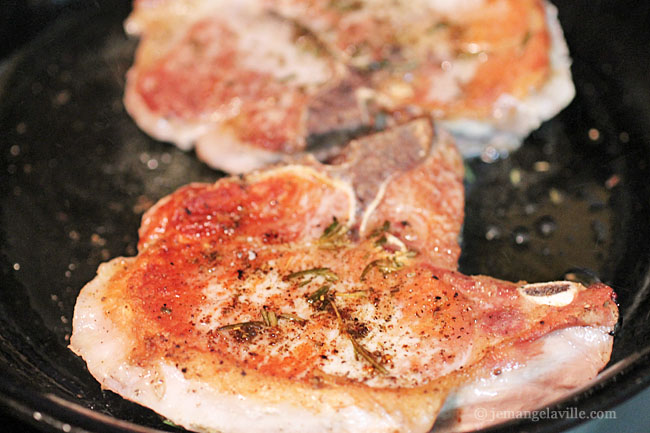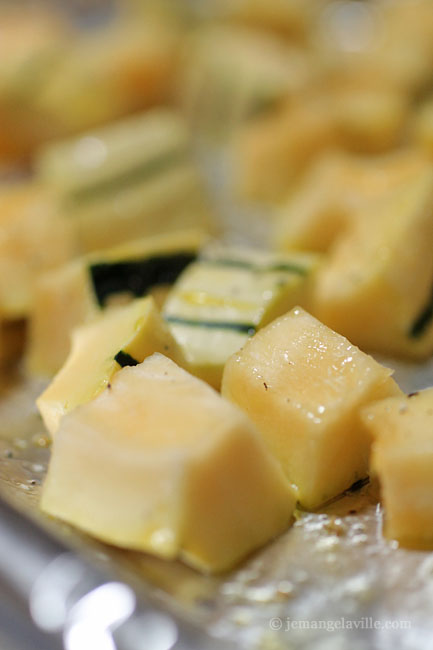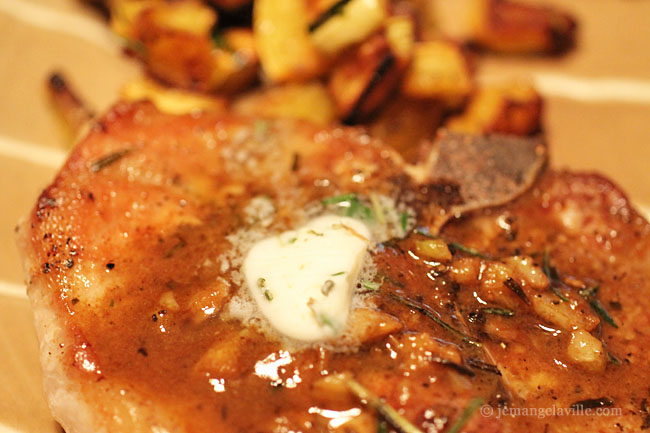 Pork Chops with Rosemary Butter
Adapted from a recipe in Around My French Table with Dorie Greenspan; serves 2.
2 Tbsp unsalted butter, room temperature
2 tsp minced fresh rosemary, divided
1/4 tsp Garlic Powder
1/2 tsp dried, rubbed Sage
Kosher Salt & Black Pepper
2 3/4-inch thick, bone-in Pork Chops
2 Tbsp olive oil, divided
1 2-inch-long fresh rosemary sprig
1 garlic clove, flattened
2 Tbsp Vermouth or dry White Wine
2 Tbsp low-sodium Chicken Broth
Mash up butter, 1/2 tsp chopped rosemary, 1/4 tsp garlic powder, and pinch of salt in small bowl to blend. Wrap rosemary butter in plastic wrap, forming a small log. Chill at least 2 hours. Arrange chops in single layer in large baking dish. Drizzle with 1 tablespoons olive oil. Sprinkle with remaining 1 teaspoon rosemary the dried sage. Sprinkle liberally with salt and pepper. Rub oil and seasonings into chops. (Cover with plastic wrap and chill for at least five hours and up to overnight. Let stand at room temperature one hour before continuing.
Heat 1 tablespoon olive oil in heavy large skillet over medium-high heat. Add rosemary sprig and garlic. Sauté until garlic is fragrant, a bit crispy and golden, about 2 minutes. Remove rosemary sprig and garlic, discarding rosemary, chop garlic into small pieces. Set aside.
Add chops to skillet; cook chops about four minutes, flip over and cook another 3-4 minutes. Cook pork until a meat thermometer reads 140 – 145 degrees F. Transfer chops to plate and tent with foil.
Pour off drippings from pan. Reduce heat to medium, add wine to skillet and cook, scraping up browned bits, about 30 seconds. Add chicken broth; cook until reduced to about 30 seconds. Add reserved, chopped crispy garlic. Drizzle over chops.
Cut two slices of rosemary butter off log and place one on each chop (you will have a little butter leftover and serve.
Roasted Delicata Squash with Maple and Dijon
Serves 2.
1 Delicate Squash, washed sliced in half, seeded, and chopped into 1-inch pieces
Salt & Pepper
1 tbsp Olive oil
2 tsp Dijon Mustard
2 tsp Maple Syrup
1/2 tsp chopped, fresh Rosemary
Preheat oven to 425 degrees F. Toss squash cubes with olive oil, salt, and pepper. Spread out on an aluminum foil lined baking sheet and roast for 20-25 minutes. In a bowl, whisk together syrup, mustard and rosemary. When squash is done, toss into the bowl with maple and mustard. Stir to combine and serve with pork. Also, drink wine.
PS: I've been working on a freelance food photo project that is super fun, but also very time consuming. I should be done this weekend and hope to get back to at least two posts per week very soon. Hooray!