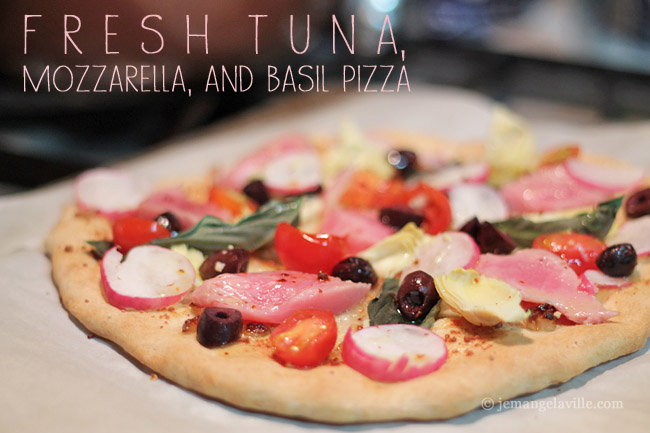 This week's French Fridays with Dorie is one of my favorites – Fresh Tuna, Mozzarella, and Basil Pizza and the recipe is even online here. So delicious!
I did change some things though — I made individual sized pizzas (8-inch) rather than the appetizer-sized 4-inch ones. Also, instead of puff pastry, I made actual pizza dough. This recipe, which is a favorite (with half AP flour and half spelt flour). And, let's see….oh yes! I added the mozzarella and onions to the top of the dough for the initial 15 minutes it was baking. Because, come on, you need bubbly, golden mozzarella and roasted onions on a pizza, right? Right.
I also added artichoke hearts (because I had some I needed to use). But that's really all I changed. I thought the 2-3 minutes after adding the tuna was even a bit too long — on the first one the tuna got a bit more done than I wanted, but I gave the second pizza closer to 1-1/2 minutes back in the oven and that seemed to be good. Both jwa and I thought the fresh ginger gave it a surprising kick. And as a local rec, I loved the fresh mozzarella I got at Zupans.
I bet there will be a lot of interesting variations this week! Check them all out here and my photos below.
PS: Basil was from the garden. Hooray!