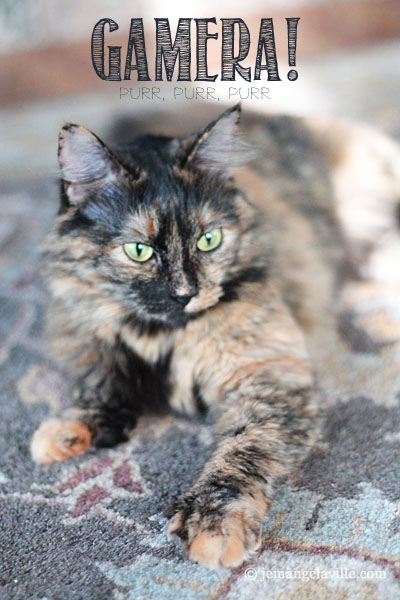 So, this blog has always been occasionally, cat-like, but we've recently had a five month break from the pitter-patter of little feline feet after Chelsea and Spencer left us.
Last Sunday, we were out looking for a new TV and I dragged jwa into first a Petco and then the Petsmart to meet a couple of Cat Adoption Team kitties I had been stalking on online. We met Brina, Sophie, and Phillip — all were very sweet. But, then we met Pinterest and it was all over!
Pinterest has now been renamed Gamera! And she has her own theme song.
When she's not busy fighting monsters in Japan, being featured on MST3K, or being a friend to all children, she is lounging around the house looking pretty damn cute!
Gamera is a four-year old, medium hair tortoiseshell and also polydactyl ( she has six toes on each front paw).