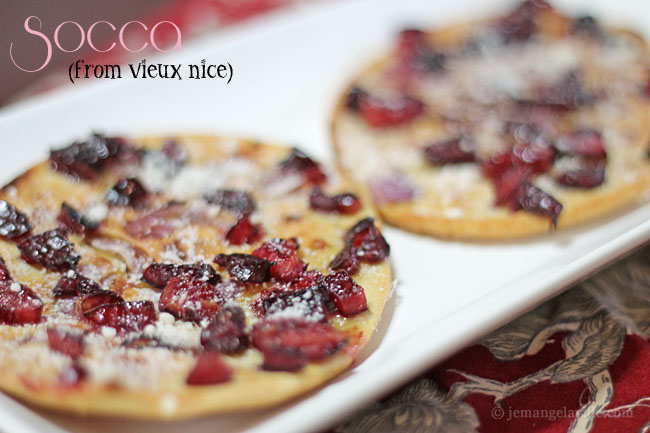 This week's French Fridays with Dorie was Socca, which, believe it or not, I've made before. And because of that, I already had some Bob's Red Mill Garbanzo Fava Flour. I know the Dorie recipe calls for Garbanzo Flour only, but since I had the mix I decided to go ahead and use it. It worked just fine.
I liked this socca version better than my previous attempt as it turned out much thinner and crispier. I made a half recipe and used two small pans. Also, because I need to clean the oven, I only baked the socca at 475 degrees F (instead of 500).
Instead of leaving my Socca plain, I decided to add some chopped red onions to the top while cooking, and then added some halved cherries while it was under the broiler. I finished with a small sprinkle of Parmesan Cheese. These made a great snack for two before we headed out to see Much Ado About Nothing.
Okay, my photos are below and here's a link to everyone's French Fridays posts.