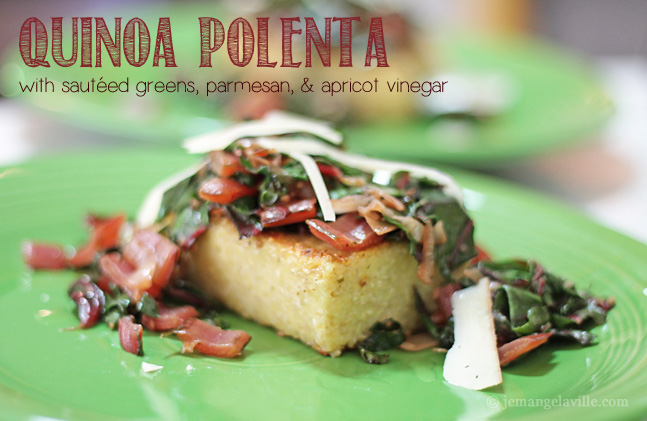 Oh my god, I love polenta. Creamy polenta, sautéed polenta — doesn't matter. I just wish corn was healthier than it is, especially when I could probably eat polenta multiple times per week. I think I have found a solution! Polenta that is half traditional polenta and half quinoa! Because quinoa is good for you, it all works out.
I wish I could take credit for the idea, but I actually saw it at the store. You know those little tubes of pre-made polenta you can buy? Well, that polenta isn't that great compared to homemade, but they also now make a quinoa polenta version. I saw it the other day and I couldn't believe what a great idea it was. So, I made my own at home.
I had also recently just made some apricot vinegar and although we had been using it in wonderful salad dressings all week, this dish seemed like a great use for it as well. I love making polenta with sautéed greens, so I just stuck to that theme here. I used some rainbow chard and used the same cooking technique as I did here, but you could really use any greens.
There are a lot of steps, but you can make the apricot vinegar anytime during a two week period, and then cook up the polenta the night before you want to put the dish together. With a little planning, this can even be a super easy weeknight dinner!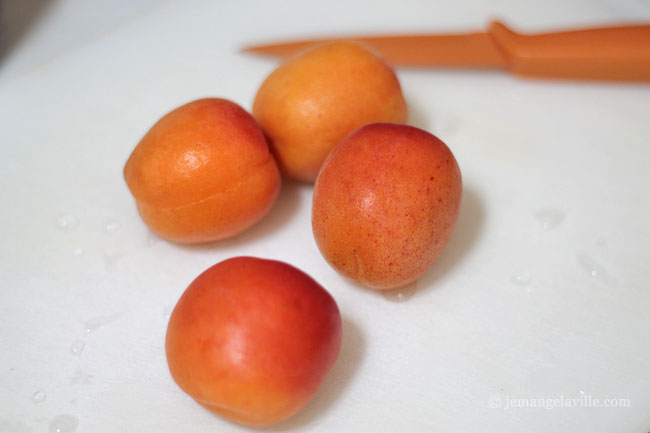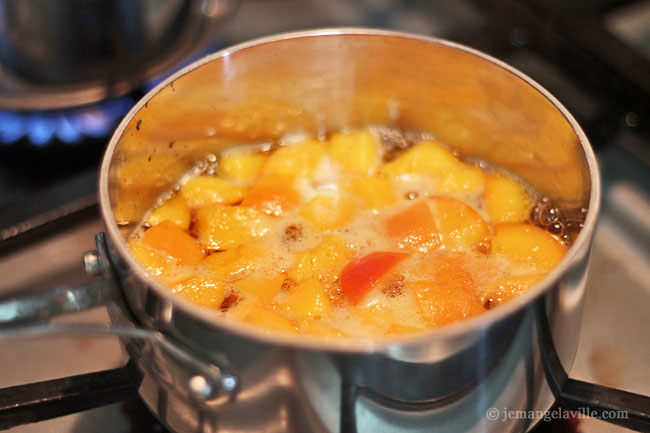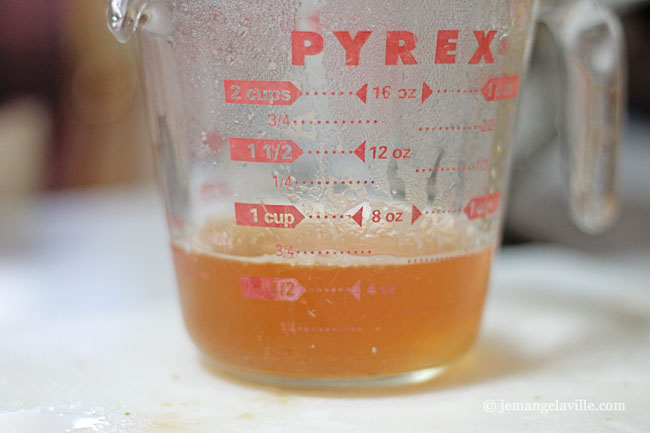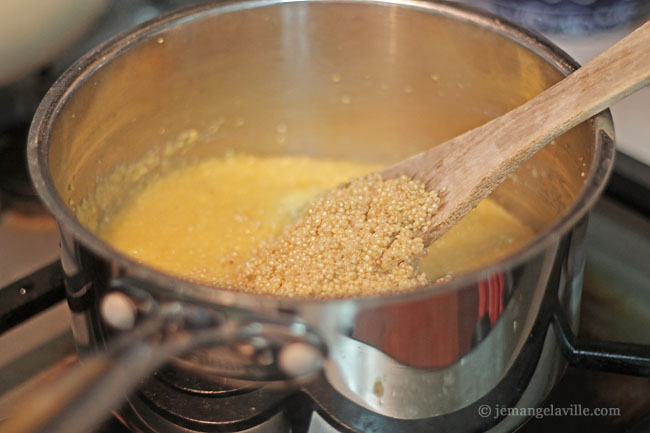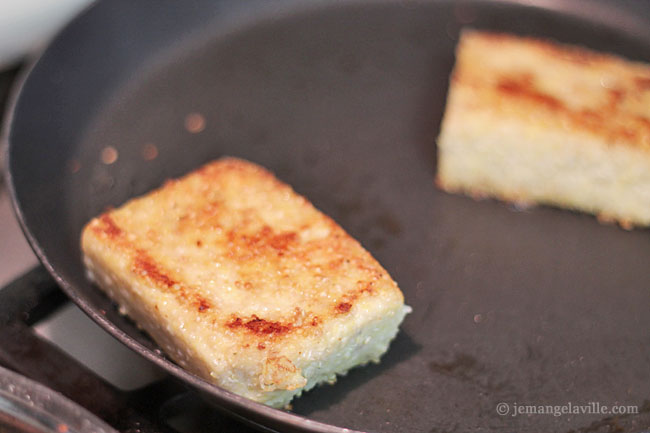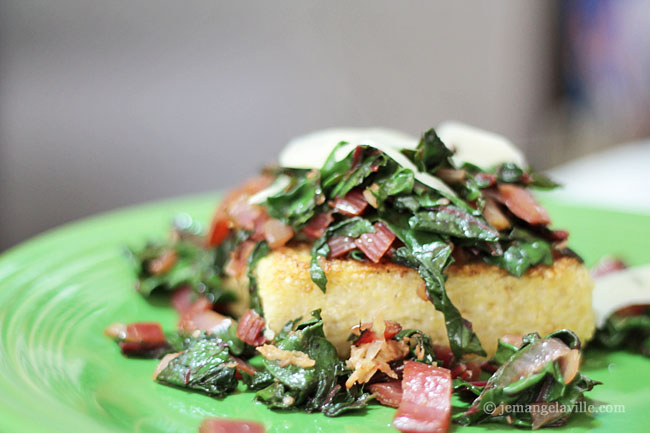 Apricot Vinegar
1 cup White Balsamic Vinegar
2 Tbsp Water
4 Apricots, pitted and diced into cubes
1/2 tsp granulated Sugar
Add vinegar, water, apricots, and sugar to a medium pot. Heat over medium heat, stirring every so often, until apricots have broken down a bit, and vinegar is reduced by about a third — about 20-30 minutes. Strain out the solids, then cool the vinegar to room temperature. Store in the fridge for up to two weeks (it probably won't last that long).
Quinoa Polenta
1/2 cup Quinoa
1 cup Water
2+ cups chicken or vegetable broth
1/2 cup Polenta
1/4 cup grated Parmesan Cheese
Kosher Salt & Black Pepper
1 tbsp unsalted Butter
Add quinoa and water to a pot and bring to boil over medium-high heat. reduce heat to low, simmer covered until water is mostly absorbed and the germ ring is visible on the quinoa grains. Drain any remaining water. Set aside.
Place two cups of broth in a pot and bring to a boil. Whisk in polenta and lower heat to low. Cook until soft, stirring occasionally, about 20-30 minutes, adding more broth if it gets too dry while bubbling away. Stir in cooked quinoa, Parmesan cheese, a little salt and pepper, and the tablespoon of butter. Taste and adjust salt, pepper, and cheese as needed. Spread polenta out in a 8-inch (or similar) square baking dish coated with non-stick spray. Cool to room temperature and then refrigerate at least 2 hours (and up to 24).
When ready to finish polenta: Heat a non-stick skillet with 2 tbsp olive oil, over medium heat. Slice polenta into 4 squares and sauté in the oil about 3-4 minutes per side, until slightly golden.
Sautéed Greens
3 tbsp Olive Oil, divided
1/4 cup diced Onion
2 cloves Garlic, minced
1 bunch Leafy Greens (can be Chard, Kale, Mustard Greens, Spinach) — if your bunch looks a little scrawny, use two!
pinch Red Pepper Flakes
Kosher Salt & Black Pepper
Parmesan Cheese for serving
Remove stems from green and cut leaves in half and then strips. If using chard, follow the instructions here. Heat a sauté pan over medium heat and add the oil. Next goes the garlic and onion and cook about 5-6 minutes, until garlic is soft. Add the greens with a little salt and pepper and cook, covered, until the greens are soft and wilted, 3-15 minutes, stirring occasionally. If you are using kale, it will probably take 10-15 minutes, for spinach or mustard greens, about 3. Taste and adjust seasoning.
Put it all together: Put a square of polenta on each plate. Divide greens up, then shave some Parmesan strips on top. Drizzle each plate with a couple of teaspoons of the vinegar.