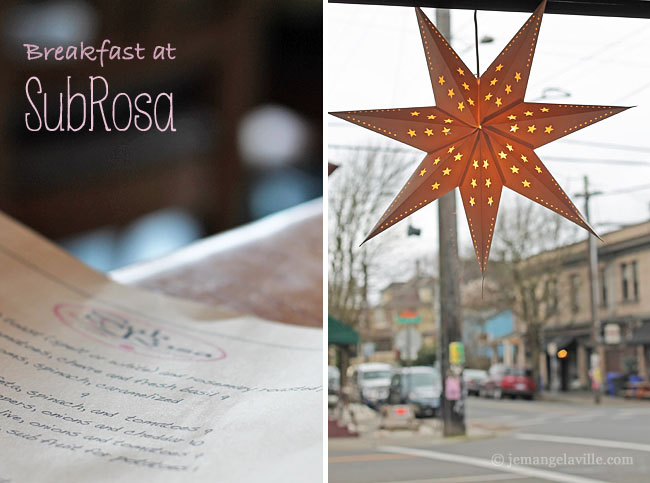 SubRosa
2601 SE Clinton St
Portland, OR 97202
Saturday and Sunday Breakfast
SubRosa is a place that we have gone to many times in our SE Portland neighborhood. It's a restaurant that has really grown into it's space and seems to fill up quickly most nights.
Over the years, we've gone for dinner every so often (the last time we were there for an evening meal, owner Mary Ann gifted us with a baguette to take on our road trip to California the next morning for car snacks). But lately, it seems we've been stopping by for a leisurely Saturday or Sunday breakfast. Every time we have a meal at SubRosa, I always leave thinking, "we should go more often!" It's not just the food, but the whole experience — it's always friendly, welcoming and comfortable — exactly what you want in one of your favorite neighborhood places.
The Sub Rosa Eggs Benedict is seriously one of my favorites in town. The sauce is light, tasty and not at all gloopy. The Canadian bacon is quite ham-like and salty and the eggs are always perfectly poached. And, if you want to make it even better, here's what I recommend — get the traditional Eggs Benedict (there's also a vegetarian version) with spinach added. It's so good! And because of the spinach it's healthy! The sauteed spinach has an almost smokey flavor that is wonderful with the salty richness of the Canadian bacon and eggs.
On our last trip for breakfast, jwa got one of the breakfast specials: blueberry pancakes, which he seemed to enjoy quite a bit. They also have Mimosas and Bloody Marys — offerings we would have taken advantage of it we hadn't been driving to Lincoln City right after breakfast.