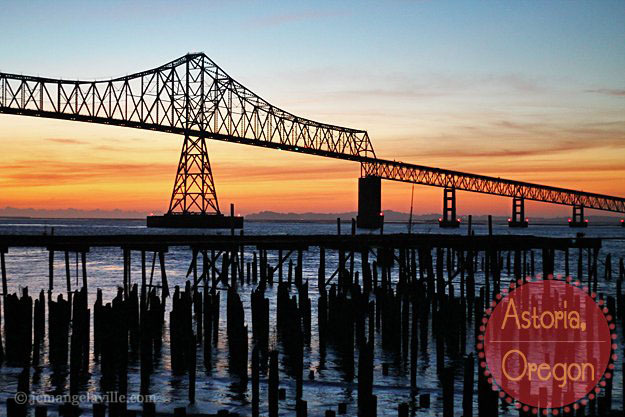 I'm a big fan of Astoria, Oregon.
I'm not sure why exactly. I did get married there, so I'm sure that has something to do with it, but the reason we even picked Astoria in the first place is that it's just a cool little town. It's a bit rough around the edges (although, less so since cruise ships dock there now) but it's still very quirky. Beautiful. Strange. And sometimes even sunny. Okay. I guess that's why.
On this recent trip, we rediscovered a restaurant that we weren't quite sure about based on a lukewarm first impression, and found a new one that we liked right away.
Baked Alaska
#1 12th Street
Astoria, OR 97103
We first tried Baked Alaska a number of years ago, when we were looking for catering options and had a very disappointing lunch there. We gave it another try this last time we were in town and it was a solidly good meal.
We started with calamari, because I have a calamari clause built into all my dining out activities, and it came with an awesome spicy mint dipping sauce. The Caesar salad was quite tasty and liberally dressed (which is a bonus to me), with a large, seeded, toasty cracker standing in for the usual croutons. So far, so good, Baked Alaska.
For the main event, it was the Ranch And Ocean: a seven-ounce natural beef top sirloin with pancetta wrapped wild prawns and a bourbon demi-glace. It was served with a side of basily quinoa. The whole plate just came together very well and is probably one of my top five favorite dinners in Astoria. The table provided us with a river view that added to our enjoyment.
After dinner, we were treated to an amazing sunset and then a full moon as walked along the picturesque Astoria Riverwalk. This trail follows along part of the Astoria & Columbia River Railroad, parallel to the mighty Columbia River. This urban trail is about five miles long and meanders by the restaurants, shops, museums, and galleries of downtown Astoria.
Blue Scorcher Bakery & Cafe
1493 Duane Street
Astoria, Oregon 97103
The next morning, in need of coffee and food, we wandered up to the worker-owned Blue Scorcher Bakery and Cafe, which is a place we've passed many times but never, it seemed when they were open. This time? We were in luck. There's a bit of wait for the food (it was Sunday late morning, after all), but the coffee was good and there were homemade muffins to split at the table.
When our order did come out, it was hot and satisfying–eggs, freshly baked bread toasted and a sauteed greens dish as well as hippie-riff on huevos rancheros. It was a pleasant place to hang out and have breakfast. It's the kind of place where, if I lived in Astoria, I'd want to be a regular.
We also went to Coffee Girl on Pier 39 (on the east end of town). It's one of my favorite places to get coffee, specifically a salted caramel latte.