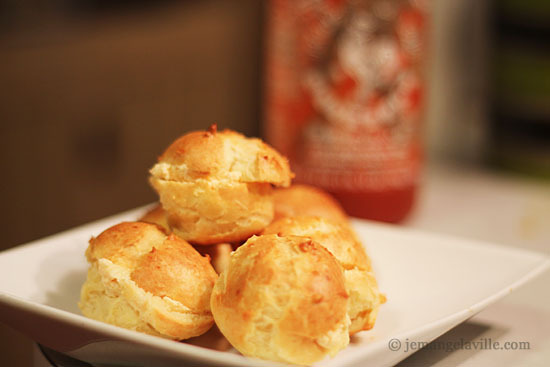 So, really, I was originally thinking that I would just sit this French Fridays with Dorie out. It's a very busy week coming up and I just didn't think I would have the time. Then, I saw that the recipe for Friday was Goat Cheese Mini Puffs and decided that I really, really had to make them, time management be damned.
Of course, I forgot to go to the store and get goat cheese. That's a problem. After looking around my kitchen crazily for a bit I came up with the idea of Marscapone (cream cheese's fancy-pants Italian cousin, which I did have in the fridge), Parmesan, herbs and low fat Greek yogurt for the cream. But then…I saw the sriracha. And some cheddar cheese. And that was that.
I also quartered the original recipe and wound up with six puffs. The quartering worked fairly well. The only issue I had was getting the lone egg to incorporate into the dough smoothly. After beating a bit in the stand mixer, I decided to use a rubber spatula and arm power — that seemed to work and the dough came together.
Srircha-Cheddar Substitute Filling: I used the amounts below for my six puffs, if you make a full or half recipe of Pate a Choux, you'll need to make more.
2 parts Cream Cheese (or Marscapone) – 2 Tbsp
1 part grated Parmesan cheese – 1 Tbsp
1.5 parts low fat yogurt – 1.5 Tbsp
1 part grated cheddar cheese – 1 Tbsp
Sriracha to taste – 1 tsp
Okay, so here's a link to everyone's puffs this week and my photos below. Also, don't forget to enter my wheat germ giveaway in the previous post. You've got less than a day to leave a comment.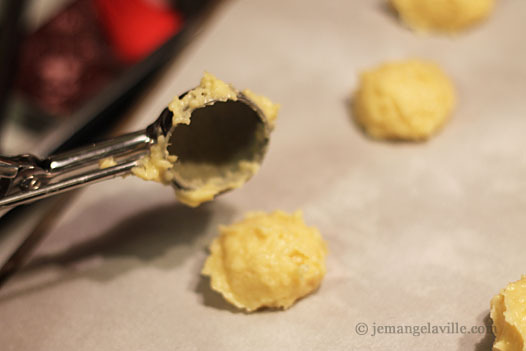 Scooping out the Pate a Choux. Mine were probably closer to tablespoon-sized.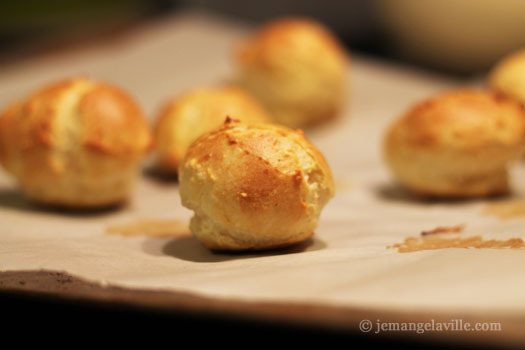 Out of the oven after about 24 minutes total.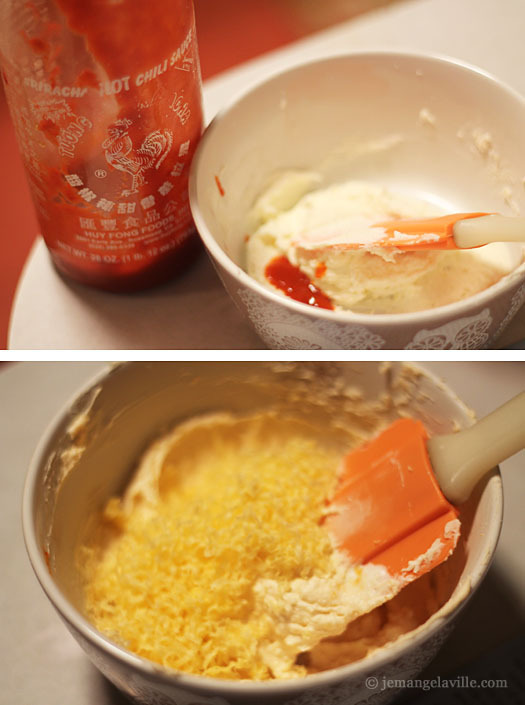 Mixing the filling — marscapone, parmesan, Greek yogurt, cheddar and sriracha!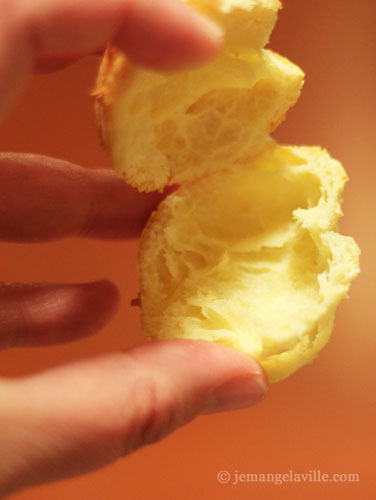 I sliced my puffs (rather than piping). First one sliced open, perfectly hollow. Hooray!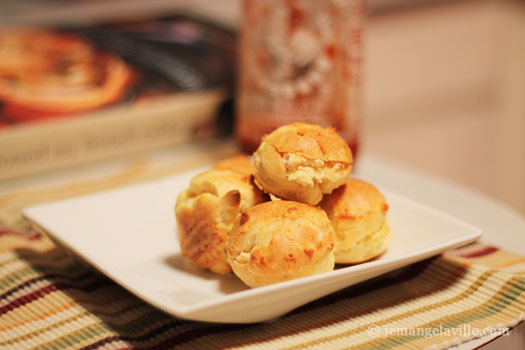 Ready to eat. They are all gone now because six puffs isn't that many when you have to share.