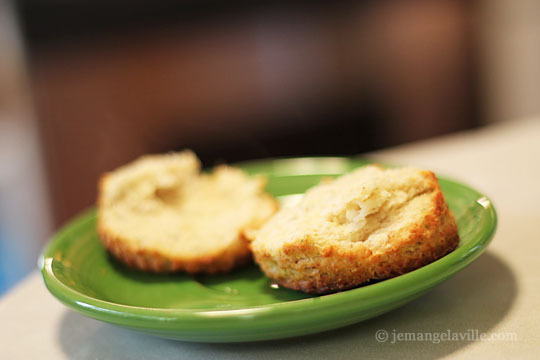 Recently, I was offered a free jar of Kretschmer Wheat Germ to try and also a jar to giveaway on my blog, which is really great but honestly, I already knew about the awesomeness of wheat germ. I've been a fan for awhile and use it all the time for coating chicken, adding to granola and cereals and even baking. Did you know that you could do all of that with wheat germ? Well, you can.
And also, wheat germ is a super food. It's an excellent source of nutrients including vitamin E, the B vitamins, and folic acid. Wheat germ can easily be a substitute for breadcrumbs for coatings and toppings and, like I've done in this recipe, it can be used to replace some of the flour in a recipe for an extra nutritional boost! And speaking of these biscuits, they turned out really well — flaky and herb-y, they'd be a great addition to a Thanksgiving meal. And if you need more inspiration, there's a lot of recipe's right here.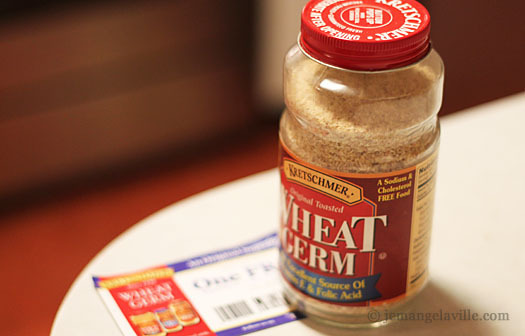 All of this…can be yours (well, just the coupon).
So, want to try some Kretschmer Wheat Germ for free? Well, just read through to the bottom of the post and leave a comment. Also, this is the first blog giveaway I've done and really, I'm a little nervous I won't get any comments. Prove my anxiety wrong, okay?
Wheat Germ & Herb Biscuits
Adapted from a recipe by King Arthur Flour; makes 10 – 12 biscuits.
2 cups AP Flour
1/2 cup toasted wheat germ
1 tsp salt
1 tbsp baking powder
1 tbsp sugar
2 tbsp chopped herbs (I used sage, parsley & thyme)
6 tbsp butter, cur into small cubes
1 cup milk
Preheat oven to 425 degrees F. In a food processor, mix together the dry ingredients. Add the butter and herbs and pulse until the butter is uniformly distributed into the flour, about the size of little peas.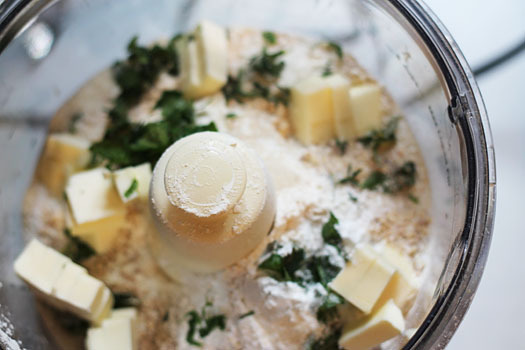 You can also do the butter-mixing-in by hand with a pastry cutter, if you prefer. Remove the flour & butter to a large bowl and a add the liquid all at once, mixing with a rubber spatula quickly until you the dough is soft.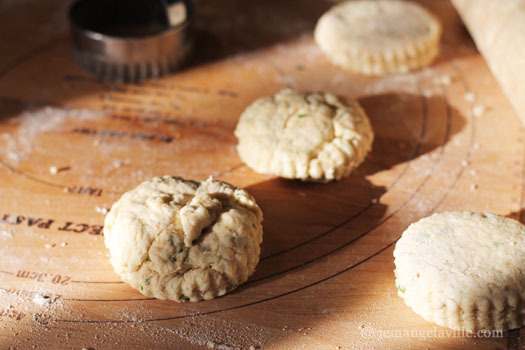 Roll the dough into a rectangle about 3/4-inch in thickness. Fold it in half and roll gently with a floured rolling pin until the dough is 3/4-inch in thickness again. Repeat another time or two. When the dough is rolled out to the 3/4-inch thickness for the final time, cut into circles with a biscuit cutter for traditional, round biscuits.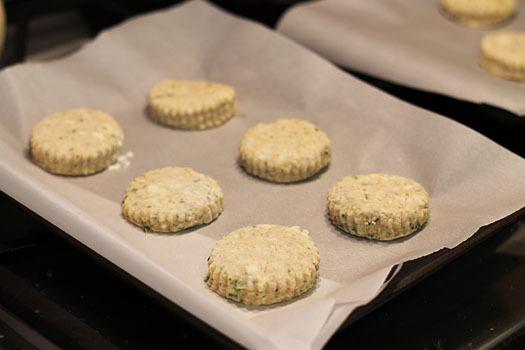 I patted my leftover scraps together to get two more biscuits — sort of like Franken-biscuits.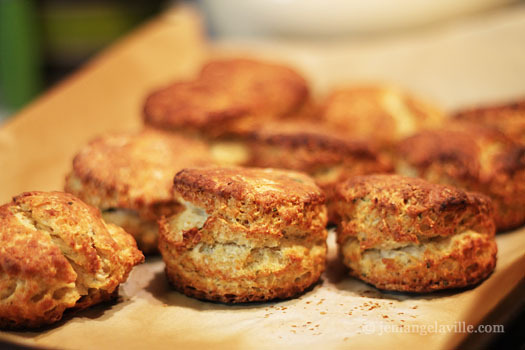 Bake for 15 to 20 minutes, until they're lightly browned.
Now, for the giveaway: leave a comment below telling me what you'd try using wheat germ in — a chocolate cake, banana bread, added to the onion topping for green bean casserole — endless possibilities. On Friday, November 16, I'll randomly pick one comment. If that's you, I'll get your address and send you out a coupon for a free jar of Kretschmer Wheat Germ! See, it's all very exciting.
Winner has been chosen and is being notified! Thanks everyone for commenting!