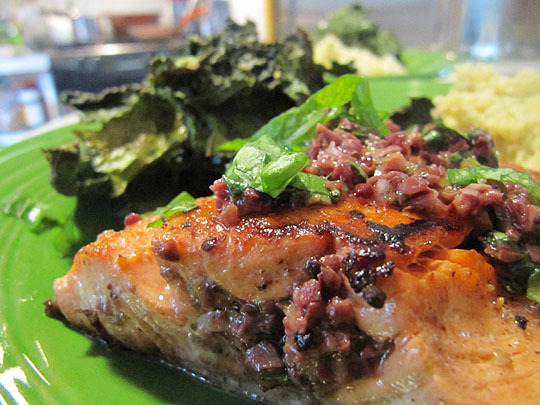 This week's French Fridays with Dorie has probably been of of my favorites — salmon stuffed with a little olive tapanade and basil. As I was describing the dish to jwa last week, it went a little something like this:
me: the next French Fridays is salmon…
jwa: yes
me: and you take olive tapanade…
jwa: yes
me: and stuff it…
jwa: yes
me: inside and cook it.
jwa : yes.
So, in other words, this meal was not really a tough sell. It was really, really good! I only wish I had gotten my next shipment of Copper River Salmon before making this, but the timing was off by a couple of days, so *gasp* I actually had to go buy salmon. I ended up with some wild sockeye. Delicious!
Notes:
1. I added a splash of white balsamic vinegar to my tapanade, along with a minced garlic clove. Just because.
2. I did my salmon exclusively on the stovetop (about 4 minutes per side), because it was really hot and I really didn't want to put the oven on 450.
3. I thought the baggie was a little difficult and eventually just used my fingers to get some tapanade in the salmon.
4. We had this with some couscous and kale chips.
I'm not sure what the deal is with the FFwD website, but if there's a link available, I'll add it here. Link! Okay, pictures!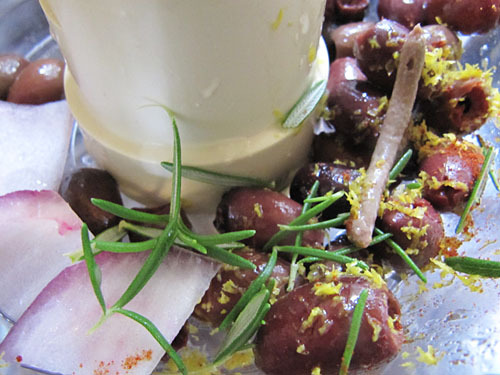 Making tapanade..oh yeah, I added a little shallot there too.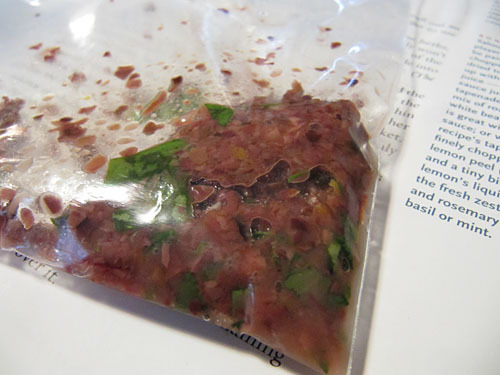 The challenging tapanade baggie.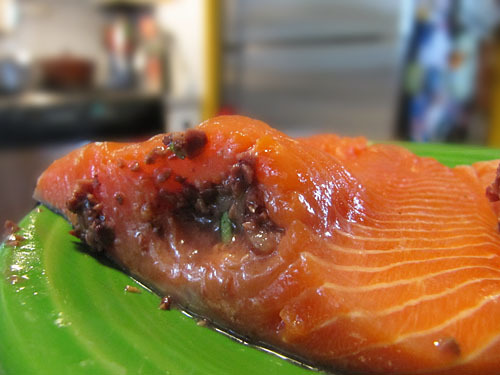 Stuffed and ready to cook.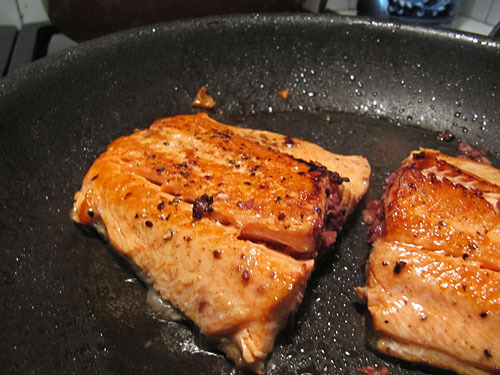 I thought it cooked really well on the stovetop.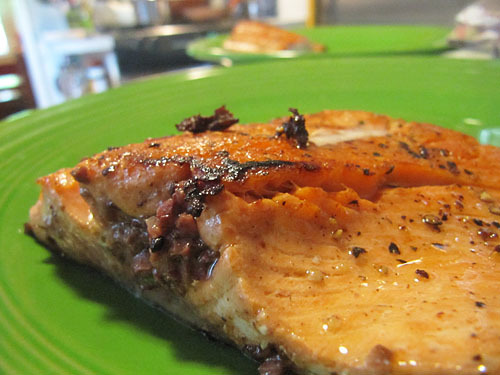 Ready to nom…

Completely unrelated, I caught the last episode of Freaks and Geeks on Sundance tonight and I really love that last episode. It makes me so happy when Lindsay blows off the academic thing to go follow the Dead with Kim for two weeks.
It's not even that I particularly like the Grateful Dead or anything. Or that I dislike academic things. The end of the show makes me irrationally happy and teary-eyed. It just does.