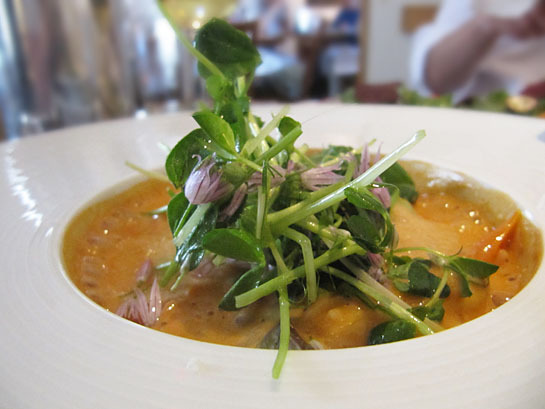 I have been meaning to do a post or two (or five) about our roadtrip in May to the Southwest but I keep being lazy about it. Well. No more. Here is at least one post about it. Santa Fe, in particular and our dinner at Restaurant Martin, which was one of (if not THE) best meal of the trip.
Restaurant Martin
526 Galisteo Street
Santa Fe, NM 87501
I spent a lot of time looking into Santa Fe restaurants before we left, as I figured one of our meals there would be the big splurge of the trip. After much deliberation, I settled on Restaurant Martin and we were not disappointed at all.
But first, a few general Santa Fe observations and pictures.
After much research (there was a spreadsheet involved) we decided on staying at the Casita Madera and it was both mine and jwa's favorite place of the whole trip. It was a little rental cottage, a few blocks from the plaza and it was so nice. With it's reclaimed wood beams, granite counter tops and fluffy, cloud-like bed, it was the perfect home base in Santa Fe.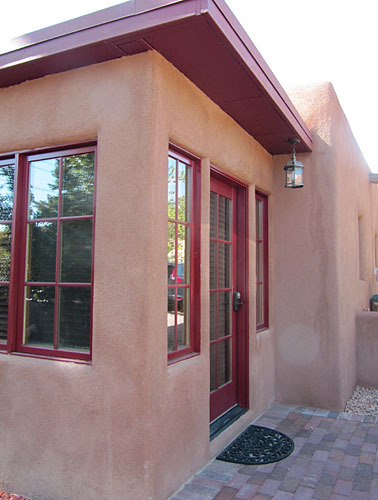 Exterior of our casita.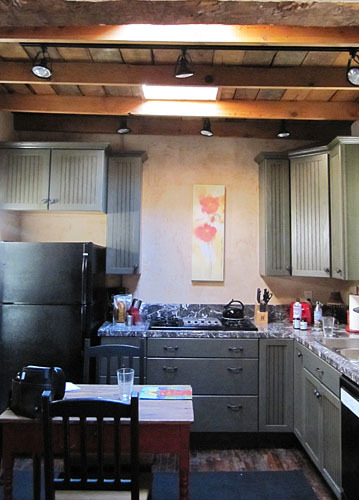 Awesome, character-filled kitchen that we only used to make coffee press (Sleepy Monk from Cannon Beach).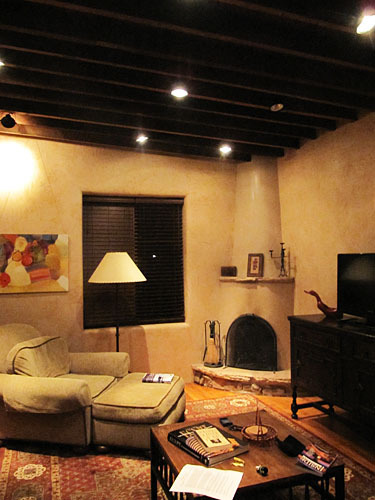 Living room with kiva fireplace and a big comfy chair.
The casita seemed almost gallery-like with wire-hung artwork on the walls, lots of windows that let in the New Mexico sun, wood and tile floors, a full kitchen, compact washer and dryer and a super luxurious, jumbo-sized tile shower. I seriously can't recommend it enough as a rental casita in town.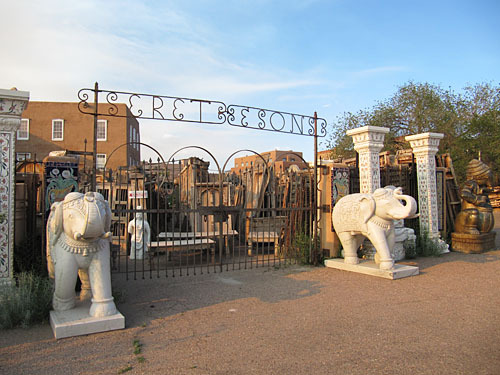 On the walk to the restaurant from Casita Madera, a neat store — Serets — with wood columns and interesting statuary. And yes, it is possible to get lost among all the columns, doors, windows and statues.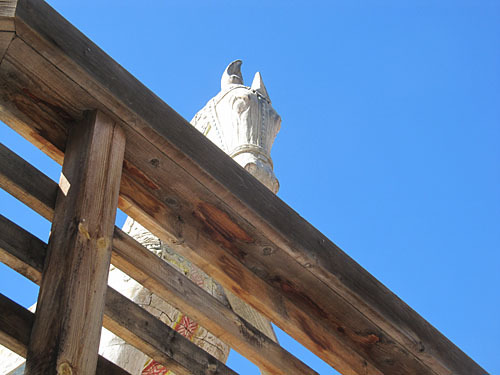 Look up, and you will see wonderful things in Santa Fe…maybe a white horse statue looking down at you.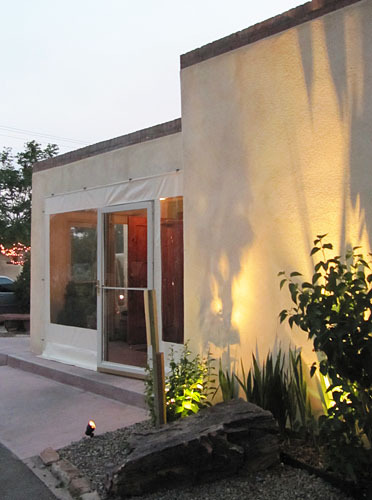 Exterior of Restaurant Martin, unassuming of the deliciousness inside.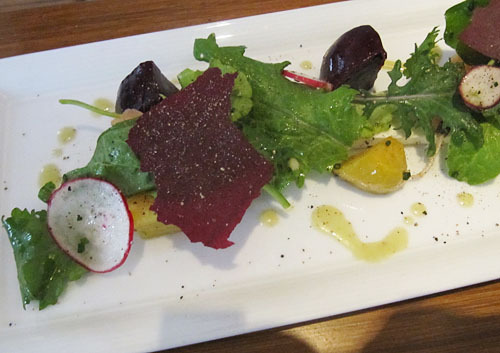 Organic Beet Salad – Greek Yogurt-Kafir Lime Panna Cotta, Shaved Melon, Olive Powder, Elderflower Vinaigrette.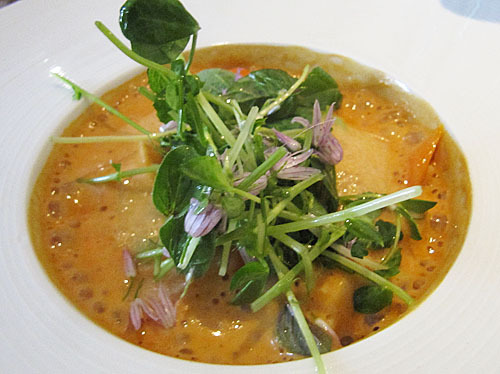 Lobster Agnolotti – Artichokes, Spring Peas, Carrots, Celery Root Parmesan, Lobster Emulsion.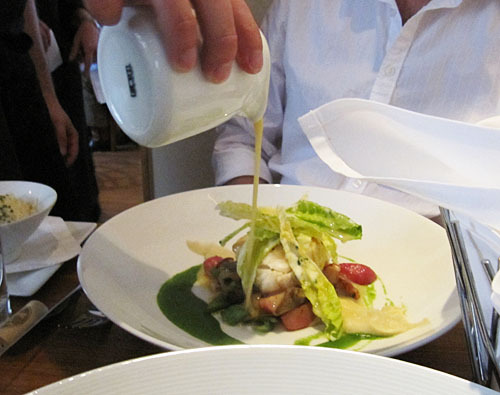 Pouring the Corn Nage over jwa's Alaskan Halibut.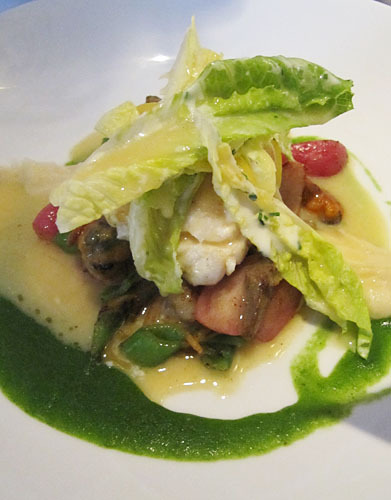 Alaskan Halibut – Mussels, Rock Shrimp, Parsnip Puree, Romaine Leaves, Sweet Corn Nage.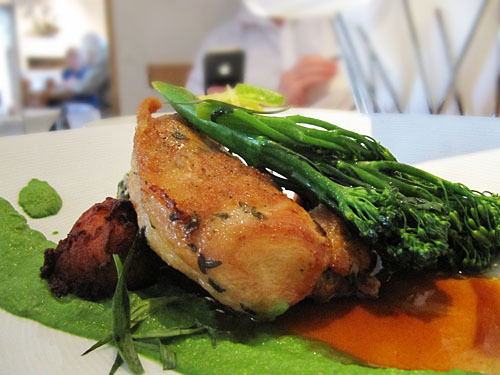 Roasted Organic Chicken Breast – Stuffed Thigh, Mushrooms, Almonds, Sweet Potato Spheres, Broccoli Puree, Tarragon.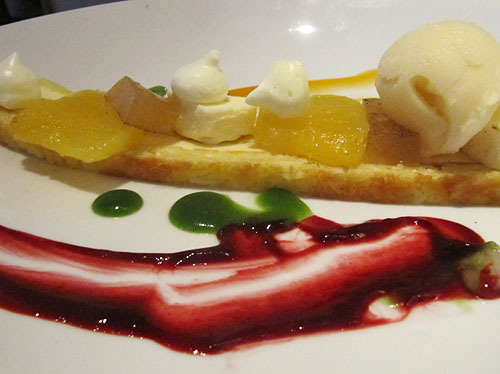 Pina Colada – Coconut Meringue Sponge Cake, Compressed Pineapple Coconut Cream, Pineapple Sorbet.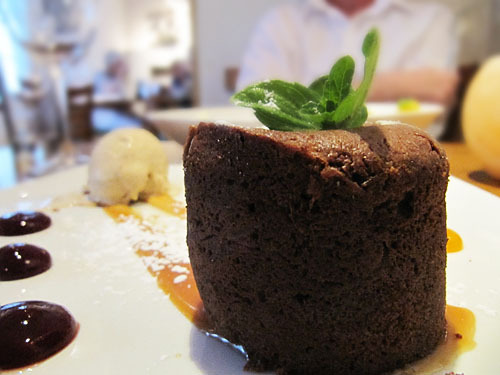 Bittersweet Chocolate Truffle Cake – Sweet and Salt Caramel, Toasted Cinnamon Ice Cream.

I'm planning on another Santa Fe post with photos of some galleries, museums and our brunch at La Bocca. But, I think the next post will be this pretty awesome Lemon Ricotta Chia Bread I made today. Or not. Who knows really what the next post will be…