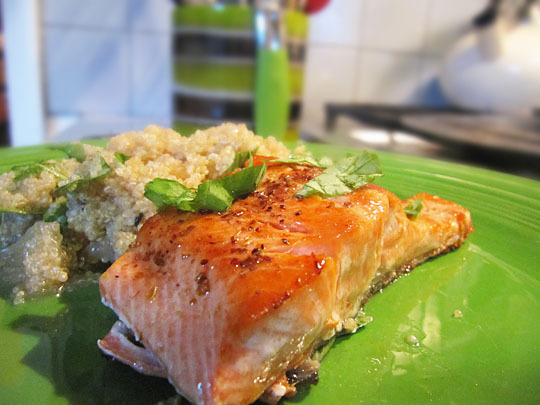 Recently, I was very lucky and received another shipment of Copper River Salmon! This time, it was Sockeye from Prince William Sound. Although there was a slight Fed ex mishap with its delivery (my salmon took a brief field-trip to Memphis, it seems…perhaps visiting Graceland?), I received it just fine a day late. It was packed so well it was still nice and cold.
This is a recipe that I came across and have been wanting to try for awhile now. It was a great light & healthy meal. I wanted the grapefruit & ginger oil to be a bit more flavorful, but the quinoa and grapefruit salad was so good! And with great salmon, all you really need is salt and pepper anyway, right?
Note: This would be really pretty with ruby grapefruit. Which is what I thought I had. The bag aid ruby grapefruit, but as I've opened them, they have all been regular, white grapefruit. Not cool, Trader Joe's, not cool. (But still good!)
Sockeye Salmon with Quinoa and Grapefruit Salad
Adapted from a recipe by Elie Krieger, serves about 2
1 medium grapefruit (have another grapefruit available for juicing)
8 thin slices fresh ginger
1/4 cup extra-virgin olive oil
1/2 cup quinoa
1 cup water
1/2 teaspoon kosher salt, plus additional for seasoning
1 tbsp white vinegar (I used white balsamic)
2 teaspoons honey
1 clove garlic, minced
1 small serrano or jalapeno chile, minced (with seeds for maximum heat)
2 scallions (both white and green parts), minced
1/4 cup chopped arugula leaves
8-10 Basil leaves, chopped or torn
Salt & Freshly ground black pepper
3/4 pound wild sockeye (or other variety) salmon filet, cut into two pieces
Peel the zest from the grapefruit with a vegetable peeler, taking care not to include the bitter white pith. Warm the grapefruit peel, ginger, and olive oil in a small saucepan over medium heat. As soon as the oil starts to bubble, after about 2 minutes, remove from heat. Set the oil aside to steep for 30 minutes. Strain and reserve the oil.
Meanwhile, rinse the quinoa in a bowl and drain. Put the quinoa in a small saucepan with the water and 1/4 teaspoon salt. Boil over high heat, and then reduce heat to maintain a gentle simmer and cook, uncovered, for 15 minutes. Set aside off the heat, undisturbed, for 5 minutes. Transfer the quinoa to a bowl and fluff with a fork and let cool.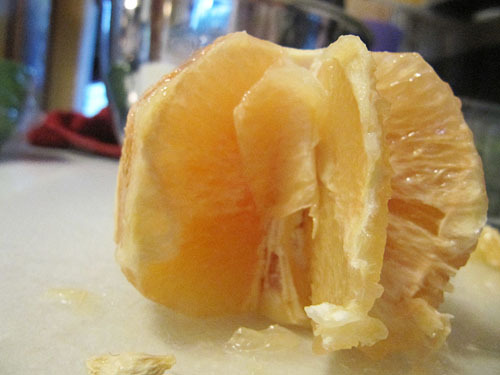 Segment the grapefruit over a bowl, reserving the segments and juice separately. I did not get nearly enough juice while segmenting my grapefruit, so I just squeezed the juice of a half a second grapefruit.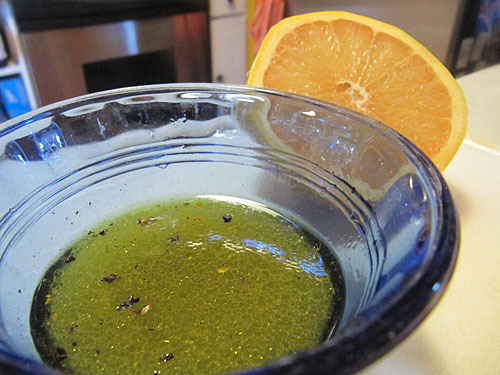 Whisk 3 tablespoons of the grapefruit juice with the vinegar, honey, and salt to taste in a medium bowl. Gradually whisk in 3 tablespoons of the reserved grapefruit oil, starting with a few drops and then adding the rest in a stream to make a slightly thick dressing. Season with pepper to taste.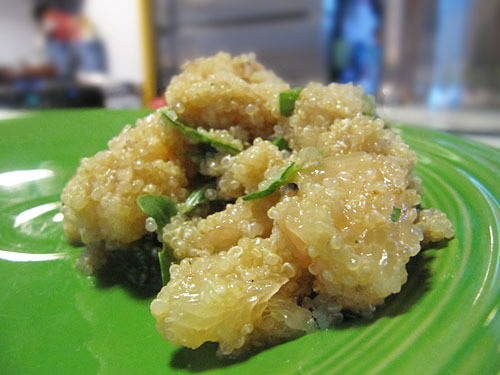 Toss quinoa with the dressing, chiles, scallions, grapefruit segments, and arugula. Season with salt and pepper, to taste.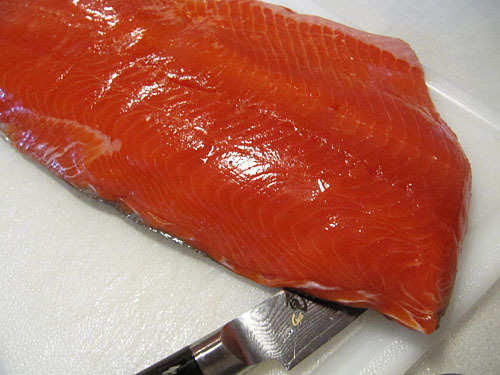 Heat a pan (I like to use non-stick with fish) over medium and add the remaining tablespoon of grapefruit-ginger oil to the pan. Salt and pepper the fish lightly and cook about 3-5 minutes per side.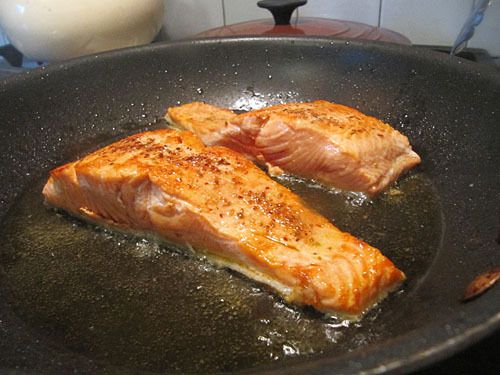 Exact time will depend on how thick your salmon pieces are and how you prefer it cooked.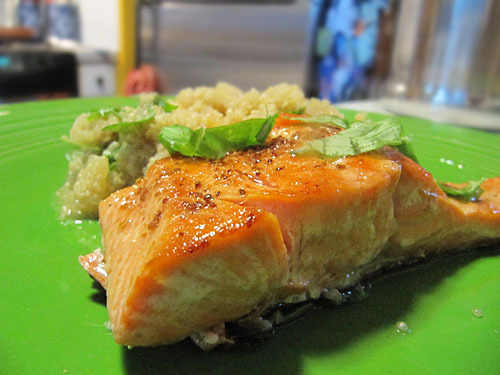 Divide the quinoa salad among 2 plates, and set the salmon to the side. Garnish with basil leaves.
Check out the rest of the Fresh Catch Crew:
Plate Fodder | lisa is cooking | Rooftop Gourmet | What's Cooking, Chicago | Heather's Dish | The Salted Spoon | a nutritionist eats | Cookin and Kickin | Justin Davis | Fritos and Foie Gras | Girl Meets Fork | Cafe Johnsonia | Spices and Aroma | Country Cleaver | The Hungry Muse