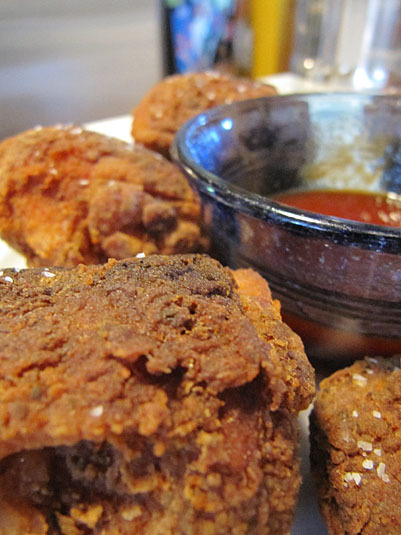 So, this was a cooking fear that I faced recently — fried chicken. Seriously, I've always been a little intimidated by it and by imagining the bubbling oil overflowing the pot and burning my house down. That didn't happen, hooray! Instead, the chicken was just awesome. I used 6 thighs here, but you can use any combination of chicken parts you like. If you are feeding more than 2-3 people, just double the ingredients below.
I think this recipe worked out really well by cooking the chicken almost all the way through, letting it rest while cooking the other batch, then finishing in hotter oil. It was crisp, juicy and nicely seasoned. Oh, and I gave mine a little sprinkle of sea salt after it came out of the oil for the second time.
You can also use a half and half ratio for the Sriracha honey, of course, that was just a little too much for me.
Twice-Fried Chicken with Sriracha Honey
Recipe adapted from Michael Symon
1 tbsp Old Bay seasoning
1 tsp ground coriander
1 tsp smoked paprika
Kosher salt
6-8 assorted bone-in chicken pieces, (I used all thighs), but you can use whatever pieces you like. If you use breasts, just cut each in half.
3 tbsp honey
2 tbsp Sriracha
Peanut oil, for frying
3/4 cups AP Flour
1 tbsp Cornstarch
In a small bowl, combine the Old Bay, coriander, paprika and a generous pinch of salt and mix well. Coat the chicken pieces with the spices, place in some large resealable plastic bags and refrigerate overnight.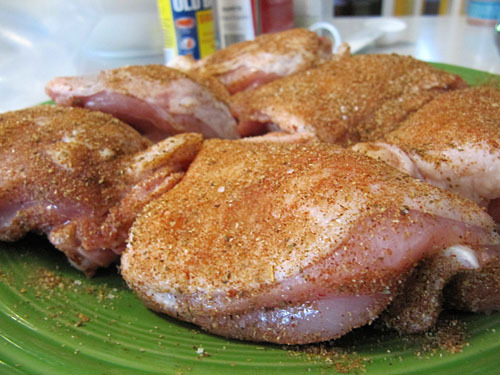 In a small bowl, combine the honey and Sriracha. Stir well and refrigerate until ready to fry the chicken. In a large Dutch oven, put in enough oil to come 4 inches up the side of the pot. Heat the oil to 325 degrees F. In a large, shallow baking dish, whisk together the flour, cornstarch, and a generous pinch or two of salt. Remove the chicken pieces from the bags and dredge in the flour mixture.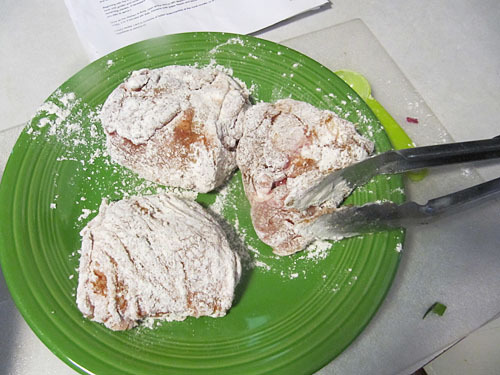 Beginning with the thighs (if you are using a mix of parts), add the chicken to the pot, making sure not to crowd. (This may take several batches.)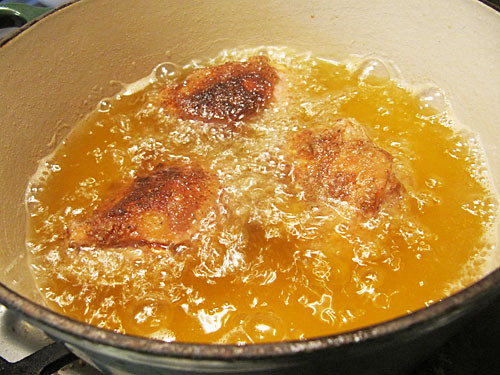 Cook until golden and cooked 80 percent through, 8 to 10 minutes. Remove the chicken to a wire cooling rack and repeat with the remaining chicken, if necessary.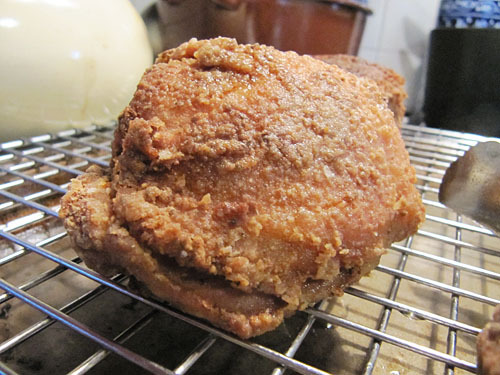 Once all the chicken is done, heat up the oil to 365 degrees F. Add the chicken in the same batches and cook until dark golden and crispy, 2 to 3 minutes per side.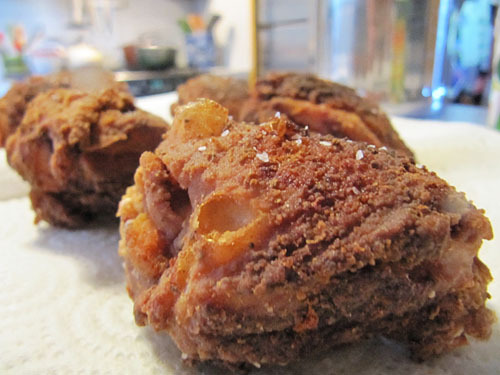 Remove onto paper towels and serve immediately with the Sriracha honey.