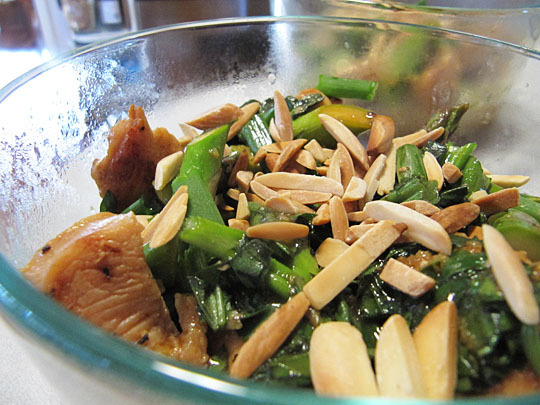 This right here is a great dinner. Or a lunch even, in fact that's what I made it for mainly, a lunch for both jwa and I to bring to work the next day. So awesome. It's salty and spicy and basil-y. And a great vehicle for Spring asparagus.
I altered this a bit in that I decreased the chicken and asparagus a little but kept the sauce measurements the same. Because you need extra sauce to soak into the rice. You just do. Okay, on with the delicious stir-fry!
Chicken Stir-Fry with Asparagus and Almonds
Adapted from Food & Wine magazine — 2-3 servings
1/3 cup slivered almonds
3/4 pound skinless, boneless chicken breasts, cut into 1 1/2-inch pieces
2 tbsp Asian fish sauce
2 tbsp peanut oil
1/2 cup chicken stock or low-sodium broth
3/4 pound asparagus, sliced on the diagonal, 1 inch thick
1 tbsp oyster sauce
1 tbsp fresh lime juice
1/8 teaspoon cayenne pepper
1/4 cup chopped basil
2 tbsp chopped chives
Freshly ground black pepper
Preheat the oven to 350°F. Spread the almonds out on a small baking dish and toast in the oven for about 8 minutes, until they are nicely browned and fragrant. Let cool.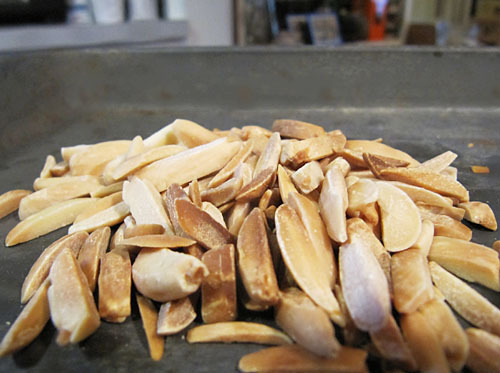 In a medium bowl, toss the chicken with 1 tablespoon of the fish sauce. In a wok or large skillet, heat the oil until shimmering.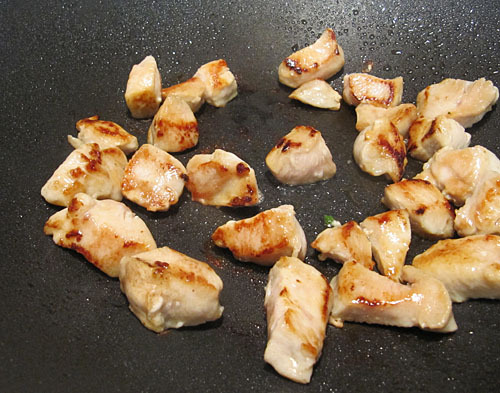 Add the chicken in an even layer and cook over high heat, turning once, until browned and just cooked throughout, about 4 minutes. Using a slotted spoon, transfer the chicken to a clean bowl.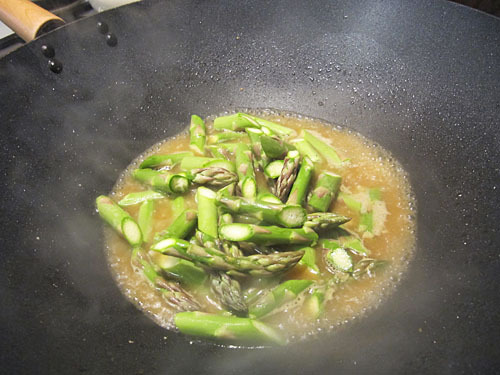 Pour the chicken stock into the wok and bring to a simmer, scraping up any browned bits. Add the asparagus slices, cover and cook over moderate heat until they are crisp-tender, about 3 minutes. Using a slotted spoon, transfer the asparagus to the bowl along with the chicken.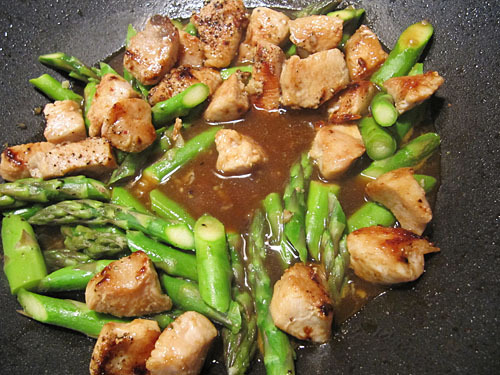 Add the remaining 1 tablespoon of fish sauce to the wok along with the oyster sauce, lime juice and cayenne pepper. Simmer until the sauce is reduced to 1/3 cup, about 2 minutes. Return the chicken pieces and sliced asparagus to the wok and toss to heat through. Remove the wok from the heat and stir in the almonds, basil and chives.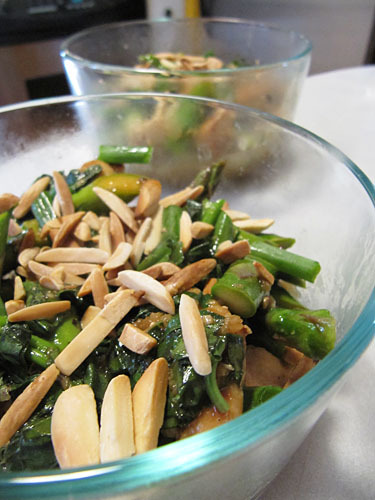 Season the stir-fry with black pepper and serve with cooked brown rice. It's really good!
***
Completely unrelated to food, this post is brought to you by Check Your Head, which I listened to a lot in grad school. I remember driving around Muncie, listening to it quite loud. And I just listened to it quite loud today while editing the images for this post and putting it all together. We're all just collectively really bummed out by Adam Yauch dying, right? Yeah, I thought so. Damn.
Also, Sabotage is the best video ever.