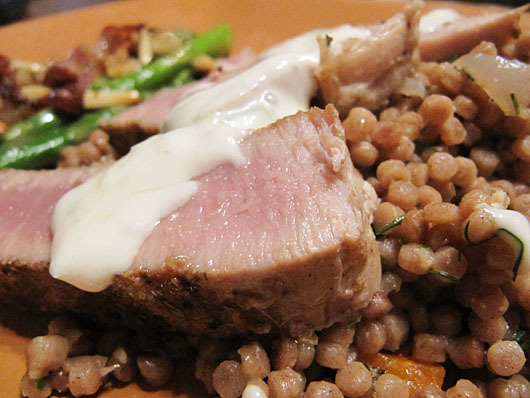 I think this is one of my new favorite tuna meals. It can be served warm or cold, making it a perfect meal year-round. Since we are still a little cold out, I opted for warm, but you could just as easily making everything earlier in the day (up to actually slicing the tuna), refrigerate it and just plate it all before eating.
One other change that I made was to use Whole Wheat Pearl (Israeli) Couscous instead of regular couscous. If you do this, the cooking time will be a little longer, just follow the instructions on the package, but you'll probably have to simmer it all for about 15-20 minutes.
Also tuna and fennel? Wow, such a wonderful combination. I even made this with some frozen, Trader Joes's wild Ahi Tuna (I popped it in the fridge the night before to defrost). Really good and the price makes this an official "cheap fish project" meal. Hooray!
We had a little tuna leftover (I started with about a pound of tuna), so I tossed that with some whole wheat pasta, some sauteed broccolini and olive oil/lemon juice for lunch the next day.
Fennel Crusted Tuna with Lemon Aïoli Over Couscous
Adapted from Bon Appétit magazione
Feeds 2-3
1 tsp fennel seeds
1/2 tsp coriander seeds
1/2 tsp whole black peppercorns
3/4 tsp kosher salt, divided
1/4 cup mayonnaise
1 tbsp fresh lemon juice
1 tbsp chopped fresh chives
2 garlic cloves, minced, divided
2 Tbsp extra-virgin olive oil, divided
1 carrot, peeled, coarsely chopped
1/4 cup chopped red onion
1/2 tsp chopped fresh thyme
1 cup water (or broth)
1 cup couscous
1 tbsp chopped fresh dill
3/4 pound ahi tuna
Combine first 3 ingredients in heavy small skillet. Toast over medium heat until fragrant, shaking skillet occasionally, about 3 minutes. Grind spice mixture in spice grinder. Transfer to bowl and add 1/2 tsp salt. Whisk mayonnaise, lemon juice, chives, and half of garlic in small bowl.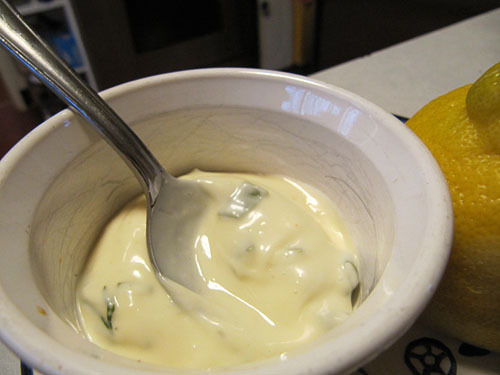 Heat 1 tablespoon oil in medium pot over medium-high heat. Add carrot and onion and sauté until crisp-tender, about 3 minutes. Add thyme and remaining garlic and sauté 1 minute. Add water or broth and 1/4 tsp salt; bring to boil. Add couscous to water in and stir to combine. Cover and remove from heat. Let stand 5 minutes. Fluff couscous with fork. Season to taste with pepper.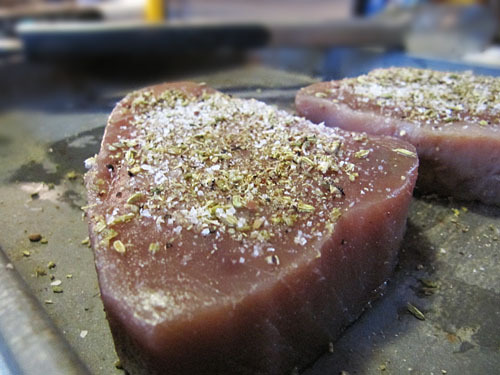 About 15 minutes before you're going to cook the tuna, rub the spice mixture on both sides.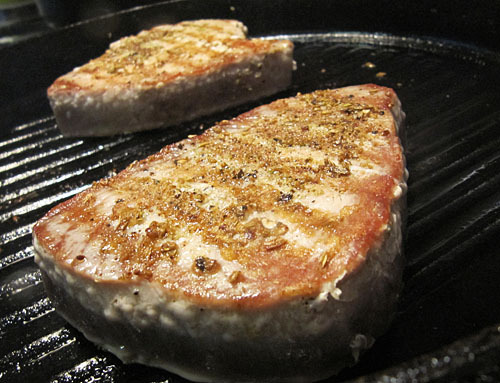 Heat a grill pan over medium-high heat and add about 1 tbsp of oil. Grill tuna until seared outside and medium rare in center, about 2 minutes per side. Remove from the pan and let sit for about 5 minutes while you plated the couscous, give the aioli a stir and open the wine.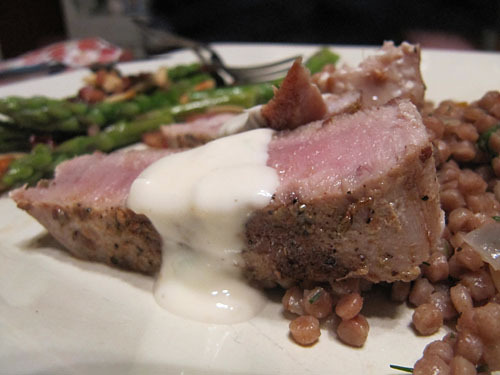 Slice tuna into 1/2-inch-thick pieces and serve with couscous. Drizzle with lemon aioli. On the side: Asparagus with Bits of Bacon, which is this week's French Fridays with Dorie recipe. More on that later in the week!
***
And now for something completely different, here's a picture from a recent trip to Lewis and Clark National Park in Astoria, OR.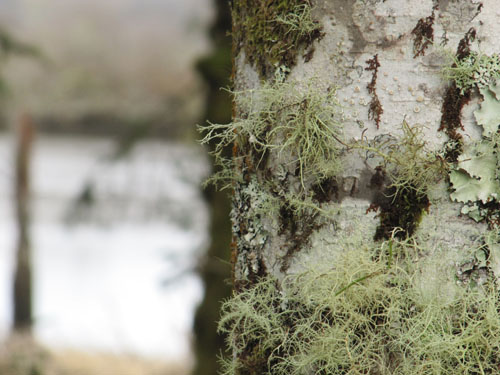 A macro of moss (is that moss??) on a tree.