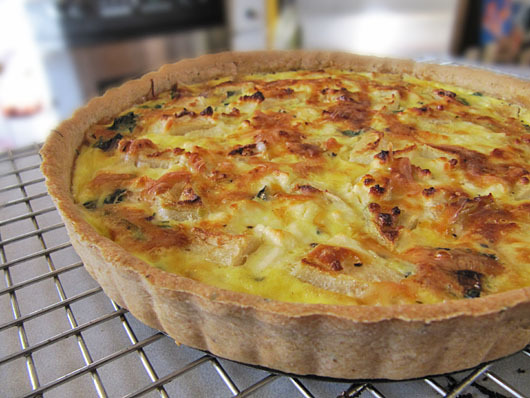 This week's French Fridays with Dorie was for a very interesting quiche — Apple & Gorgonzola. And, as is my way, I changed it quite a bit. I actually feel a little bad, it seems like I'm always fiddlin' with these Around My French Table recipes, which I know would be very good great made exactly as written. I just…can't help myself.
Actually, I usually make changes based on what I have at home or what I maybe don't like. Take for instance Gorgonzola shudder. I am just not a fan of the blue cheeses, so I swapped that out for some feta and a little cheddar.
Here's what else I changed this week (and some notes):
1. We went out to dinner Tuesday night and last night, and I just couldn't make a (delicious!) butter-laden crust in good conscious. So, I made this Whole Wheat Olive Oil Crust from Chocolate & Zucchini. I thought it worked really well with this quiche and was even pretty great tasting! I used a combination of about 6 oz wheat flour and 2.8 oz AP flour and 1/2 tsp of herbes de Provence. And the best part? It was ready to roll out right away. I just had to chill it on the fridge for about 30 minutes before filling it up.
2. I added some greens to the sauteed onions. Baby kale to be precise, but spinach would probably work well too.
3. Speaking of the onions, instead of sauteing them in butter, I used about a tsp of bacon fat. (Hey! Whole Wheat Olive Oil Crust…so it's okay!)
4. I used half and half instead of heavy cream.
5. I completely misread the recipe and did not par bake my crust first. Doh! So, I gave the quiche 20 minutes at 400 degrees F, then turned it down to 375 and gave it about 20 more minutes. The crust was perfectly done and so was the custard. Whew!
Here are my pictures and here's a link to everyone's fabulous quiches.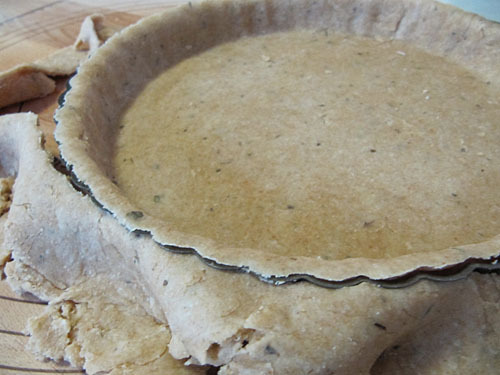 Placing the crust in the tart pan. The whole wheat crust was a little harder to roll out too, so I got a mini arm workout!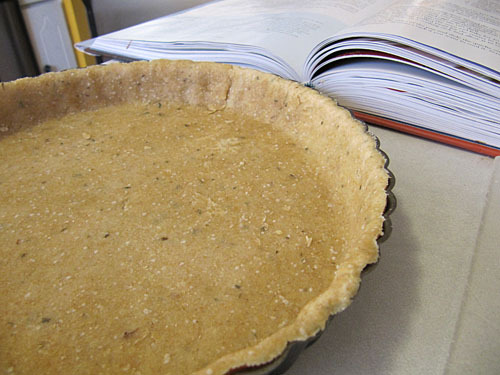 Crust ready for the filling.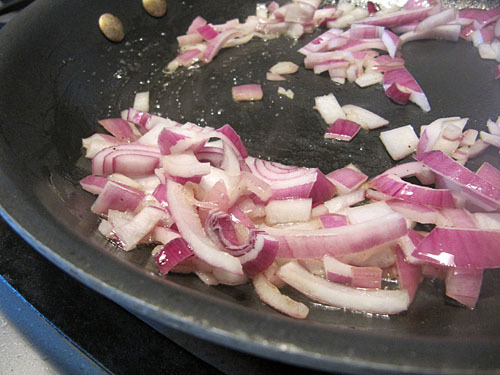 1/2 a large, leftover red onion, sauteing.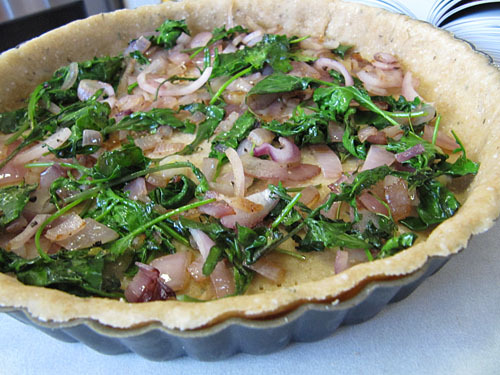 Onions and kale at the bottom of the quiche.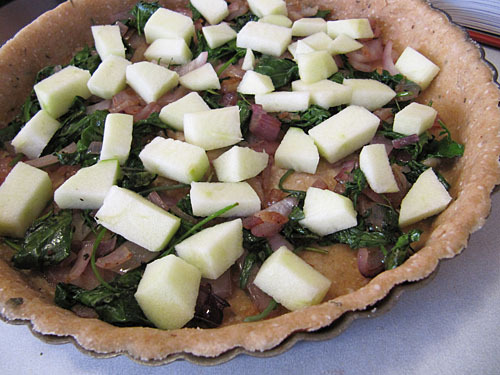 Half a diced, peeled green apple.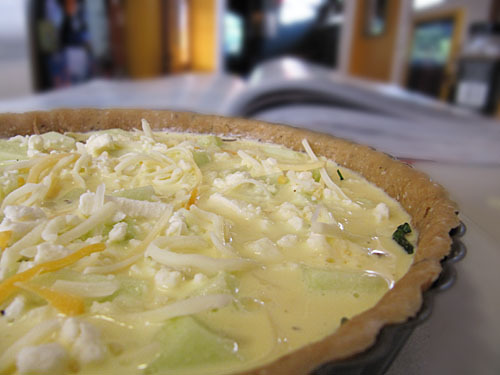 Some feta, grated cheddar and custard added. Ready to go into the oven.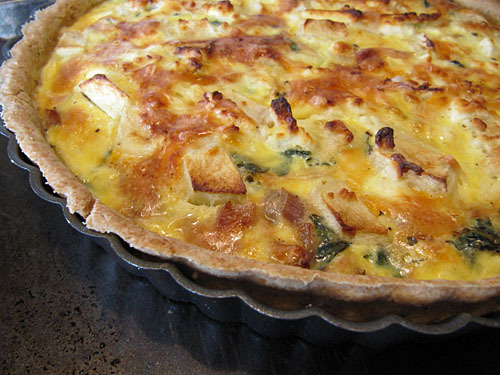 Out of the oven and ready to eat.