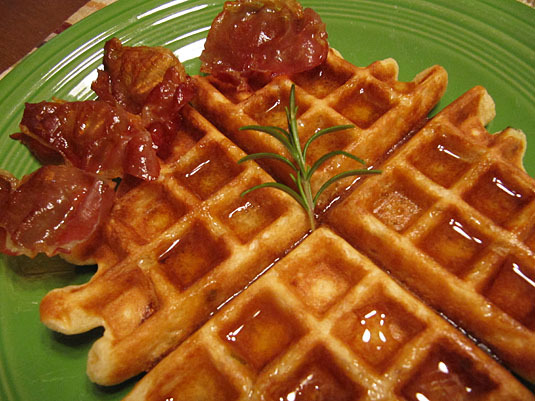 I am somewhat obsessed with rosemary. I will put it in anything. Exhibit A: these waffles here. Add rosemary? Why not. It actually went really well with the maple syrup and crisp prosciutto (exactly what I was hoping for). And as an added bonus, it came together very quickly on a chilly Sunday morning.
As long as you have buttermilk (or can make a substitute with milk and lemon or vinegar), you should have everything to throw these waffles together. Especially if you have a 4-foot rosemary plant growing steps from your front door like we do. Okay, yes, you would also have to have a waffle iron, smarty.
Rosemary Buttermilk Waffles with Crisp Prosciutto
Adapted from a recipe in Gourmet magazine.
Vegetable-oil cooking spray
1 cup AP flour
1 tsp baking powder
1/4 tsp baking soda
1/2 tsp salt
2 Tbsp Melted butter + 2 Tbsp olive oil
1 cup well-shaken buttermilk
1 tsp (heaping) chopped rosemary leaves (plus a couple of small sprigs for garnish)
1 large egg
1 tsp olive oil
4 thin slices prosciutto
Maple Syrup for serving
Preheat oven to 250°F. Spray an unheated nonstick waffle iron with cooking spray and preheat iron.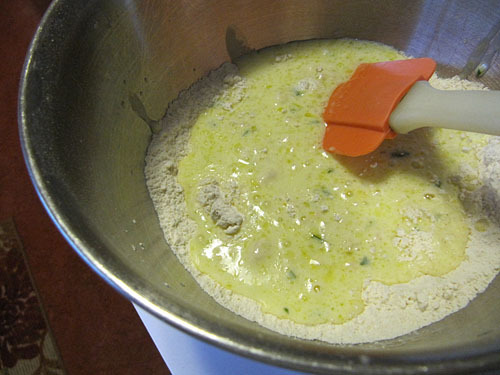 In a large bowl sift together flour, baking powder, baking soda, and salt. Add the chopped rosemary and mix to combine. Whisk the melted butter and olive oil in a small bowl with the buttermilk and egg until combined. Stir the egg mixture into flour mixture briefly but until fairly smooth (batter may be thick).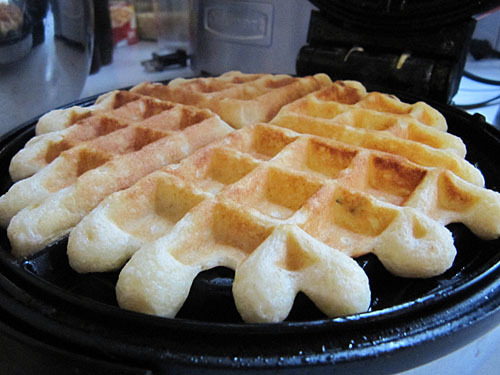 Spoon batter into waffle iron, using 1/2 cup batter for four waffles and spreading evenly, cook according to your waffle maker's instructions. When done, transfer waffles to a baking sheet and keep warm, uncovered, in middle of oven. Make more waffles in same manner (do not respray iron).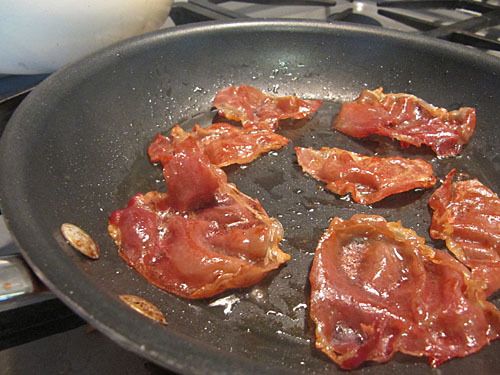 In a large heavy skillet heat 1 teaspoon olive oil over moderate heat and cook prosciutto slices until crisp and golden, about 1 minute on each side.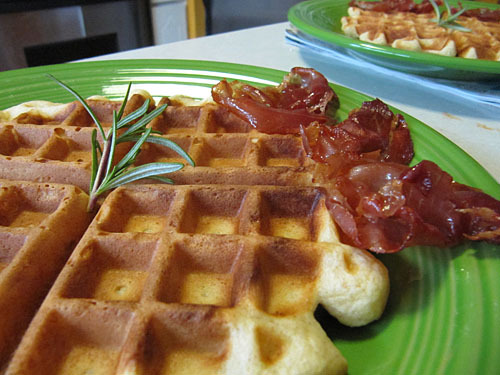 Drain on paper towels briefly and serve waffles with prosciutto, and maple syrup. Garnish with small sprigs of rosemary.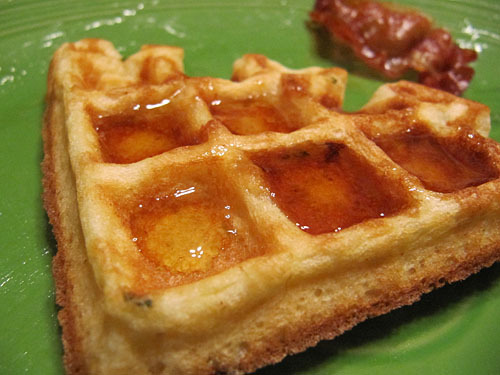 The original recipe says this serves two, but I got 4 almost-plate-sized waffles out of the recipe. If you had fruit and a few other things in a brunch-type situation, you could probably serve 3-4 with this recipe.