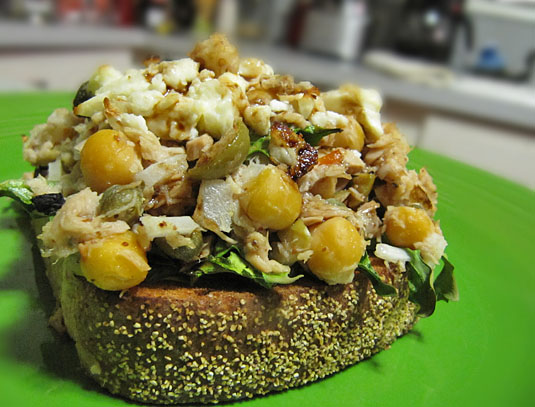 While growing up, a tuna melt was one of my go-to, out to eat meals. Through the years, I've been guilty of mixing up some tuna salad, slathering it on an English muffin and melting copious amounts of cheddar cheese on it and calling it dinner. Bonus: A pretty quick dinner at that! Now, while that version is still pretty tasty, it's not the healthiest dinner (hence the guilty).
Lately, I've tried to stick to my tuna melt roots but I've also tried to lighten it up a bit. It started by adding greens and just a touch of mayo. Now, I've come across this recipe that actually convinced me to give up the melted cheddar. I know! Crazy talk!
But, this version was really very good. So maybe give it a try next time you have a hankerin' for a tuna melt. You can always add more feta…I won't tell anyone.
Also, just as a note: without the mayo and the cheese, there's not a lot of "glue" here to hold all of the toppings on the bread. So, don't be surprised if it gets a tad messy.
Mediterranean Tuna Melt
Adapted from a recipe in Everyday Food; makes 2 servings, so find a friend.
1 can (6 oz) tuna packed in oil, drained*
1/2 cup canned garbanzo beans, drained and rinsed (save the rest of the can for another use)
2 tbsp minced red onion
2 tbsp fresh lemon juice
1/4 tsp dried oregano
1 tbsp chopped green olives
1 tbsp capers, rinsed
1 garlic clove, minced
1/2 tbsp Dijon mustard
Salt and pepper
2 sliced Whole Wheat (or other) bread, toasted
1/2 cup baby spinach or arugula
1/4 cup crumbled feta cheese (you could also use provolone or mozzarella here, if you wanted that more "melted" experience)
Optional: Balsamic Vinegar for drizzlin' over the top
Heat broiler. In a bowl, combine first nine ingredients (tuna through mustard); season with salt and pepper to taste.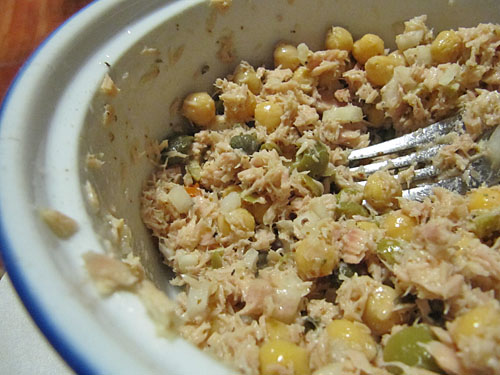 Lay toasted bread slices on a broiler-proof baking sheet; top with spinach or arugula, then divide the tuna mixture between the two pieces of bread. Sprinkle with the feta. Broil until golden and delicious looking, 2 to 4 minutes. Drizzle a little balsamic vinegar over the top if you'd like a little extra something and then eat.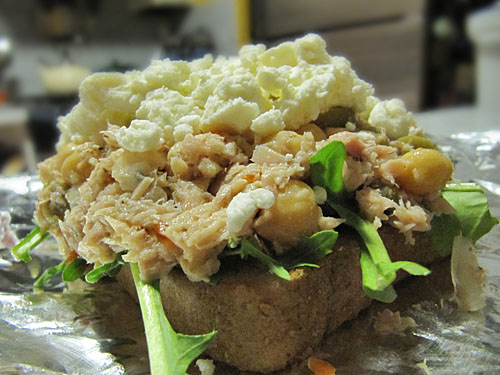 * If you want to use tuna in water, just drain and add about 1 tablespoon of olive oil to the tuna mixture.