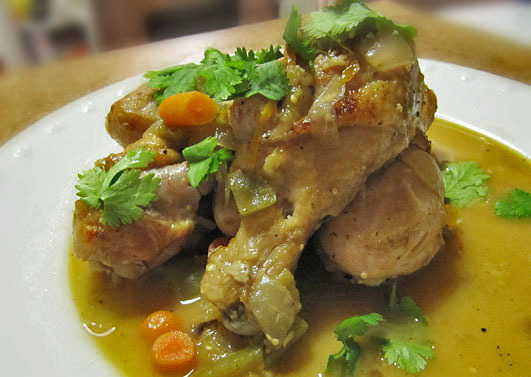 It seems like I hardly ever sit around on a Saturday or Sunday afternoon anymore and watch cooking shows. I used to do that all the time. Now, meh. I should really try to get back in the habit of doing that, as I feel like I've been in a little bit of a food rut lately.
Now this recipe…this is what happens when I actually see something on a cooking show and right then, go out and get what I need to make it. Except, in this case, I forgot limes. Thankfully, I found an orange in the fridge that I used as a substitute. And, although I think that limes would work really well in this recipe (duh), I have to admit, the orange was quite nice. A little sweeter, but it complimented the tomatillos and jalapeno well.
Plus, this is seriously some braising weather lately. Go braise something! Why not this?
Braised Chicken with Tomatillos and Jalapenos
Adapted from a recipe by Anne Burrell (she with the crazy hair). Serves two as written below. Double it up and you've got lunches for the next day as well!
3 tomatillos, husked
1 jalapeno pepper
Extra-virgin olive oil
4 chicken drumsticks
Kosher salt and black pepper
1 medium white onion, cut into 1/4-inch dice
1 carrot, peeled and diced
1 green bell epepper, cored and diced
3 cloves garlic, smashed and finely chopped
1 cup chicken stock
1/2 orange, zested and juiced
2 Tbsp chopped fresh cilantro, plus a few more leaves for garnish
Citrus Sour Cream:
1/4 cup sour cream
1 limes (or 1/2 orange), zested and juiced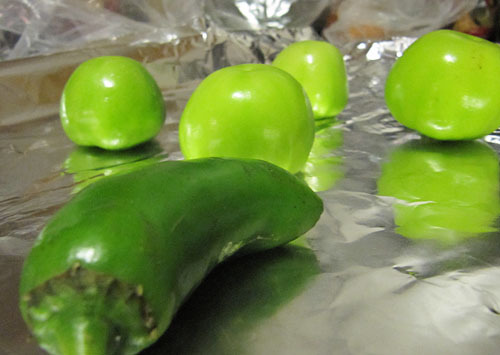 Place the tomatillos and jalapenos on a foil lined baking sheet and put under the boiler, turning as needed, until charred and black. When they are done, remove and put in a bowl and cover with plastic wrap or foil to steam. After a few minutes, you should be able to peel the blackened skins off. Chop the tomatillos and jalapeno (removing some of the jalapeno seeds, if you want it less spicy).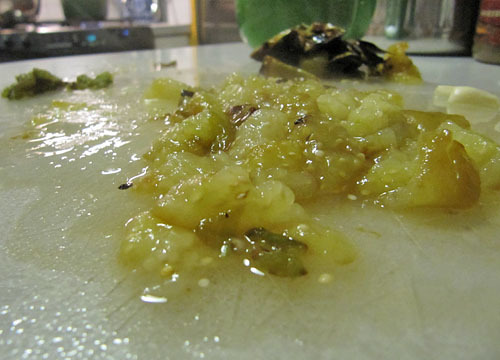 Coat a large, wide straight-sided saute pan with olive oil and bring to medium-high heat. Sprinkle the chicken generously with salt. Add the chicken legs to the hot pan. Brown the chicken well on all sides. Remove from the pan and reserve.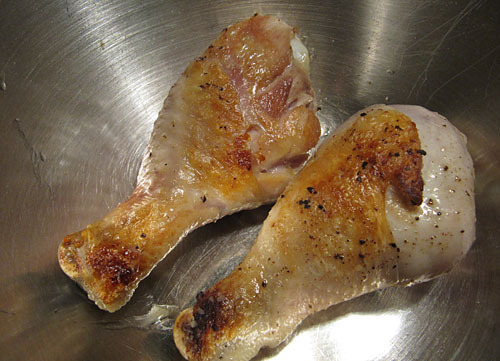 Remove any excess fat from the pan and add a few drops of new oil. Add the onion, bell pepper and carrot, season with salt and cook 7 to 8 minutes. Add the garlic to the pan and continue cook for 1 to 2 minutes. Next, add the reserved tomatillos and jalapenos. Stir to combine and add the chicken stock, orange juice and zest. Taste and season with pepper and more salt if needed. Return the chicken to the pan and bring to a boil. Reduce to a simmer and cover. Cook for 15 minutes. Remove the lid and let cook for 15 more minutes, allowing the sauce to reduce. Taste for seasoning and adjust if needed.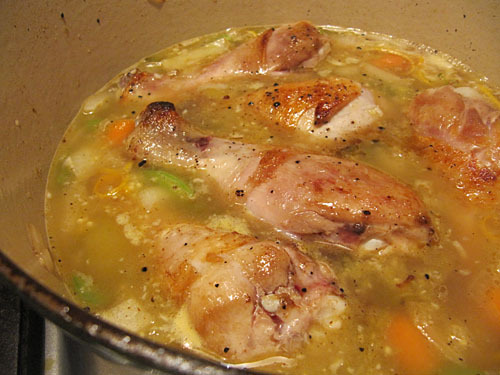 For the sour cream: Combine the sour cream with the lime (or orange) zest and juice.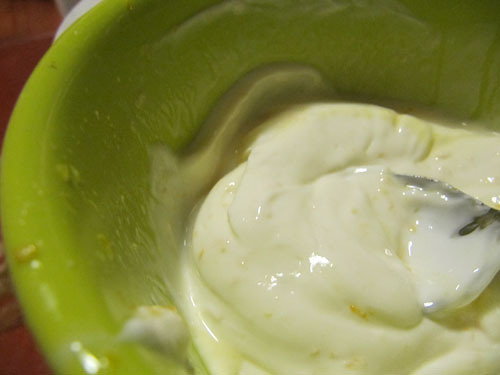 To serve: Remove the chicken from the pan and stir in the cilantro. Spoon the sauce over the chicken, sprinkle with cilantro leaves and serve with the citrus sour cream.