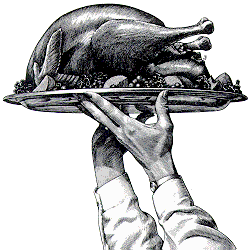 Okay, lazy! Here's this finally. The cooking officially starts tonight with the making of the cranberry sauce. Puddings, cookie dough, hen brine, cauliflower gratin and roasted veggies all happen tomorrow.
Appetizers:
Wheat Blini w/ Smoked Salmon — recipe from Dorie Greenspan, a French Fridays with Dorie adventure from last month.
Veggies & Balsamic Hummus Dip — pretty easy here. Using a store-bought, local hummus that I like. May thin it a bit with yogurt for easier delicate-vegetables dipping.
Rosemary Marcona Almonds – from Trader Joe's. But I may try candy-ing some. For fun.
Dinner:
Yeah, there's no turkey this year. No. Turkey. Instead, everyone gets their own "tiny turkey."
Cornish game Hens w/ Apple, Sage, Sausage Stuffing & Gravy – America's Test Kitchen recipe. One day I will type up this recipe. It mainly consists of brining, stuffing, roasting breast-side down for a bit, turning breast-side up and basting with olive oil & balsamic vinegar. I will be adding some butter/roasted garlic/sage leaves up under the skin. Whee!
Stuffing: Got some dried bread stuffing mix that I will doctor up with other stuff. Mainly garlic, sage, apples, sausage. Butter.
Roasted Root Vegetables w/ Balsamic & Lemon Vinaigrette – recipe from Bon Appétit. Made it last year for a work party and it was a big hit. Going to make these the day before and just reheat (crisp up) before serving. That way, I don't have to worry about them the day of with my limited oven space and the very short rest time for the hens. Plus, reheating (in a microwave, even!) worked well at work last year. So, I imagine they'd be even better reheating in an oven.
Cranberry Sauce – simple, homemade. Using this recipe, which I'm going to make tonight.
Tuscan Kale and Parmesan Salad – We've had this a few times. The secret (I think) is to let the kale sit in the dressing for about 20 minutes. I'm going to add pinenuts to this version (and maybe use Asiago cheese).
Cauliflower Gratin w/ Mustard Sage Cornbread Crumbs – last minute addition. Did I mention the Mustard Cornbread Crumbs?
Dessert:
Baked Pumpkin Puddings – Another last minute change. These just look so good.
And so do these.
Okay, happy thanksgiving!