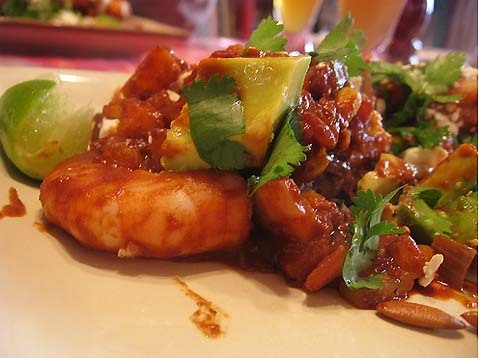 I once spent the better part of a day making a Rick Bayless Mole Sauce recipe. Hours and hours and the end result was…fine. Which I'm pretty sure had much more to do with my execution than the recipe, but there it is. I wasn't in love with it and jwa actually didn't like it. Then I make this recipe not expecting much and it is really good. I guess you just never know.
Of course I have absolutely no problem spending all day on a sauce, but I'm okay taking a short cut or two, which is no way should be interpreted as a "semi-homemade' anything. Seriously. Don't make me come over there.
Anyway, even though this is "easy" it still takes about an hour or so to prepare. I also found it very beneficial to make the sauce earlier in the day so it has 4+ hours to hang out and meld and stuff. When I tasted it right after making, the peanut butter taste was very strong but a couple of hours later, the spices were more dominant and it had evened out quite a bit. It was even delicious! So, allow about an hour to make and a few hours to tasty-up.
PS: It also freezes really well!
Easy Mole Sauce
Adapted from Gourmet Magazine
3 cups chopped onion
3 tbsp vegetables oil
1/2 tsp coriander seeds
1/2 tsp aniseed
3 tbsp chili powder
2 tsp sugar
3/4 tsp cinnamon
1/8 tsp ground cloves
2 tbsp unsweetened cocoa powder
2 tbsp peanut butter
2 to 3 cups chicken broth
a 1-pound can tomatoes, drained and chopped
2 tbsp golden raisins
3 garlic cloves
3/4 tsp salt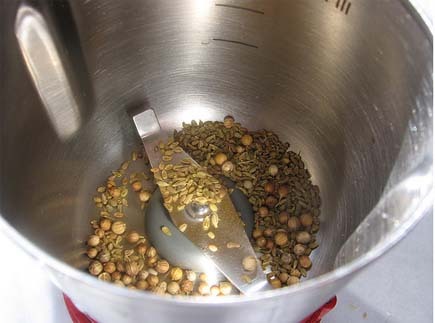 In a large heavy skillet sauté the onion in the oil over moderately high heat, stirring, until it is golden brown.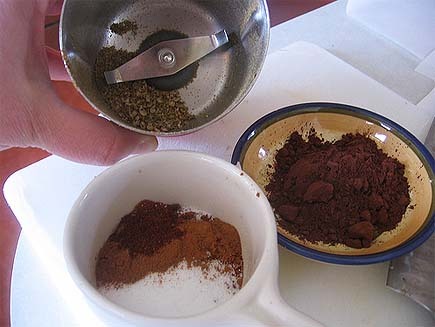 In a mortar with a pestle (or a spice grinder) crush the coriander seeds and the aniseed, stir them into the onion mixture with the chili powder, the sugar, the cinnamon, and the cloves, and cook the mixture over moderate heat, stirring, for 1 minute.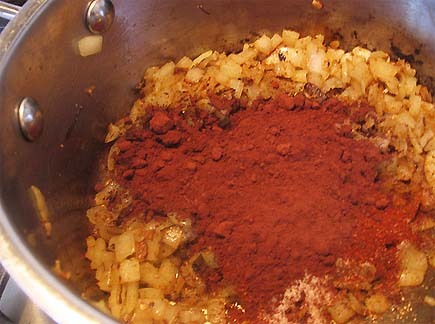 Smash the garlic cloves into the salt until you for a paste.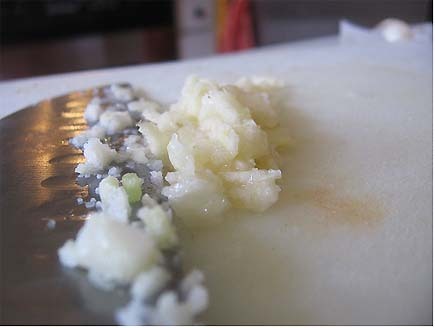 Stir in the cocoa powder, the peanut butter, 2 cups of the broth, the tomatoes, the raisins, the garlic paste, and salt to taste and simmer the sauce, uncovered, stirring occasionally, for 20 minutes.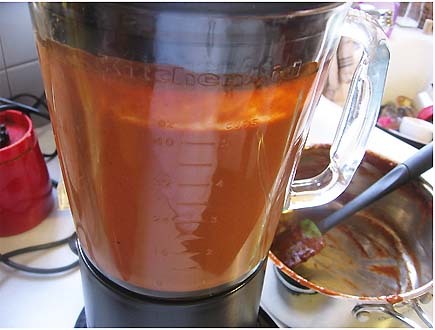 In a blender or food processor purée the sauce in batches, adding the remaining broth as necessary to thin it to the desired consistency. Return to a pan and simmer for about 30 minutes.
What to do with your easy mole sauce?
Using this mole sauce, I made an Emeril recipe for Black Bean Cakes, Shrimp & Mole Sauce. It was pretty good, although the black bean cakes were very delicate, I can see how some reviewers had trouble keeping them together. I mixed about a tablespoon or two of my breadcrumbs into the black bean mixture. I think that helped them hold their shape a bit better.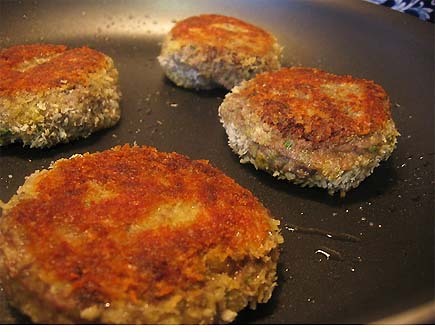 Cook some shrimp, bell pepper and onions in the mole.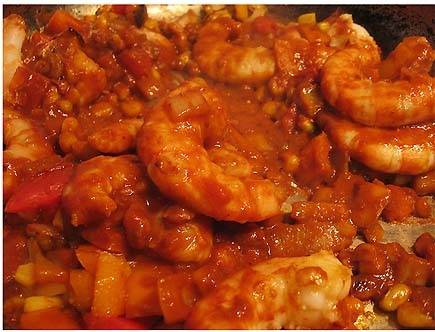 Then stack it all up with limes on the side and some cilantro! Mmmm! Okay, yeah, there was also some cheese involved.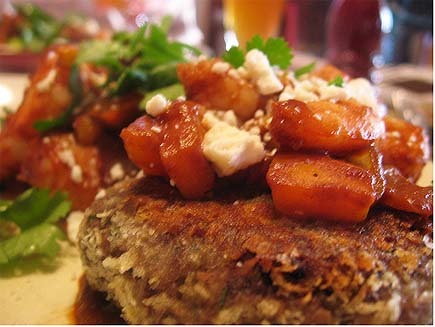 You can also simmer chicken in the mole, pork, or just dip random things into it!
* * *
Up next: What do the astronauts eat? And why is Rachael Ray everywhere?
* * *
Also, it was too dark to take many pictures at Koi Fusion@1 last week, but the drinks and food were quite tasty! Their non-moveable location at 1300 NW Lovejoy is now open. You should go!