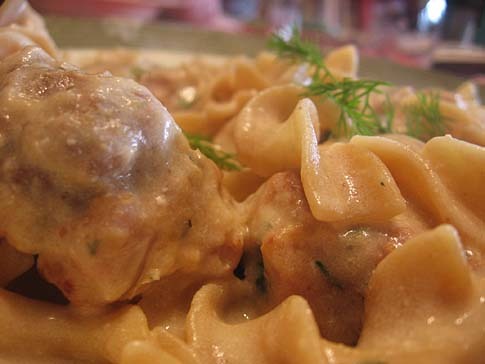 Facebook, not just for fake farms and stupid quizzes…
I went to grade school, junior high and then high school with someone who now works at NASA. I know, neat! We recently got back in touch via facebook and now I am contributing to a cookbook review he's working on. Not just any cookbook, but The Astronaut's Cookbook: Tales, Recipes, and More. I must admit that when he first asked me if I wanted to help review the book and cook a few of the recipes I was a little worried. My only previous experience with space food was the novelty packages of freeze dried Astronaut Ice Cream you could get at the Bay area Frys. (Edited to add: I kind of miss the San Jose Ancient Egypt-themed Frys).
But, it was okay as the cookbook was filled with pretty normal looking recipes. In fact, it seems that astronauts eat meals from the likes of Rachael Ray — Swedish Meatballs and Emeril — Kicked Up Bacon Cheese Mashed Potatoes. Hey! Astronauts are JUST LIKE US!
After perusing the book I decided on the Swedish Meatballs, Kidney Bean Burgers and special future brownies. Not all in the same meal.
Those last two recipes are from the last section of the book entitled, Future Space Food. This chapter talks about a Mars Mission and the need for a "plant-based advanced life support system" resulting in a vegetarian diet. Bring on the beans and the tofu! No really, the brownies have tofu in them, but I've gotten a little ahead of myself…
Because first, it's Ms. Ray, who is indeed everywhere. Even in space. Where no one can hear you scream — or something like that.
Swedish Meatballs
Adapted from a recipe by Rachael Ray, featured in The Astronaut's Cookbook. 4 servings.
1/3 lb ground beef
1/3 lb ground pork
1/3 ground veal
1 egg
1/2 cup bread crumbs
1/4 cup milk or cream
1/4 tsp dried mustard
3 tbsp finely chopped white onion
1/8 tsp ground nutmug
salt & pepper
2 tbsp butter
2 tbsp unbleached AP flour
2 cups beef stock
1 cup sour cream (full fat)
2 tsp currant jelly
1 lb egg noodles, cooked al dente
finely chopped fresh dill fro garnish
First off, I opted to use 2/3 lb ground chicken and 1/3 lb ground French pork sausage (it had nutmeg and brandy in it). So, I omitted the mustard and nutmeg. Basically, just get a pound of the meat of your choice. If you do use ground chicken or turkey, I would also make sure to throw in a fattier meat (like pork) for flavor and texture. Or, you could always just follow the directions above too. Anyway, preheat the oven to 400 degrees. In a bowl, mix the meats with the egg, bread crumbs, milk, chopped onion, spices salt and pepper.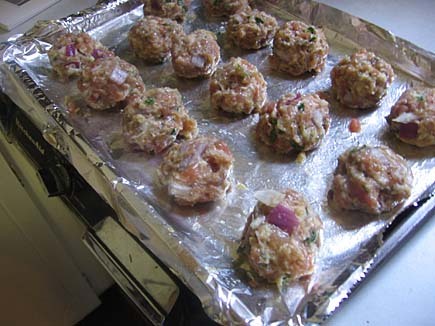 Roll the mixture into little 1-inch meatballs and arrange on a non-stick baking sheet. Bake of 10 minutes. Turn on the broiler and brown for about 1 minute. Flip over and do the same. Remove and set aside.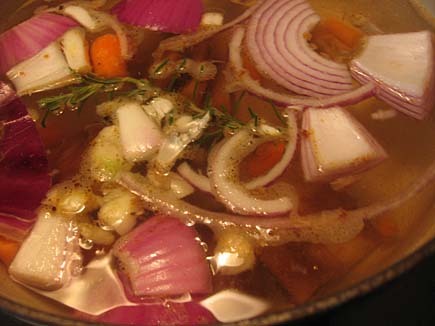 Beef stock getting stock-y!
Heat a sauce pot over medium heat. Melt butter, whisk in flour and cook 1-2 minutes. Add beef stock and let thicken for 6-8 minutes. (Yes, I made my own beef stock out of some short rib bones I had stashed in the freezer).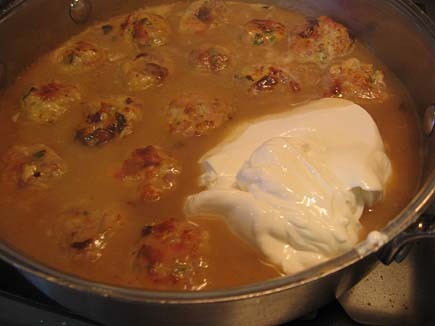 Add the meatballs and cook 1-2 minutes. Stir in sour cream and jelly.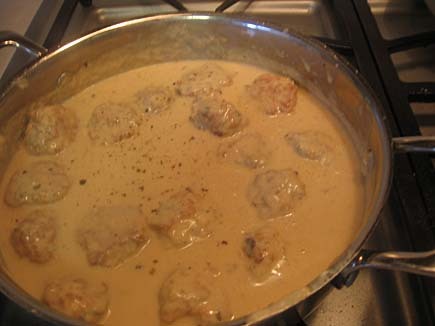 Taste and season with salt and pepper.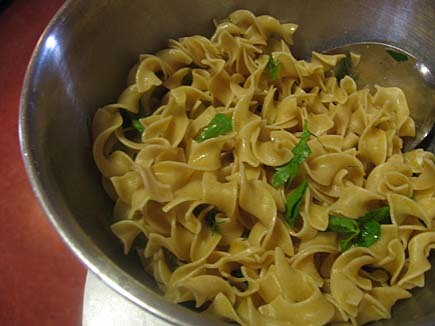 Mix in the noodles carefully and dish out, garnishing with fresh dill.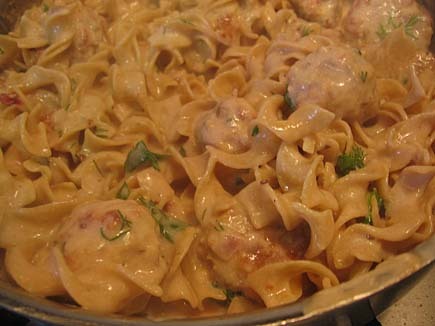 Both jwa and I really liked this recipe. It was very creamy and filling. You can enjoy it in your very own living room or up on the Space Station. The choice is yours.
Wednesday: Kidney Bean Veggie Space Burgers & Tofu Space Brownies! Mmm!