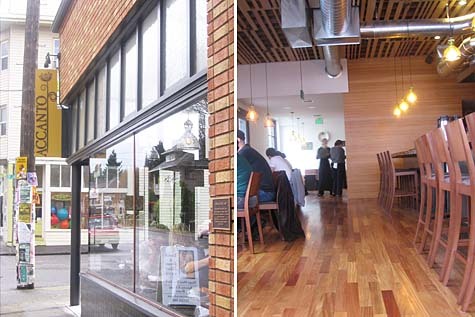 2838 SE Belmont St.
Portland, OR 97214
(503) 235-4900
We finally tried Accanto for brunch Sunday and wow, we both really enjoyed it. It's the place on the corner of 28th & Belmont, right next to the new Genoa. Actually, Accanto is to Genoa, like Cafe Castagna is to Castagna, I believe. Anyway, I love the curly fennel painting in their sign. That's some points right there. I called before we left to walk there to see if there was a wait (there was not). I've learned my lesson from the not-calling-Slappy-Cakes-first-gate of a couple of months ago.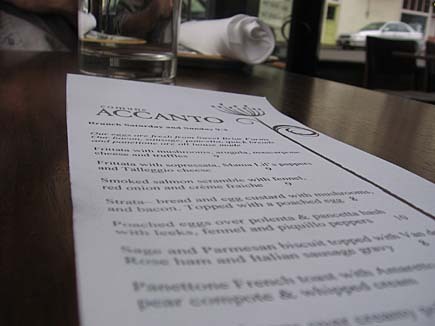 When we got there we got a table right in the front window and ordered drinks.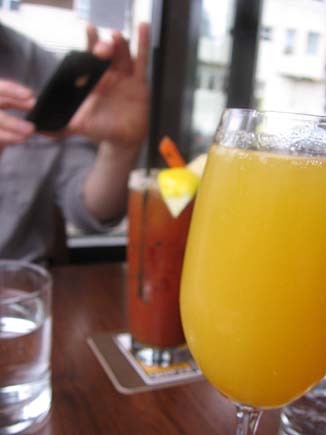 I got an Apricot Mimosa (Prosecco, Amaretto, apricot puree) and jwa ordered a Belmont Bloody Mary (Pepper infused Monopolowa, Spicy thymetomato juice). They were very good!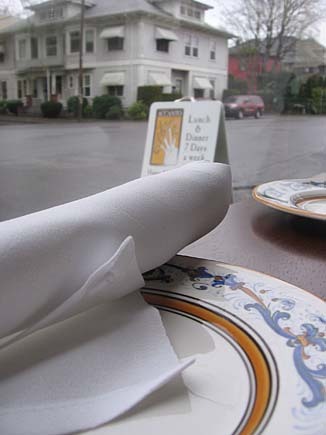 The view out on Belmont Street.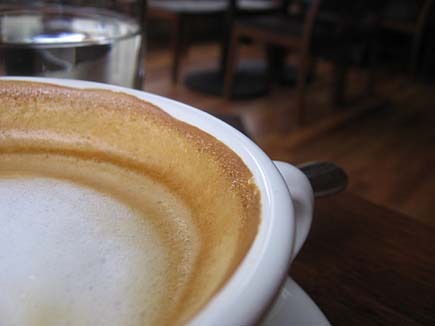 A latte, nice and strong. Plus, I just like taking pictures of coffee.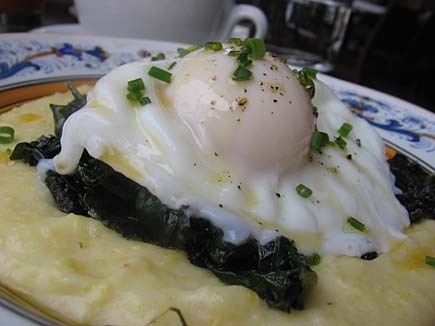 My meal: Poached eggs over creamy polenta with garlicky braised greens. So good! I loved the polenta (big surprise there) and the greens were also very good. I could have used more garlic, but then I am a garlic fiend. It was probably a good amount for a normal person.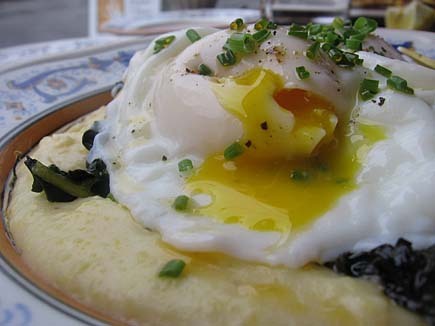 A river of yolk cascades down. We also split a side order of the fennel bacon which was completely delicious. Neither of us thought it tasted particularly fennel-y, but again, it was so good we didn't care. And actually, if it hadn't said 'fennel bacon' on the menu, we probably wouldn't have ordered it, so it was a very good thing, even if we couldn't taste the fennel because Best. Bacon. Ever.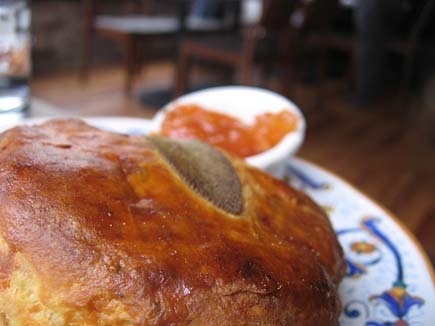 On the side I also got a Sage Biscuit, which came with its own little side of Blood Orange Marmalade. Wow, this whole part was as if I made the menu myself. That was one of the things I really enjoyed about the brunch — it's as if they got inside my head and put all my particular food fetishes on the menu (fennel, polenta, sage, blood orange, amaretto), it was crazy!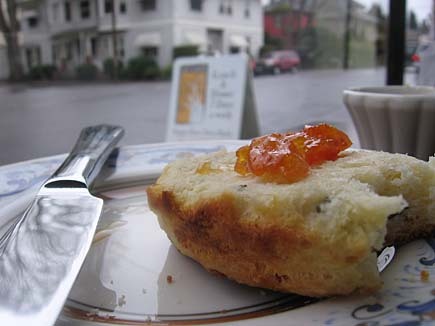 Another shot of the biscuit, just because my love of it was epic.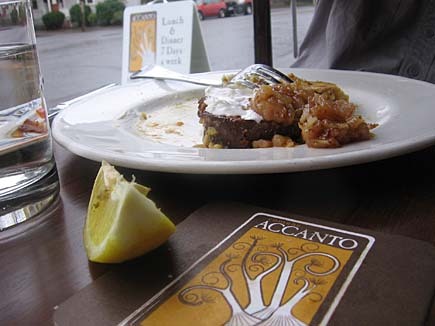 The only picture I captured of jwa's meal: Panettone French toast with Amaretto syrup, pear compote & whipped cream (on the side). He ate it very quickly, proclaiming it some of the best French Toast he's had. I got a quick bite and have to agree — it was very light and flavorful.
So, after a great brunch, I think we'll be trying Accanto soon for a mid-week dinner. But we do need to go to brunch again at some point as I need to try the Piccante Carotini (Stoli citros, fresh carrot juice with toasted cumin simple & cayenne sugar rim). Cumin! Get out of my head!