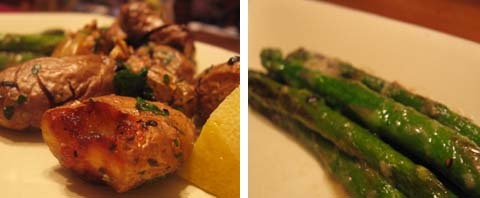 These two dishes were the rest of that really good mahi mahi meal in the last post. I had seen the cracked potatoes a couple of years ago and always meant to try them but then promptly forgot about it. Glad it didn't stay forgotten — so good! For four people the original recipe called for 12 yukon gold potatoes and double the oil/herbs listed below. I used about 16 tiny, tiny fingerling potatoes and it worked well for two people, but then we love potatoes with garlic and rosemary.
The asparagus was also delicious! I would never have thought to partner it with horseradish but wow, well played horseradish. Well played. (Is that too 2008?) Anyway, these were both very good. Make them! And then buy some earrings soon (see below)…
Cracked Potatoes with Rosemary & Garlic
Recipe adapted from one by Amy Finley — written below, serves 2
6 small-medium Yukon potatoes or (I used 16 tiny fingerling potatoes)
1/4 cup olive oil
1 sprig fresh thyme or rosemary, plus 1 tsp chopped fresh thyme or rosemary leaves
Coarse salt and freshly cracked black pepper
2 cloves garlic, sliced
Special Equipment: a rolling pin or heavy pan
Using the rolling pin or a heavy pan, gently smack the potatoes, 1 potato at a time, until the skin begins to split, exposing the interior of the raw potato.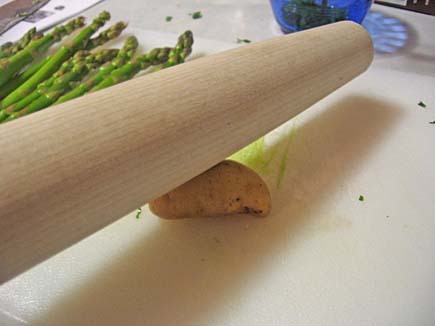 Over low heat, add the olive oil to a medium-sized heavy-bottomed saucepan, then add the potatoes and herb sprig and season generously with salt and pepper. Place the lid on the pan and allow to cook, undisturbed, shaking the pan every 5 minutes or so, until the bottoms of the potatoes are browned, about 10 to 12 minutes. (Check occasionally to make sure the potatoes aren't browning too quickly and adjust heat accordingly.)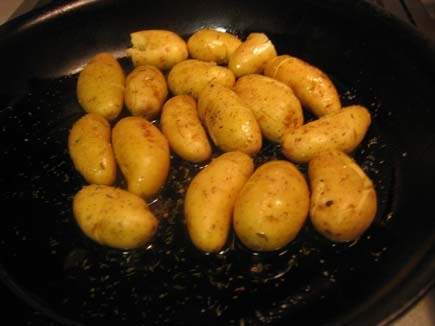 Turn the potatoes to their second side, replace the lid, and continue cooking undisturbed a further 5 to 8 minutes. Remove the lid and cook a further 2 to 3 minutes, for the condensation to evaporate.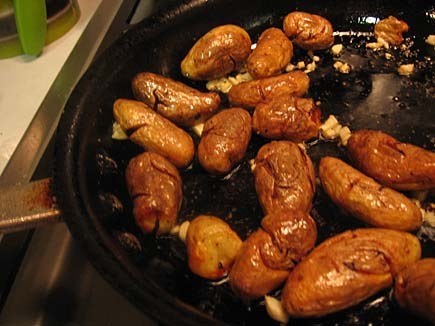 Remove the sprig and add the sliced garlic and chopped fresh herbs and cook until the garlic is caramelized and chewy, about 2 minutes. Serve hot.
***
Asparagus with Horseradish Butter
Recipe adapted from Gourmet Magazine
1 bunch asparagus trimmed
Salt
1/2 tbsp extra-virgin olive oil
1 tbsp unsalted butter, softened
1 tbsp bottled horseradish
Mash together butter, horseradish, and 1/8 teaspoon salt. Set aside.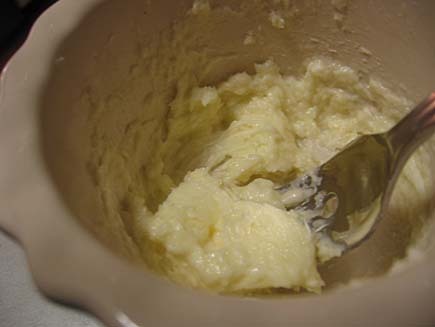 Add the olive oil to a heavy pan and heat over medium-high heat. Add the asparagus, sprinkle with a little salt and cook, covered, until bright green, about 5 minutes. Remove the lid and toss the asparagus around and give it about 3-6 more minutes, until tender (this will depend on the size of your asparagus).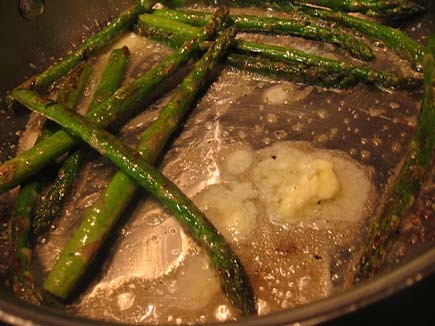 Add the horseradish-butter to the pan an let it melt onto the asparagus. Toss asparagus with horseradish butter and serve hot.
***
I took a jewelry making class at Portland Community College last Fall and enjoyed it, made a few things and then kind of forgot about it. Until last weekend! I went on an earring making binge.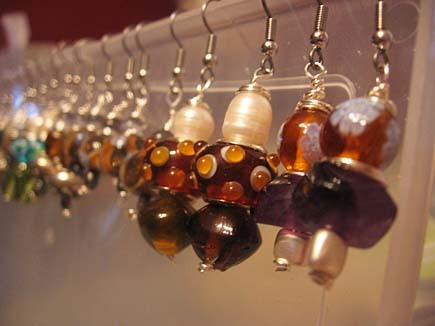 I think I'm going to start selling some on etsy. More on that soon…