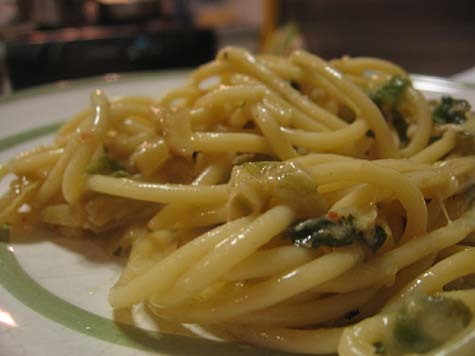 We have been trying to reinstate "Vegetarian Saturdays" since the new year began and because we ate a lot of food last year over the holidays. But then, I've also made Flank Steak Roll-Ups Pinwheels and Braised Short Ribs, so we're not all that vegetarian-y lately. Anyway, this was a recent no-meat Saturday meal. I made it without the pancetta listed below and with vegetable broth instead of chicken broth. Next time, I will use maybe half the pancetta called for and probably the chicken broth (just because it's what I normally have on hand).
That said, this was a good pasta dish! And I love it whenever you can use the pasta water to help make the sauce. I did want a little more fennel, though, so I adapted the recipe below to use three fennel bulbs instead of the original two. I also caramelized the fennel first to give it even more flavor. I can't imagine how good it would have been if I did that in the pancetta fat.
Anyway, use meat, don't use meat, this is still a good, satisfying pasta meal. Below, I listed the recipe with the pancetta and chicken broth but just omit/sub those as you wish. Oh and it really wasn't that spicy at all.
Spicy Spaghetti with Fennel and Herbs
Adapted from Bon Appétit
1 3-ounce package pancetta (Italian bacon), chopped
1 tbsp olive oil
4 garlic cloves, chopped
2 large red or green jalapeño chiles, seeded, finely chopped (about 1/4 cup)
3 large fennel bulbs, stalks trimmed, cut into thin wedges with some core attached
1 1/2 cups low-salt chicken broth
2 tbsp finely chopped fresh Italian parsley, divided
2 tbsp finely chopped cilantro, divided
2-3 tbsp fresh lemon juice
1.5 tsp crushed fennel seeds
1 tsp dried oregano
1 pound spaghetti
2 tbsp extra-virgin olive oil
1 1/2+ cups finely grated Pecorino Romano or Pecorino Toscano cheese, divided
2 green onions, chopped
Sauté pancetta in large skillet over medium heat until pancetta is golden. Using slotted spoon, transfer pancetta to paper towels. Add 1 tablespoon oil to drippings in skillet. Add fennel; cook until beginning to get golden, about 10 minutes. Add garlic and chiles; sauté over medium heat about 3-4 more minutes.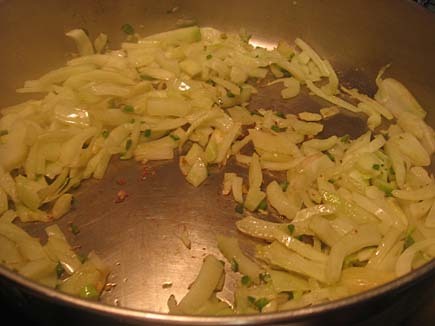 Mix in broth, 2 tablespoons parsley and 2 tablespoons of cilantro, lemon juice, oregano, and fennel seeds. Bring to boil. Reduce heat to low, cover, and cook until vegetables are very tender, 10 minutes or so. Remove from heat. Season with salt and pepper.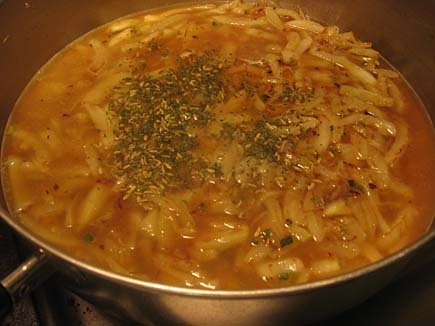 While pasta is cooking, uncover skillet with fennel mixture and return to high heat. Cook until almost all liquid is absorbed, about 5 minutes. Cook pasta until tender; drain. Reserve 1 cup cooking liquid.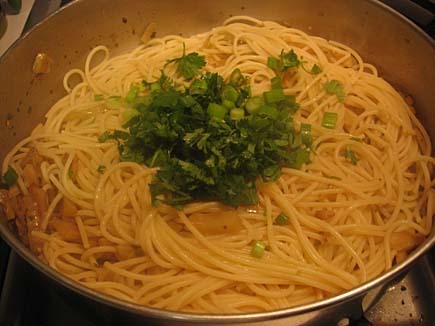 Add pasta to fennel mixture. Stir in 2 tablespoons oil, 1/2 cup cheese, and pancetta. Add cooking liquid by 1/4 cupfuls if dry. Toss pasta; transfer to serving bowl. Sprinkle remaining parsley and cilantro, as well as the chopped green onions over. Toss. Serve with more cheese and freshly ground black pepper.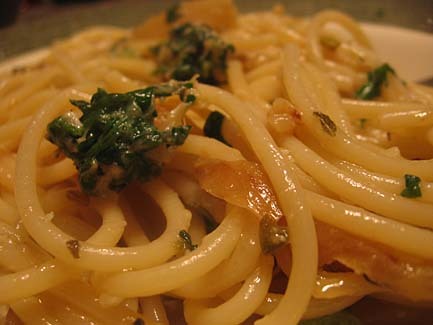 Completely Unrelated and Frivolous: Recently, I read this Slashfood post: 10 Hottest Men in the Food Industry and was kind of befuddled by a lot of their list. Plus, it got me to thinking that I have a little TV Chef crush on Michael Symon. Seriously, how did he not make the list? With his love of pork, meat-themed tattoos, and the goofy, high-pitched, laugh-giggle thing. And he's really hot too.