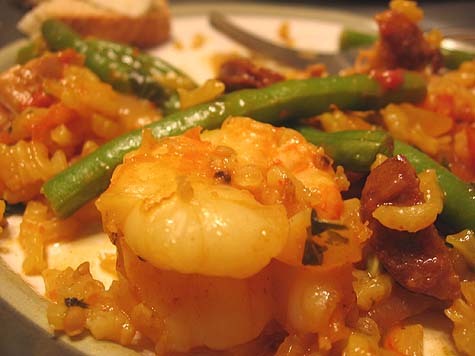 I combined a couple of recipes here — one of the Paella recipes in the (awesome) New Spanish Table cookbook, a paella recipe from Tyler Florence and I also used the meat I wanted to — chicken thighs, chorizo and shrimp, rather than the exact ones in either recipe. You could throw all manner of meat and seafood in here, but I stuck to those three.
This makes a ton of paella! A. Ton. Of. Paella. It would be great to make for a dinner party or of you want to make something for dinner, have lunch the next day, and then be able to freeze a couple more lunches.
You will need a huge skillet or an actual paella pan here. Do not underestimate the amount of room you need in your cooking vessel or you will cry into your overflowing pan of Spanish tastiness.
Aside from the simmering stock, this all happens in one pan!
Lots of pictures in this post…
Paella for a Crowd
This will easily serve 8 as a main course.
1 tbsp smoked paprika
2 tsp dried oregano
1 lb chicken thighs
2 tbsp extra-virgin olive oil
2 Spanish chorizo sausages, thickly sliced
Kosher salt and freshly ground pepper
1 white onion, diced
6 garlic cloves, sliced
1 bunch parsley, chopped
1 yellow bell pepper, seeded, cored and diced
1 (15-ounce) can whole tomatoes, drained and roughly chopped, or 1.5 cups chopped fresh tomatoes
2 cups short grain Spanish rice
6 cups chicken stock
Generous pinch saffron threads
1 pound jumbo shrimp, peeled and de-veined
1 cup green beans, trimmed and cut into 1.5 inch pieces
1 roasted red bell pepper, cut into strips
Optional: 1 long strip of orange zest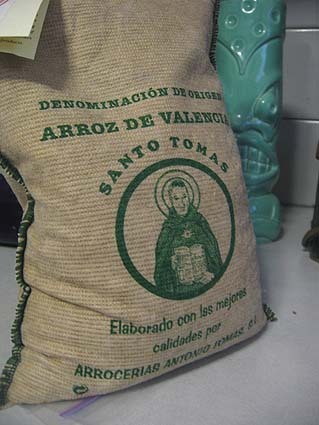 Paella rice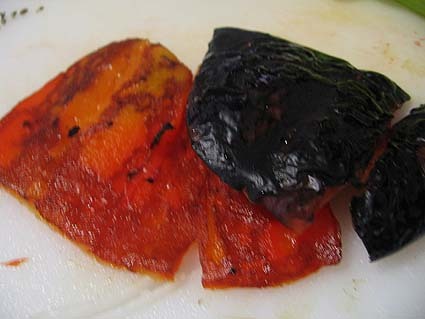 Roasted red bell pepper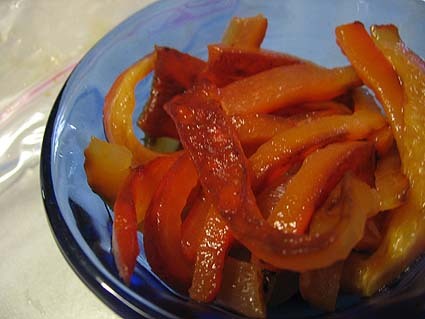 Roasted red bell pepper strips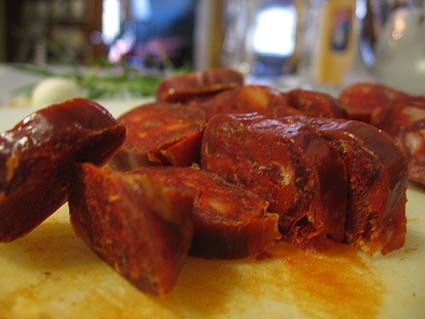 Sliced chorizo
Okay, here are the directions!
Combine the paprika and oregano and rub the spice mix all over the chicken and marinate chicken for 1 hour in the refrigerator.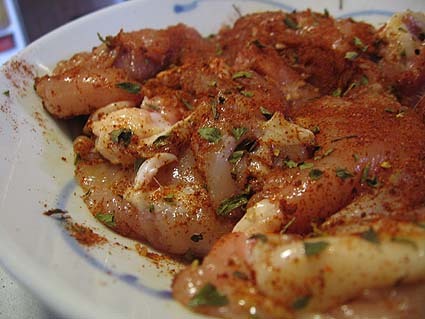 Preheat the oven to 425 degrees. Heat oil in a paella pan over medium-high heat.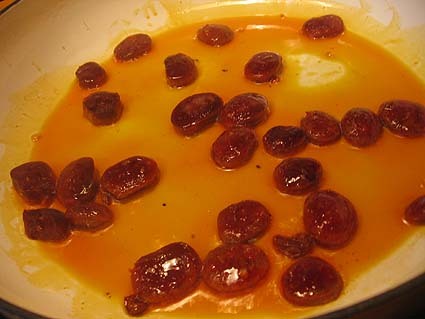 Saute the chorizo until browned, remove and reserve.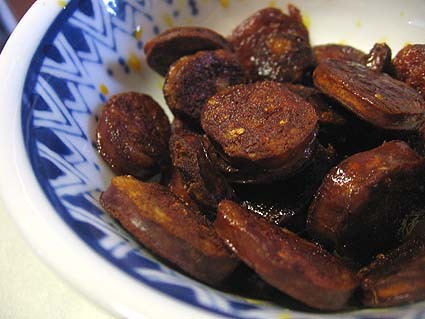 Salt and pepper the chicken and add chicken and brown on all sides, turning with tongs.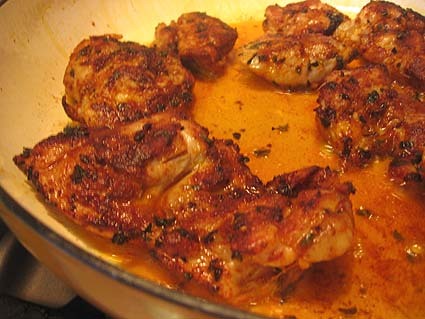 Remove from pan and set aside. When cool enough to handle, slice into thick strips.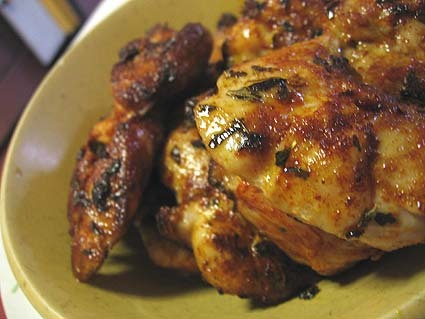 In the second pot, heat up the chicken stock and add the saffron. Keep at a very low simmer.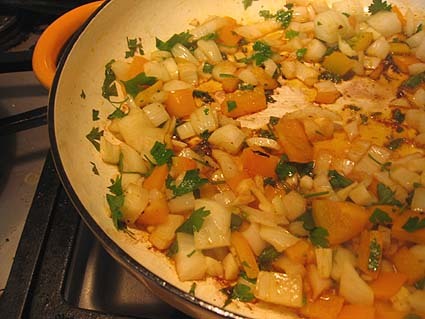 Next, in your paella pan, saute the onions, garlic, yellow bell pepper, and parsley in all the chorizo-y/chicken-y olive oil. Cook for 2 or 3 minutes on medium heat. Then, add tomatoes and cook until the flavors meld, about 5-6 minutes.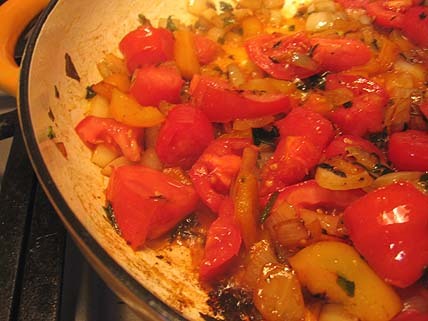 Fold in the rice and stir to coat the grains.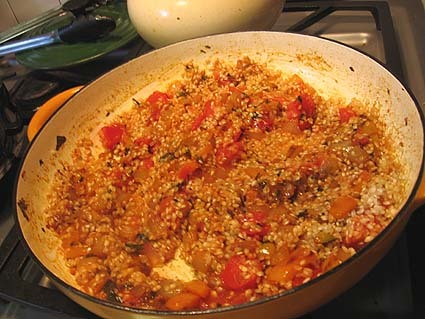 Now, this is where you need to decide if your pan is big enough. There's no going back. Ready? Okay!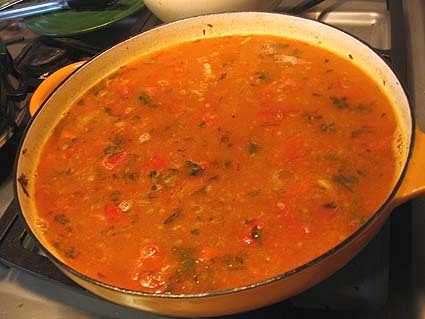 Pour the hot saffron-stock into the paella and simmer for 10 minutes, gently stirring occasionally so that the rice cooks evenly and starts to absorb the liquid.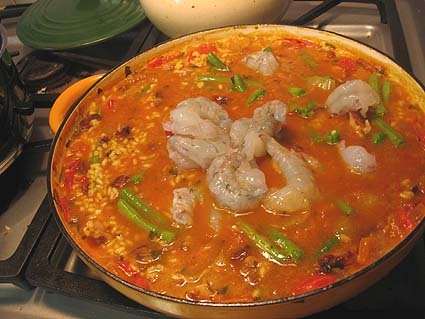 Next, add the chicken, chorizo, then the green beans and shrimp. Try to tuck the chicken and shrimp under the rice. If you are using it, add the orange zest strip in there too. Put a lid on the pan and put in the oven for 15 minutes.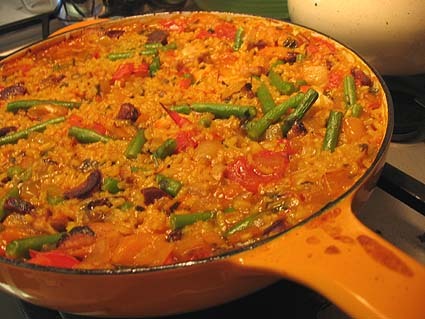 Remove from the oven, check the rice for doneness — you can always stick it back in for a minute or two. If it's good, uncover and rest for 5-10 minutes. Garnish with the roasted red bell pepper strips.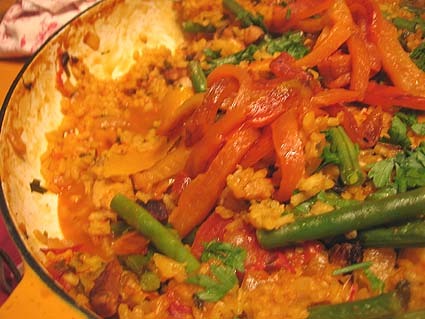 Leftovers will keep the fridge a few days, then freeze as needed!