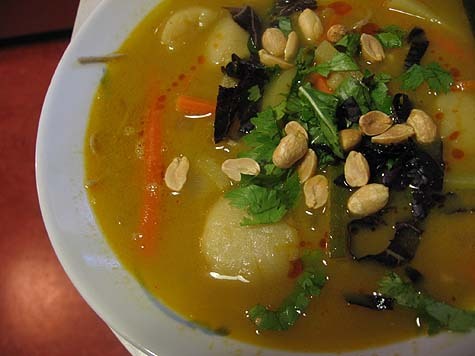 I like this recipe a lot because you can substitute with abandon. No fish stock? Use chicken or vegetable! No lime leaves? Use some zest. It continues on like that…I've made this once with all the right ingredients and once with a lot of substitutions and both turned out delicious. They didn't taste exactly the same but this is a recipe that lends itself (imho) to experimentation and variation. Also, jwa, who generally dislikes fish soups/stews loved this. That's high praise right there, people.
This last time I didn't have any lime leaves, green onions or lemongrass. My substitutions: strips of lime zest, a little lime juice, chopped white onion and two herbal lemongrass tea bags. Stash Lemon Blossom, to be exact.
Oh and also this is a great use of frozen scallops. Scallops are very expensive and you need the fresh, dry-packed ones to sear. This recipe is nice in that the scallops are cooked in the soup, no searing involved. So, if you find good frozen ones that you like (the Trader Joe's Wild Japanese Scallops have always been sweet and tender for me), this is a great budget scallop recipe!
Asian Scallop Soup
Adapted from a recipe for Scallop Soup by Capiral Pence!
5 cups fish, chicken or vegetable stock (I like using half vegetable/half chicken stock)
2-3 kaffir lime leaves (or zest and juice of 1 lime)
1 stalk lemongrass
1 tbsp olive oil
2 small carrots, julienned
1 zucchini, julienned
1 bunch green onions
3 cloves garlic, chopped
1 tbsp ginger, grated finely
fish sauce to taste (1-3 tbsp)
1/2 can coconut milk (can be lowfat, if so, use the full can)
12 large scallops
1 tsp roasted chili paste (you can also use a little cayenne pepper)
8 oz udon or soba noodles, cooked
Garnishes: Any or all of the following — mint leaves, cilantro leaves, bail leaves, chili oil, peanuts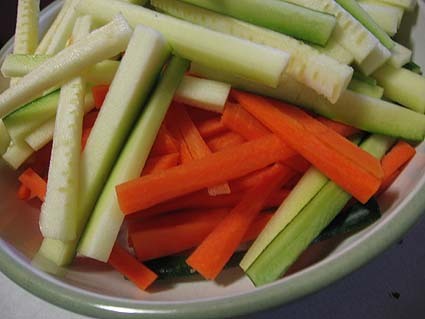 In a large saucepan over high heat, bring the stock, lime leaves or zest, and lemongrass (or tea bags) to a boil. Reduce the heat and simmer and cook the broth for 5-10 minutes until the stock is infused with flavor.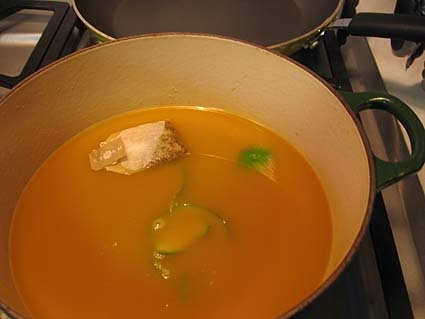 Meanwhile, heat the oil in a stockpot over medium heat. Add the carrots, zucchini,l green onions, garlic and ginger. Cook until tender, about 3 minutes. If you are using chili paste, add it now.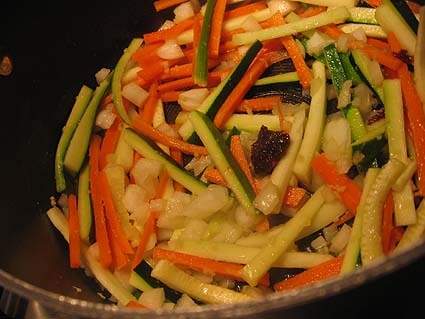 Strain the stock through a sieve into the stockpot with the vegetables. Discard any solids in the sieve.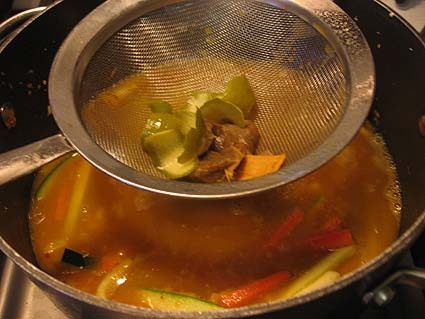 Add the coconut milk to the broth and bring to a light boil.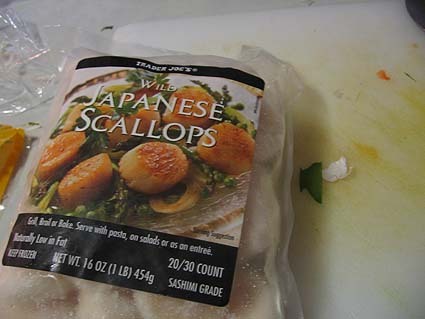 Add the scallops and simmer until just opaque and cooked through.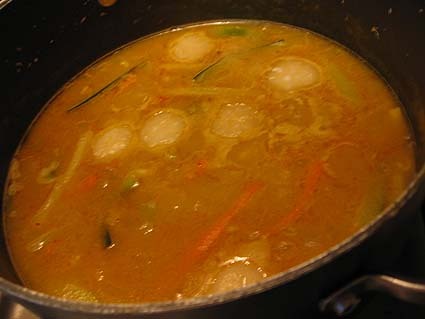 If you are using frozen scallops, don't bother defrosting. Mine took about 6 minutes. You can always pull one out and cut it in half to see if it's opaque.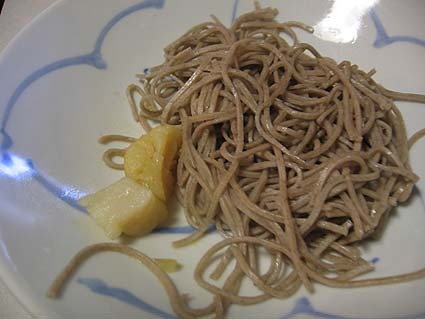 Testing a scallop for doneness
Season with the fish sauce (I used about 3 tablespoons, but start with one and increase from there) and cayenne pepper, if using.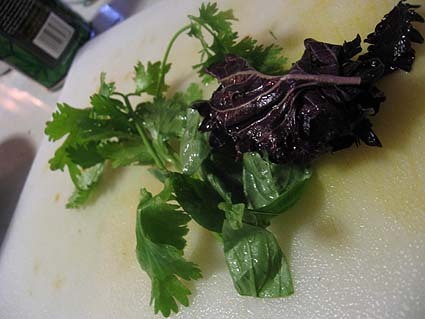 Place the cooked noodles in 4 bowls and top the noodles with 3-4 scallops and some of the broth. Garnish with the garnishes.