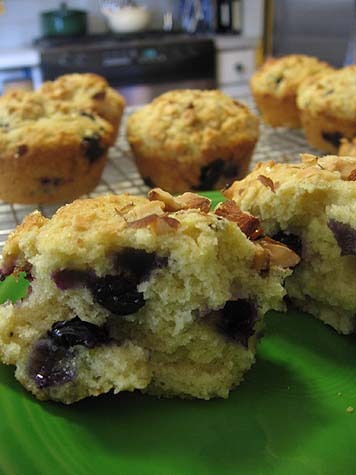 The other day, I found myself with a container of ricotta that needed to be used. The weather wasn't really cooperating for something with pasta, so I set out to find a recipe for something a little different. I came across this one and thought, "Oh! I can use my oven on a 95F degree day!" and decided to make some muffins. Because I have no sense.
Anyway, I got these baked before it got too terribly hot out and was rewarded with delightful, melt-in-your-mouth, lemony, blueberry, almond-y muffins. Now, I normally make pretty healthy muffins but these are not those kind of muffins. These are ricotta cheese + butter kind of muffins. Sometimes, you just need to shrug and grab that stick of butter.
I used a jumbo six muffin cup pan. The recipe should also make 12 regular-sized muffins. In fact, with my bigger muffins, I had a little leftover muffin batter that I baked in a smaller dish. Oh and the almonds and sugar on the top is delicious, don't skip that part if you can help it.
Lemon Ricotta Blueberry & Almond Muffins
Adapted from the recipe, Nonna's Lemon Ricotta Biscuits, by Giada De Laurentiis
1 2/3 cups all-purpose flour
1/3 whole wheat flour
1/2 tsp baking powder
1/2 tsp baking soda
1/2 tsp salt
1 cup sugar
1/2 cup (1 stick) unsalted butter, room temperature
1 tbsp finely grated lemon zest (from 2 lemons)
1 cup whole-milk ricotta cheese
1 large egg
1 tbsp fresh lemon juice
1/2 tsp almond extract
1 cup blueberries (I was a little under, between 3/4 and 1 cup)
1/3 cup almonds, either sliced or whole almonds that you have crushed up a bit
1 tbsp raw sugar for dusting the tops of the muffins (you can also use regular sugar)
Spray 6 large muffin cups or 12 regular-sized muffin cups with butter/flour spray. You can also line the cups with paper liners. Preheat the oven to 350 degrees F.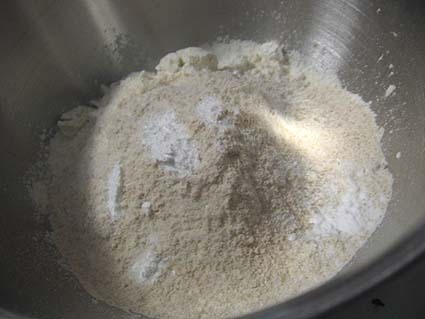 Whisk the flour, baking powder, baking soda, and salt in a medium bowl to blend.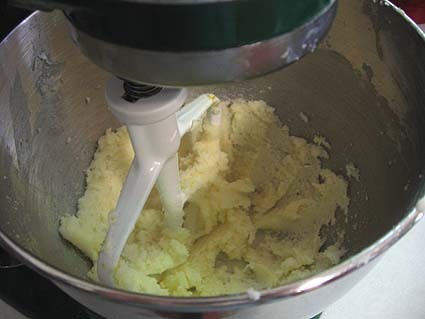 Using an electric mixer, beat 1 cup sugar, butter, and lemon zest in a large bowl until light and fluffy. Beat in the ricotta.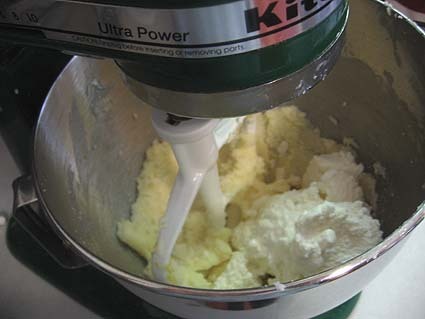 Beat in the egg, lemon juice, and almond extract. Add the dry ingredients and blueberries. Stir just until blended. The batter will be very thick, almost like a scone dough.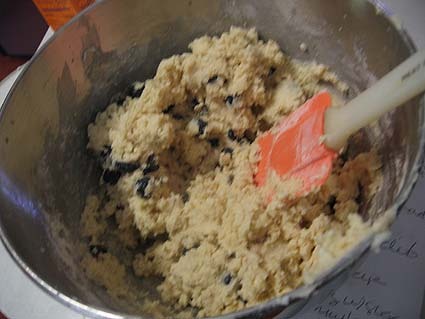 Divide the batter among the prepared muffin cups.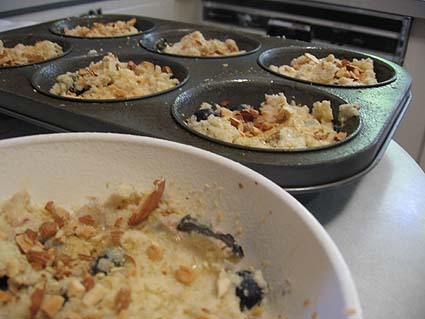 Sprinkle the almonds and then the raw sugar over the muffins. If you have any extra muffin batter, put in in a small, buttered & floured, oven-safe dish and bake that along with the muffin pan.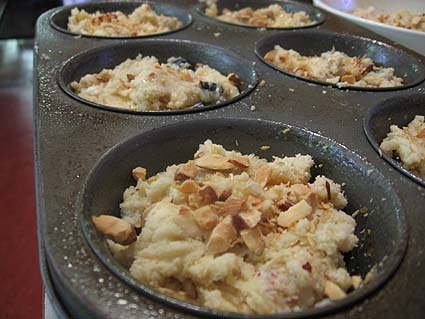 Bake until the muffins just become pale golden on top, about 20-25 minutes.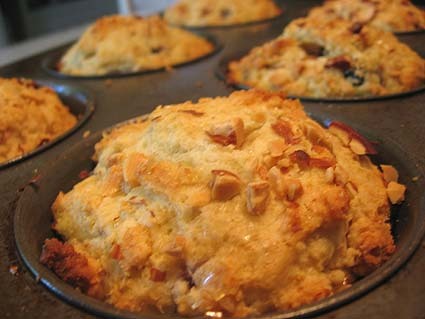 If you are using the 6 jumbo muffin cup size, it will be closer to 25 minutes. Cool slightly in the muffin pan.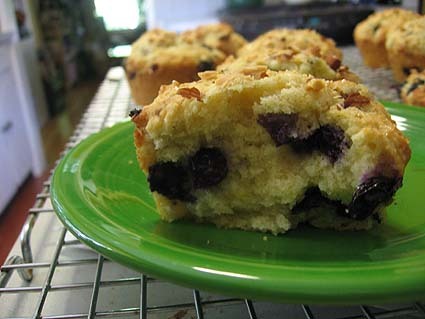 Serve warm or at room temperature.