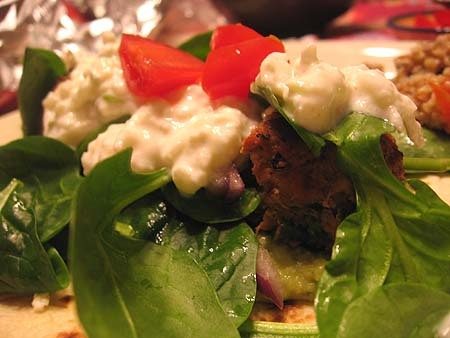 Oh, Bobby Flay, you seem like kind of a tool but I really love all of your recipes that I've tried. So, I guess that's okay. We'll just agree to agree on food and I can still be kind of meh about you personally. Maybe in real life you're a really nice guy, you just televise kinda jerk-y. I dunno.
Although for some reason I like watching "Throwdown". Maybe you've mellowed since the days you had that one show where you would travel around, taste people's food with noticeable disinterest and be an all-around ass. Maybe now you are a really nice guy and my "Bobby Flay is kind of a tool" intro to all the recipes of yours that I post about is untrue and kind of mean of me… Ack! I am so conflicted!
Anyway, these are awesome. I think I made my kofte kinda big, but I think that's okay. Make the raita first and let that hang out why you do the rest. We also had some hummus with ours.
For the Apple Raita
Recipe based on one by Bobby Flay
1 cup Greek yogurt
1 Granny Smith apple, cored and finely diced
1/2 teaspoon kosher salt
Pinch ground cinnamon
Pinch cayenne pepper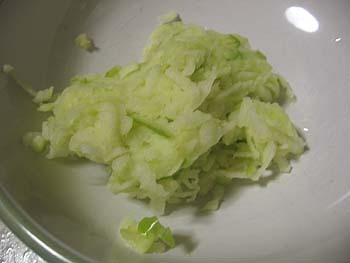 Stir together the yogurt, apple, salt, cinnamon and cayenne in a small bowl. Cover and refrigerate for at least 30 minutes to allow flavors to meld.
I don't have an image of it all stirred together. In your head, just take the apple picture above and stir in the yogurt and spices. That's what it looked like…
Turkey Kofta
Recipe based on one by Bobby Flay
6 tbsp olive oil
3 tbsp tomato paste
1 small red onion, finely grated
3 cloves garlic, finely chopped
1 tsp ground cumin
1/2 tsp ground cinnamon
1/4 tsp cayenne powder (I used a pinch)
Salt
Freshly ground black pepper
1 1/2 pounds ground turkey, 90 percent lean
1/4 cup finely chopped flat-leaf parsley
1 lemon, juiced
1/2 pound baby spinach, washed and dried
Pita or flat bread, lightly toasted
1 small red onion, halved and thinly sliced
diced tomato and crumbled feta cheese for garnish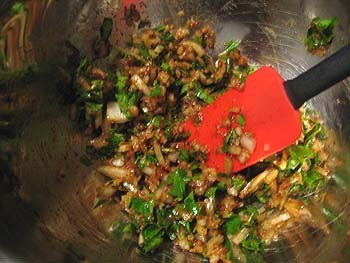 Whisk together 2 tablespoons of the oil, tomato paste, onion, garlic, cumin, cinnamon, cayenne, and salt and pepper in a large bowl. Add the turkey and parsley and using your hands, gently mix until combined. Cover the mixture and refrigerate for at least 1 hour to allow the flavors meld. This can be made 8 hours in advance and refrigerated.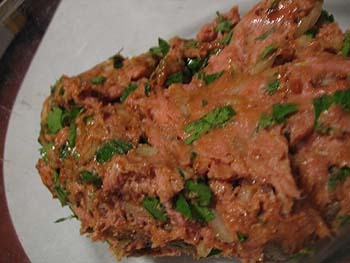 Heat the grill to high. You can also just do this indoors on a grill pan. That's what I did. Get the pan on some med-high heat.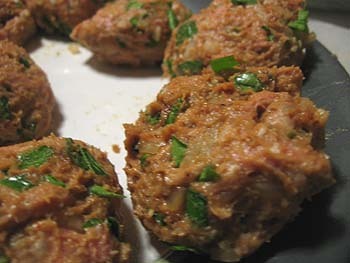 Divide the mixture into 12 equal portions and roll into balls. See, I only did 8 balls, but I was kind of shy of the 1.5 pounds of turkey. Gently press down on the top of each patty to flatten slightly. Brush the patties on both sides with 2 tablespoons oil and season with salt and pepper.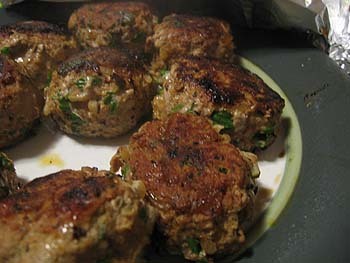 Grill the kofte until golden brown on both sides and cooked through, about 3 minutes per side.
Put it All Together
Whisk together the lemon juice and remaining 2 tablespoons of oil in a large bowl and season with salt and pepper. Add the spinach and toss to lightly coat the leaves in the dressing. Fill each pita with 3 of the patties, top with spinach, red onions and raita. Since my kafte were kind of big, I sliced them in half before I put them on the sandwiches.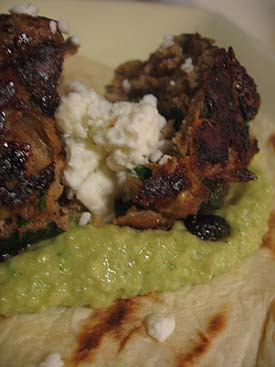 Our kofte here is show on a slather of hummus. I highly recommend this. T'is tasty!