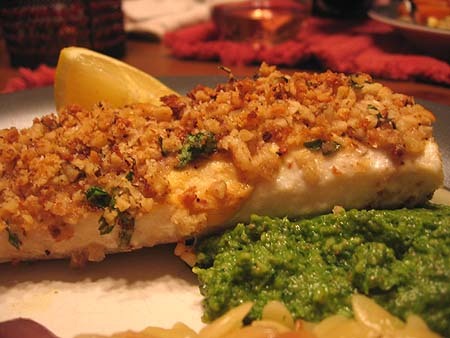 What's nice here is one oven temperature! It makes it easy to plan and cook all at one time. I hate it when stuff has different temperatures.
Okay, actually, the original recipes here (from epicurious.com) had different temperatures at first. Bastards! It was 450 for the fish and 375 for the veggies. I just made everything 425 degrees F and adjusted the cooking time. It worked quite well!
If making these together, preheat the oven and put the carrots and fennel in the oven about 30 minutes before the fish. I had the veggie baking dish on the upper rack for the first 30 minutes, then I moved it down to a lower rack and put the fish in on the upper rack.
Walnut Roasted Halibut
Nonstick vegetable oil spray
1/3 cup finely chopped toasted walnuts
1/4 cup panko (Japanese breadcrumbs)
1 tbsp chopped fresh Italian parsley
2 8-ounce halibut fillets (each about 1 inch thick)
1 tbsp dijon mustard
Lemon wedges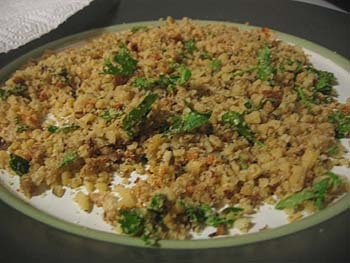 Preheat oven to 425 degrees F. Spray a rimmed baking sheet with nonstick spray. Mix walnuts, panko, and parsley in a bowl and transfer to a plate.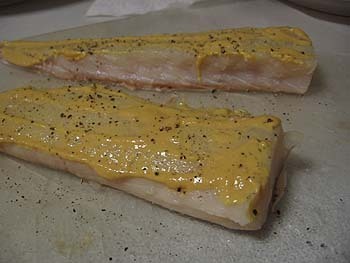 Brush each fish fillet with the dijon mustard; sprinkle with salt and pepper. Dredge fish pieces in the walnut coating (on the mustard-side. Place fish on prepared baking sheet.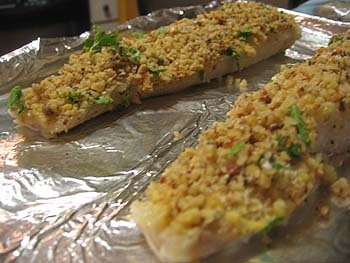 Roast fish until just opaque in center, about 12 minutes. If crisper topping desired, preheat broiler and broil fish about 1 minute at the end of cooking time, watching carefully to prevent burning.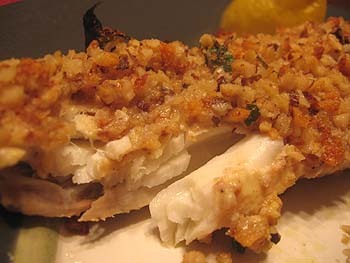 Transfer fish to plates; garnish with lemon wedges. On the side we also had some leftover basil pesto.
Roasted Carrots & Fennel with Parmesan
3/4 pound baby carrots (cut in half if they are super big)
1 medium fennel bulb, stalks discarded and bulbs cut into 1/2-inch-thick wedges
2 tbsp olive oil
1 tsp thyme leaves
1/4 cup Parmesan cheese, grated
1/4 of a medium red onion, sliced
1/2 tsp kosher salt
1/4 tsp black pepper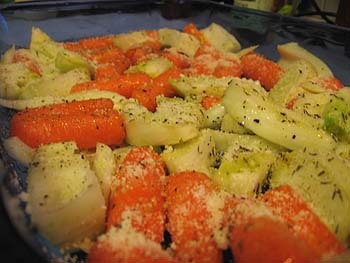 Preheat oven to 425 degrees F. Toss the carrots, fennel, onion, and cheese with the olive oil, thyme, salt and pepper. Spread out onto a glass baking dish big enough to hold everything in one layer.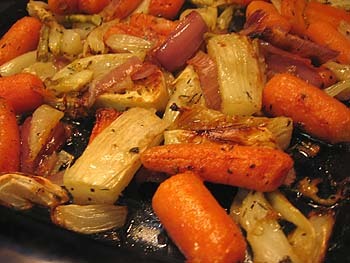 Bake until vegetables are tender and starting to get all golden and crunchy looking, about 35-40 minutes.
I'm so sad, my next post will be for the LAST Weekend Cookbook Challenge! Sara extended the date (to March 15th), so if you haven't already, go make something and join in! The theme is Love, so go show WCC some well-deserved love!