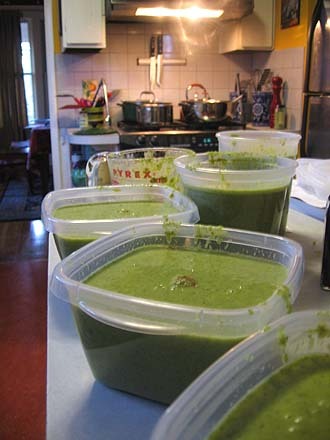 There aren't a ton of pictures here but I think you'll get the idea! Cook broccoli in broth, add stuff and blend. Add more stuff. Call it a night!
I made this for a soup exchange at work. It's a combination of a couple of different soups – a creamy broccoli-marscapone and Italian Wedding Soup. The chicken sausage meatballs could probably be optional, but I made some here because I sometimes can't resist making little meatballs out of sausage and putting them in things .
I used one pound of sausage for 5 quarts of soup, so the meatballs were really more like a garnish. Each bowl will probably only get 4 or so of the half-the-size-of-golf-balls, meatballs. But they are really flavorful (as is the soup on its own), so I think that's okay!
Broccoli Wedding Soup
Base broccoli soup recipe adapted from one by Michael Chiarello
makes about 2.5 quarts
1 1/2 pounds broccoli florets
2 tbsp extra-virgin olive oil + 2 more for the meatballs
1 tbsp unsalted butter
2-3 garlic cloves, minced
1 cup diced white or yellow onion
1 leek, cleaned and sliced
1 tsp dried thyme
Kosher Salt & freshly ground pepper
1 cup dry white wine
4 cups chicken stock or canned low-salt chicken broth
1 1/2 cups baby spinach leaves
4 oz marscapone (Italian cream cheese)
juice of 1/2 a lemon
3/4 cup acini de pepe (or other small pasta)
1/2 lb uncooked chicken sausage (if you use cased sausage, just remove it from the cases) — you can also use sausage with some stuff in it for even more flavor! Mine had sundried tomatoes and Parmesan cheese…
1 egg
1/2 – 3/4 cup seasoned bread crumbs
1/4 cup grated parmesan cheese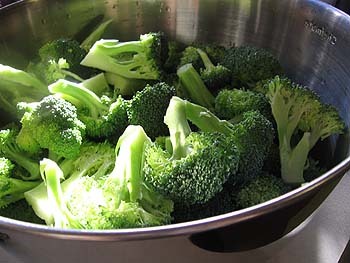 Cut the broccoli florets into small bunches.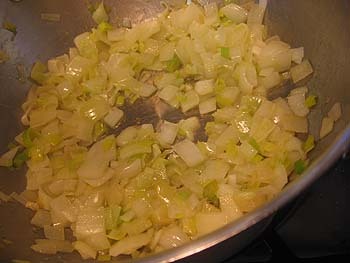 Heat the olive oil and butter in a soup pot over medium-high heat until hot. Add the garlic and cook until light brown. Add the onion and leek, lower the heat to medium, and season with a little salt and pepper. Cook the vegetables slowly until tender, about 10 minutes. Regulate the heat so the vegetables cook without taking on much color.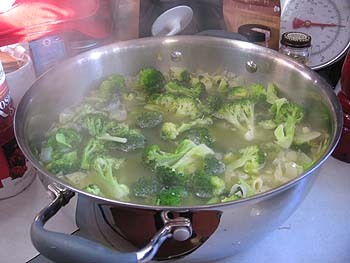 Add the dried thyme and stir. Add the broccoli, wine and stock and bring to a boil. Cook until the broccoli is very tender, about 5-7 minutes (depending on the size of your florets).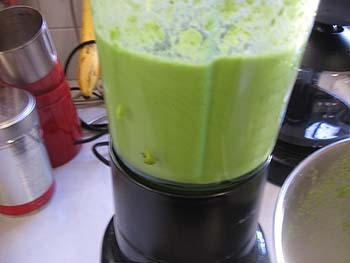 Puree the soup in a blender in small batches. Add some of the spinach and marscapone to each batch and then puree it. Return to the pot and keep just below a simmer.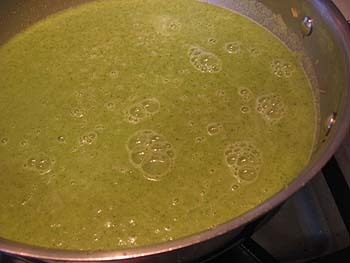 Make the meatballs & Cook the Pasta!
Add sausage and egg to a bowl, combine with the cheese and then add enough breadcrumbs to create a wet but moldable mix. Form meatballs using about a tablespoon or so of mix.
Preheat a skillet over medium-high heat and add 2 tablespoons of olive oil. Brown meatballs on all sides and then remove from the skillet.
They are so small, they should be pretty much done after browning. Add to the pot of soup to finish cooking.
Next, cook the pasta in some boiling, salted water. When al dente, drain and add to the soup as well. I let mine all hang out under low heat for another 10 minutes or so, just to join all the flavors together and whatnot. Add a squirt or two of lemon juice and taste to adjust seasonings.
Ladle up and eat!
—
My Birthday and Sel Gris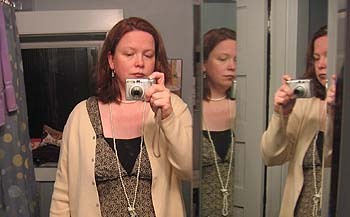 Getting ready self-portrait
Jwa took me to Sel Gris for my birthday dinner. I really enjoyed it. Best. Calamari. Ever.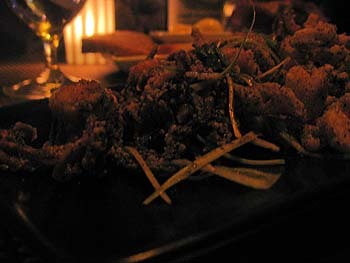 Too dark picture, but damn! So good!
Salt & Pepper Calamari
lightly fried and sautéed calamari, scallions, preserved
lemon, leeks, Thai basil, chilies, housemade nuoc cham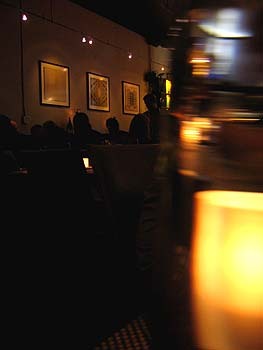 We had a great meal. I want to go back soon, try to sit at the bar, have a Sel Gris Chien and a whole plate of calamari, while I watch them cook…