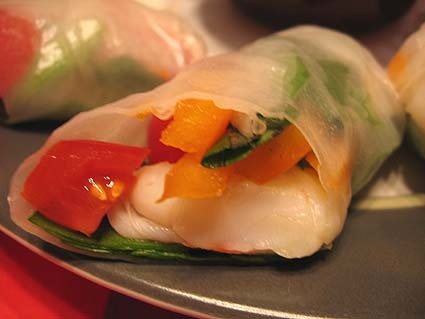 First off, this is funny — my friend Christy just posted about her salad rolls too! The ones she made look great and she has much better pictures of her "rolling station" than I do. The main difference seems to be that some of her sauce type ingredients are on the inside as well, tossed with the noodles, which sounds like a great idea. My inside ingredients are just plain but wow — this dipping sauce is really tasty!
I've actually made these twice in the last month — once with shrimp and once without. I deviated from the original recipe by not using pork and by using spinach instead of a different type of lettuce. I also omitted the bean sprouts. This is one of those recipes where (if you're not trying for authenticity), you could probably put a lot of different combination in the wrappers and be really happy with the outcome.
I found this on the Splendid Table web site, which is becoming a nice resource for me when I remember to poke around there.
Vietnamese Salad Rolls
Adapted from From The Best of Vietnamese and Thai Cooking, by Mai Pham — I totally want this cookbook!
12 medium-size raw shrimp with shells
8 (12-inch) round rice papers (keep extra on hand just in case you tear some)
1 bag baby spinach (you won't use the whole bag)
1/4 pound rice vermicelli, cooked in boiling water 4 to 5 minutes, rinsed, and drained
1 red or orange bell pepper, cut into thin strips
12 cherry tomatoes, halved
1/2 cup fresh thai basil leaves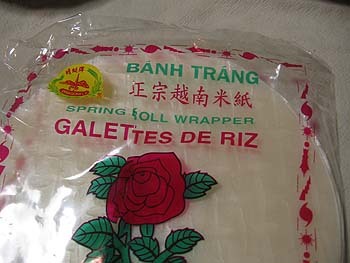 Cook the shrimp in boiling salted water until just done, about 3 minutes. Shell, de-vein, and cut in half lengthwise. Refresh in cold water and set aside.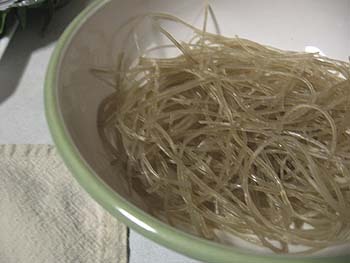 Just before making the rolls, set up a salad roll "station". Fill a large mixing bowl with hot water. If necessary, keep some boiling water on hand to add to the bowl if the temperature drops below 110 degrees. Choose an open area on the counter and arrange the following items in the order used: the rice paper, the hot water, a kitchen towel or cloth napkin for working on, and a cutting board or plate to hold all the stuffing ingredients.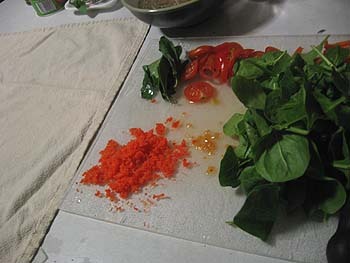 Working with only 1 rice paper sheet at a time, dip the sheet, edge first, in the hot water and turn it to wet completely, about 10 – 15 seconds. You will be tempted to leave it on the water for more much longer. Don't do it. It won't feel that pliable when you first take it out of the water, but after you finish layering all the ingredients, the wrapper will be nice and soft.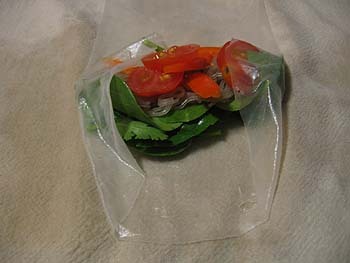 Lay the sheet down on the towel/napkin and stretch the sheet slightly to remove any wrinkles. Line the bottom third of the wet, pliable rice sheet with 3 shrimp halves, cut side up. Make sure the ingredients are neatly placed in a straight row. Place some spinach on top of the shrimp. Next, top with a little vermicelli, bell pepper strips, cherry tomatoes and 2 to 3 basil leaves. I even added a little grated carrot here. Make sure the ingredients are not clumped together in the center, but evenly distributed from one end to the other.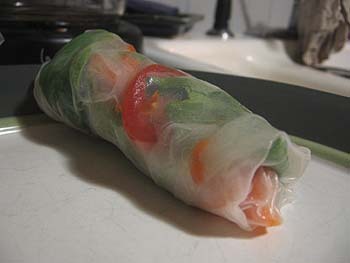 Using your second, third, and fourth fingers, press down on the ingredients while you use the other hand to fold over both sides of the rice paper. (Pressing down on the ingredients is particularly important because it tightens the roll.) With fingers still pressing down, use two thumbs to fold the bottom edge over the filling and roll into a cylinder about 1-1/2 inches wide by 5 inches long. Finish making all the remaining rolls.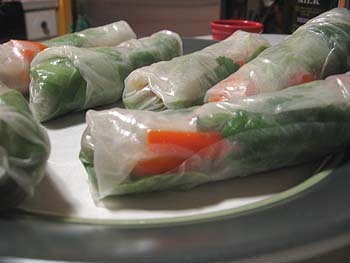 To serve, cut the rolls into two equal pieces and place the cut rolls on an appetizer plate. Serve with Vietnamese dipping sauce on the side. If you like, garnish the rolls with mint or cilantro sprigs.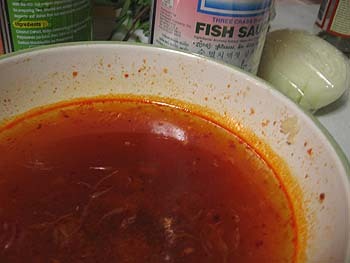 Vietnamese Dipping Sauce
Makes 1-1/2 Cups
2 small cloves garlic, sliced thinly
1 tsp chili paste
1 fresh Thai bird chili, chopped (optional — I didn't use)
1/4 cup fish sauce
2/3 cup hot water
2 tbsp fresh lime juice with pulp
1/4 cup sugar
2 tbsp shredded carrots
Place garlic and chili paste in a bowl and mix briefly.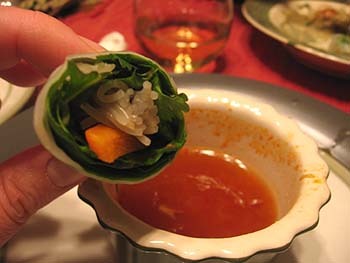 Combine the garlic mixture with the remaining ingredients. Whisk until the sugar has dissolved. Ladle sauce into serving bowls and float the carrot slivers on top.