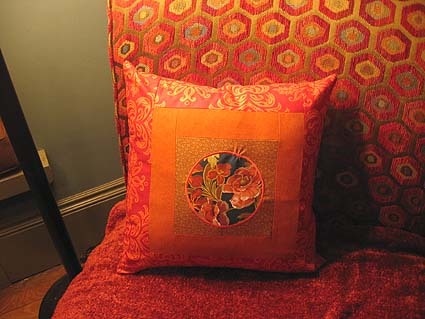 Holy crap! Look at the pillow I just made. I can't believe it mostly turned out. I even finished it early in class tonight. I only messed up one little part of my satin stitch — it got a little puckery. But just in one small spot. The rest looks nice.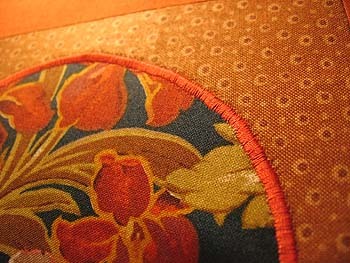 It was pieced together with ten pieces on the front and two pieces on the back. It even has a zipper back there. Hooray!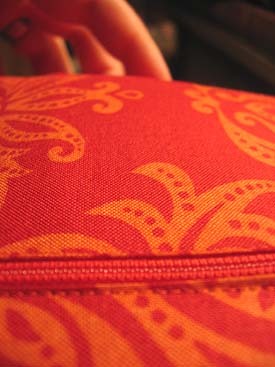 If that wasn't enough excitement for one night, I also finished making the cupcakes to bring into a work party tomorrow. They are Strawberry Marscapone Cupcakes. I was very skeptical of using a box of mix in this recipe, but it really works. I was kind of a cake snob (okay, fine, I still am) but I cannot recommend this recipe enough if you need a bunch of tasty cupcakes relatively quickly. I was really impressed with the end result — so was jwa and he's even more cake snobby than I am!
This makes around 20-ish cupcakes and they are very soft, delicate and delicious.
Sorry! No pictures of the making. Just the finished product…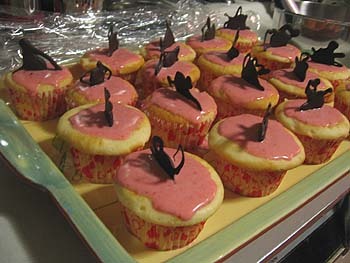 Strawberry Marscapone Cupcakes
Recipe adapted from Giada De Laurentiis
8 ounces mascarpone cheese (about 1 cup), softened
2 egg whites
1/4 cup vegetable oil
1 box white cake mix (I used Duncan Hines)
juice of 1 orange + water to make 1 cup
1/2 tsp vanilla extract
1/2 tsp orange zest, finely grated
1/3 cup frozen strawberries, thawed and drained
2 tbsp strawberry jam
2 1/2 cups powdered sugar
Optional: 1/2 cup dark chocolate chips
Preheat the oven to 350 degrees F. Line the tins with paper liners.
In a large bowl combine the mascarpone cheese, egg whites, vanilla, orange zest, and vegetable oil. Using a hand or stand mixer, beat the ingredients until combined and creamy. Add the cake mix and orange juice + water and mix until smooth, about 2-3 minutes. Fill the cupcake cups to just below the rim and bake until puffed and golden, about 18 to 20 minutes. Remove from the oven, let cool slightly in the tin then transfer the cupcakes to a wire rack.
Meanwhile, puree the strawberries in a blender or small food processor. Place the powdered sugar in a medium bowl. Pour in the strawberry puree and jam and whisk until smooth. You may want to do this with a mixer — it's easier. Top the cooled cupcakes with the strawberry glaze. Let the cupcakes sit for a few minutes for the glaze to firm up, then serve.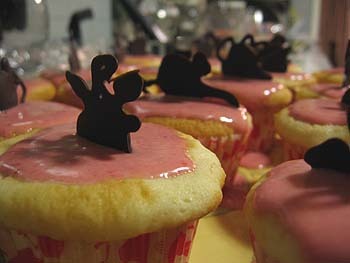 If you want to make little chocolate toppers, melt the chocolate in the microwave (using 30 second hits) and then throw in a few more chocolate chips (6-8) and stir to melt to temper. Drizzle the chocolate out into shapes on parchment paper that is on a cookie sheet. Let firm up for a few minutes in the freezer. Peel the hardened chocolate off the paper and press down, standing up, onto the cupcakes.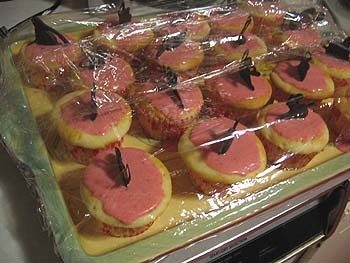 The nice thing about the chocolate pieces is that it keeps plastic wrap from sticking to the frosting. It firms up a bit, but it's still not a good idea to stick wrapping right down on the frosting.