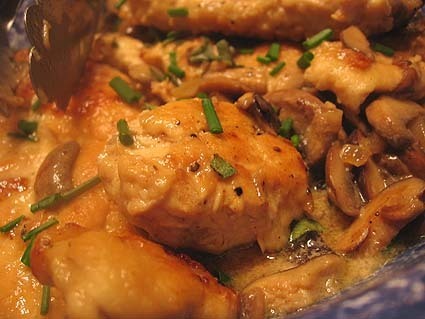 Occasionally, I go to the Whole Foods by my work when I forget lunch. I am sometimes seduced by the hot food bar. "Come to me…" it taunts. "All kinds of cuisines…look, above me, it says Global…" It looks good, it all smells good, but when I get back to work I am almost always disappointed. Except not by the Chicken Marsala. Never by you, Chicken Marsala.
So, when I was at the store the other day and I saw some Marsala wine, I decided to pick it up and make my own Chicken Marsala. And so I did. Oh! So good. And I even decreased the butter that was in the original recipe (6 tablespoons, I believe) and used half and half instead of full on cream. It worked fine with half and half and sure, it would probably have been creamier with the cream, but I didn't miss it. Just, if you use half and half instead of cream, try to keep it at a simmer (instead of an actual boil) after adding the h&h.
Oh, and I made the recipe with half of the chicken listed below (2 huge breasts, about 1.25 pounds total) and made the full sauce recipe. Good move!
Chicken Marsala
Adapted from a recipe in Gourmet Magazine
1 3/4 cups reduced-sodium chicken broth (14 fl oz)
2 tbsp finely chopped shallot (or white onion)
2 tbsp unsalted butter
1 big clove garlic, minced
12 oz mushrooms, trimmed and thinly sliced (I used a mix of cremini and shitake)
1 1/2 tsp finely chopped fresh sage
1/4 tsp salt
1/8 tsp black pepper
1 cup all-purpose flour
4 skinless boneless chicken breast halves (2 lb total — or use 2 breasts for 2 people but make all the sauce)
2 tbsp extra-virgin olive oil
1/2 cup plus 2 tablespoons dry Marsala wine
1/2 cup heavy cream (or half and half)
1 tsp fresh lemon juice
More fresh, chopped sage and some chives for garnish
Put oven rack in middle position and preheat oven to 200 degrees F. Bring broth to a boil in a 2-quart saucepan over high heat, then boil, uncovered, until reduced to about 3/4 cup, about 15-20 minutes.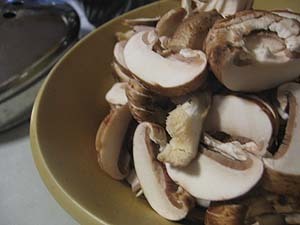 Cook the shallot (or diced onion) in 2 tablespoons butter in a big, heavy skillet over moderate heat, stirring, until shallot begins to turn golden, about 1 minute. Add mushrooms, garlic, 1 teaspoon of the sage, salt, and pepper and cook, stirring occasionally, until liquid mushrooms give off is evaporated and mushrooms begin to brown, 6 to 8 minutes. Remove from heat and set mushrooms aside in a bowl. You'll reuse the big skillet to cook the chicken — don't bother wiping it out.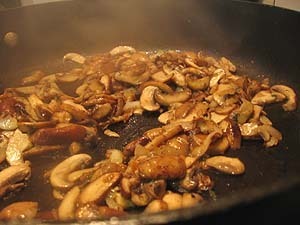 Put flour in a wide shallow bowl. Gently pound chicken to 1/4 inch thick between 2 sheets of plastic wrap using the flat side of a meat pounder or a rolling pin. Pat chicken dry and season with salt and pepper, then dredge in flour, 1 piece at a time, shaking off excess.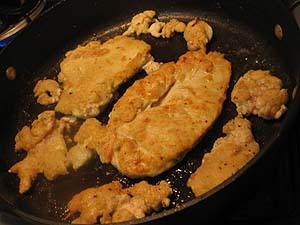 Heat 2 tablespoons of olive oil in the skillet over moderately high heat and sauté chicken, (in batches, if needed) turning over once, until golden and just cooked through, about 4-6 minutes total. Transfer cooked chicken to a baking sheet, arranging in 1 layer, then put in the oven to keep warm.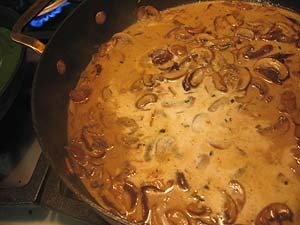 Add 1/2 cup marsala wine to skillet and boil over high heat, stirring and scraping up brown bits, about 30 seconds. Add reduced broth, cream, and mushrooms, then simmer, stirring occasionally, 5 to 6 minutes. Add remaining 2 tablespoons wine and 1/2 teaspoon sage.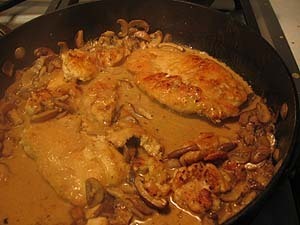 Add chicken back to pan to coat in sauce. Serve over pasta, giving it all a quick squirt of lemon juice (about a teaspoon's worth) before serving. Garnish with fresh sage and chopped chives.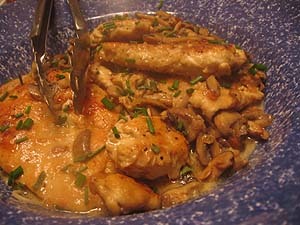 This was really very good. I think we'll definitely have it again. Mainly because it was so good but also because I have a whole bottle of Marsala wine at home now…