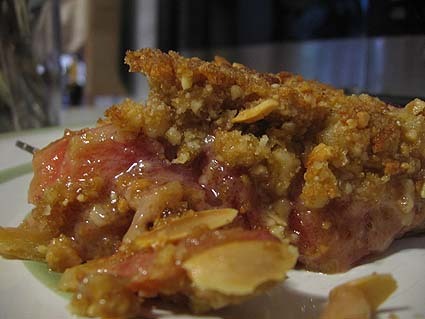 I made this a few weeks ago and both jwa and I really loved it! My friend Vanessa got me some marzipan (no, not this marzipan), while she and her husband were in Norway and now I am looking for marzipany things to do.
I saw this recipe and literally made it the next day. I think my tart pan is 9 inches though. I had too many plums. And too much crumble. Not a big deal. There are many worse things to have extras of — toes, pets, bad habits, etc… Anyway, I used pastry dough from the Dorie Greenspan book — the extra dough from my blueberry pie in fact. Defrosted, rolled out and ready to go!
You can use your favorite pastry recipe for the bottom crust or go the store bought route.
The return of — Printable Recipe pdf!
Plum Tart with Marzipan Crumble
From Bon Appétit magazine
1 pastry round big enough for an 9″ or 11″ tart pan
Crumble:
3/4 cup all purpose flour
1/2 cup (packed) almond paste (about 5 ounces)
1/2 cup (packed) golden brown sugar
6 tbsp (3/4 stick) chilled unsalted butter, cut into 1/2-inch cubes
1/4 cup sliced almonds
Filling:
2 1/4 pounds plums (about 12), halved, pitted, thinly sliced
1/2 cup sugar
2 tbsp plus 2 tsp cornstarch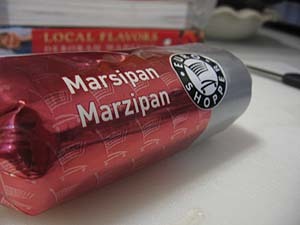 Press over bottom and up sides of your tart pan with removable bottom. If it's a 9″ pan, you'll have enough to crimp nicely. Pierce all over with fork. Chill at least 2 hours and up to 1 day.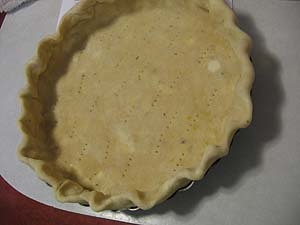 Preheat oven to 400F. Bake crust until golden, pressing with back of fork every 5 minutes if crust bubbles, about 25 minutes. I needed to pull my crust out after about 10 minutes and press it back as the sides kept wanting to fall down. When done, transfer crust to rack; cool. Reduce oven temperature to 375F.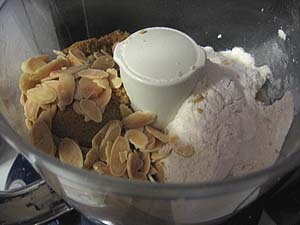 Blend flour, almond paste and sugar in processor until almond paste is finely ground. Add butter and blend, using on/off turns, until coarse crumbs form. Transfer crumble to bowl; mix in almonds.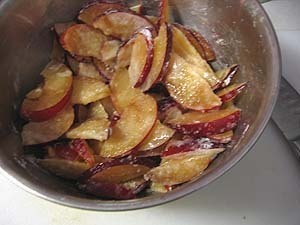 Combine all filling ingredients in medium bowl; toss to blend well.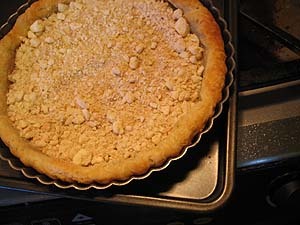 Sprinkle 3/4 cup crumble over cooled crust and top with plums.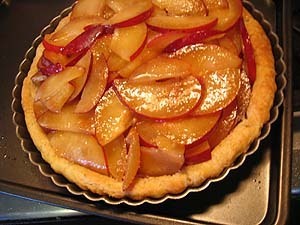 Sprinkle with remaining crumble.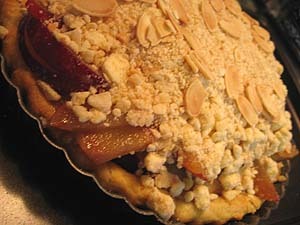 Bake tart until filling bubbles thickly and top is golden, about 40 minutes. Mine leaked a little on the cookie sheet. Do not forget to place your tart pan on a cookie sheet or you may cry when the plum juices leak in your oven and burn. If you use a cookie sheet to catch any leaking, you will be happy.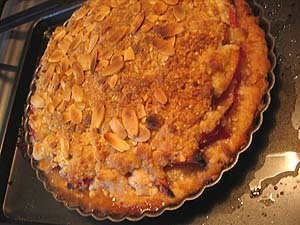 Cool 10 minutes. Push up pan bottom to release tart. Cool. (Can be made 8 hours ahead. Let stand at room temperature.)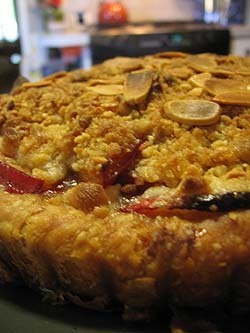 Delicious! I think an almond cake is next.