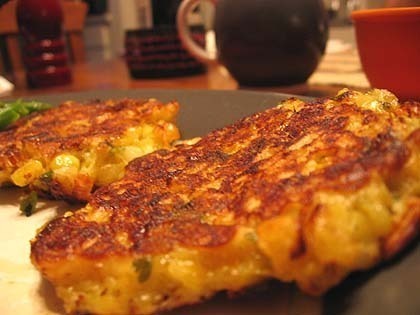 Went to the Hillsdale Farmer's Market and picked up eight ears of corn for $4. Deal! The recipe here calls for six ears, but I always like to get a couple extra, just in case. Sometimes, you don't know what you will find when you unwrap corn — all plump golden kernels or plump golden kernels with little patches of shrunken, underdeveloped kernels. With extra corn, you can have more on hand if your ears are less than perfect. Mine were pretty good, but I used 8 ears to come away with a little over three cups of corn kernels. Perfect ears, you could probably do it in six.
Organic, pesticide-free, local corn (it's good!) — get eight.
The recipe here is from Local Flavors, by Deborah Madison, which is a great cookbook to find inspiration from. Especially when you come back from a Farmers Market with a big bag full of farmers stuff.
I had enough batter to make about 12 fritters, but then I was a little over on the corn (I had about three and a half cups). Assume the below recipe as written will make 10-12 corn fritters. Originally, the cookbook said six fritters, but I think hers were a little larger than mine, as she just said to divide the batter into six portions right away. I like to take a more unplanned approach to my fritter frying. "Surprise me", I say. Surprise, I got 12 fritters.
Oh and for the record, I am not completely sure that my cheddar was aged. Was good, though.
Corn Fritters with Aged Cheddar & Sage
Adapted (just a little bit) from "Local Flavors," by Deborah Madison
6 -8 ears sweet corn, enough to yield 3 cups kernels
2 eggs, beaten
4 scallions, including an inch of the greens, finely sliced
1/2 cup chopped parsley
1 tbsp chopped sage (dill or basil will also work but up it to 2 tbsp)
1 cup grated sharp cheddar cheese (you can also use Swiss or feta)
1/3 cup all-purpose flour
Sea salt and freshly ground pepper
Olive oil for frying
Optional: 3 handfuls arugula, stems trimmed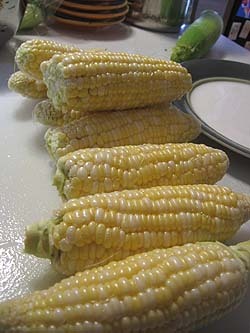 Slice the tops of the kernels off the corn, then reverse your knife and press out the milk. Now, before you do this on a cutting board or plate, realize that little corn kernels will fly all over your kitchen. Try standing the end of the corn up in a big bowl that will catch the kernels and milk nicely.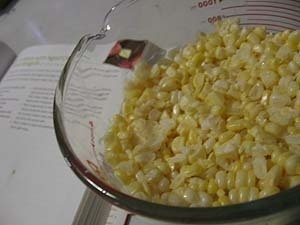 Mix the kernels and scrapings with the eggs, scallions, herbs, cheese, and as much flour (mine used the whole 1/3 cup) as can easily be absorbed. Season with 1/2 teaspoon salt and some pepper.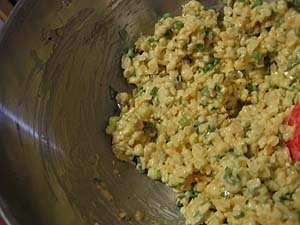 Heat enough oil to cover a wide skillet generously. Drop the batter by 1/4 cupfuls into the skillet. Fry over medium heat until golden, about 2-3 minutes, then turn and brown the second side. I found it easy to check for readiness to flip by pushing the fritter a bit with my spatula. If the fritter stuck together, it had a nice crust and was ready to turn over. If it wanted to separate a little and not stay together, I gave it a bit longer. Cook fritters in batches.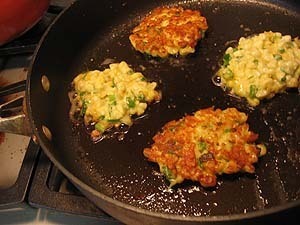 As your remove from your skillet, place on a paper towel covered plate to absorb any extra oil.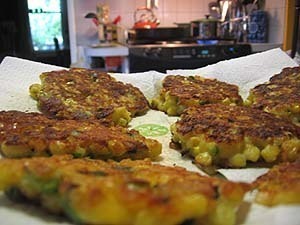 You can serve these as a main dish over some arugula leaves and maybe make a spicy aioli dipping sauce or, have as a side dish. Mmmmm!