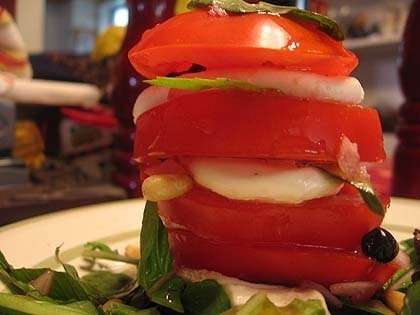 This month's Weekend Cookbook Challenge is all about salads. The theme was picked by Mike of Mel's Diner and he's hosting this month. Yay, Mike! This theme sounds like a job for my newest cookbook, How to Eat Supper by Lynne Rosetto Kasper and Sally Swift. You know, The Splendid Table people.
This was one of the first recipes in here I saw and really, really wanted to try. So this WCC was the perfect excuse. I put a few arugula leaves on the bottom of my tomato stack to make it more salad-y. I also made about a half recipe of the vinaigrette (but with one full garlic clove) for two tomatoes. It worked well.
Both jwa and I liked this a lot and I am looking forward to making this with tomatoes from the garden. In like, September.
Ripe Tomato Stack with Pine Nuts & Mozzarella
3 tbsp lemon juice
1 large garlic clove, minced
1/8 tsp fresh ground pepper
pinch red pepper flakes
1/3 medium red onion, diced (I used a sweet onion because that's all I had)
3 tbsp dried currants
salt
2 tbsp (tightly packed) fresh basil leaves, torn
2/3 cup pine nuts, toasted
6 medium, ripe tomatoes
1 lb fresh mozzarella, packed in liquid, sliced 1/2 inch thick
3 tbsp extra virgin olive oil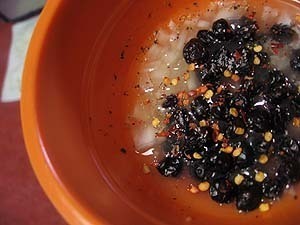 In a small bowl combine the lemon juice, garlic, pepper, pepper flakes, onion, currants, and alt to taste. Let the mixture stand for 20-30 minutes. Just before assembling, stir in the basil and all byt 1/4 cup pine nuts.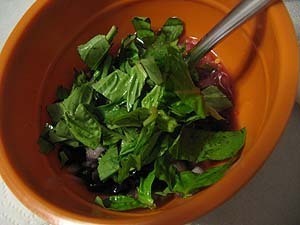 Core the tomatoes. I was slightly confused about this but then I took out my apple corer, shrugged and used that. If you don't have a corer, you could probably just use a shape knife to get the core out of the top of the tomato. I was just excited to use my apple corer and see how it would work with a tomato.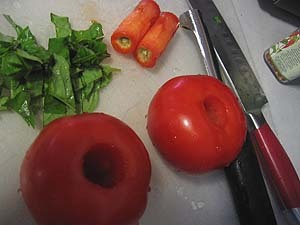 Cut each tomato horizontally into 1/2 inch thick slices. You should try to have the same number of slices for each tomato. I found it was helpful to have everything sliced up and ready to go (mise en place, if you will) for easier assembly.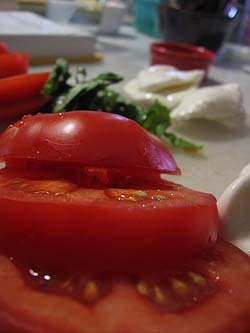 Put the bottom slice of each on a plate and season with salt. Add a mozzarella slice, and about a teaspoon of the vinaigrette. Add another slice of tomato and continue in the fashion until you use the last slice of tomato.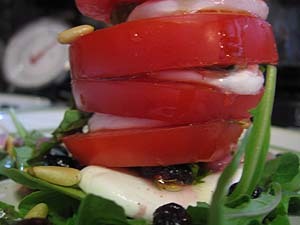 Sprinkle the tomatoes with the reserved pine nuts and the olive oil. Serve at room temperature.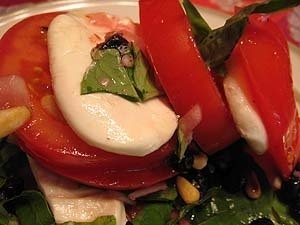 "
It may fall over…it's still good. Thanks again to Mel's Diner for hosting this month!