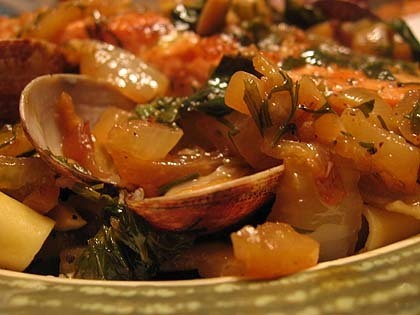 Until last April, I had never really tried clams or mussels. That changed when we stayed at the Winchester Inn in Ashland and our free chef's choice appetizer coupon got us a big, steaming bowl of mussels and clams. And lots of hot bread. jwa and I both made slight faces and then each kind of shrugged and dug in.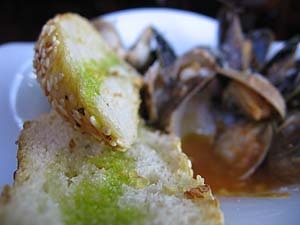 Things I learned that night:
1. wine and butter make anything tasty
2. crusty bread is your friend
3. I like clams!
4. I am okay with mussels, but probably wouldn't order a big plate of them
After being exposed to these four new tenets, I have been threatening to make some sort of clam dish at home ever since. jwa only encouraged this by getting me seafood forks as a stocking stuffer last Christmas. So, here's some clams. But, it's mostly salmon. But, hey, we've had it twice so far and both times it's been pretty good.
The original recipe called for much more mint and saffron. I omitted the saffron the second time as I thought it overpowered the dish a little bit. I also decreased the mint a bit as it's winter and I can't get tons o' fresh mint from the yard.
Salmon with Clams and Garlicky-Buttery Herb Broth
Influenced by a recipe by chef Michael Kornick of MK Restaurant in Chicago
2 tbsp fresh chives, chopped
2 tbsp fresh basil, chopped
2 tbsp fresh tarragon, chopped
2 tbsp fresh parsley, chopped
4 tbsp fresh mint, chopped
6 cloves garlic, finely chopped (separate into piles of four cloves and two cloves)
1/4 cup + 3 tbsp extra-virgin olive oil
2 salmon fillets, 6-8 oz each
1 tsp kosher salt
1/2 teaspoon freshly ground black pepper
1 medium fennel bulb, stalks cut off and discarded, and bulb cored and thinly sliced lengthwise
1 medium sweet onion, such as Vidalia, thinly sliced
1 cup dry white wine
3 tbsp unsalted butter
8-12 littleneck or Manilla clams, scrubbed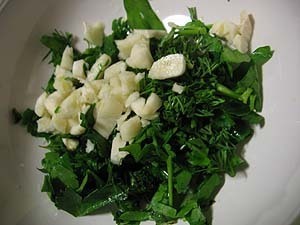 In large re-sealable plastic bag, combine chives, basil, tarragon, parsley, half the mint, the 4 cloves of chopped garlic, and 1/4 cup olive oil. Add salmon and seal bag, pressing out air. Turn bag to coat salmon, then refrigerate, turning bag over occasionally, at least 1 hour and up to 4 hours. You can also marinate the fish in a large dish.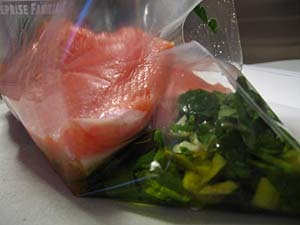 Remove fish from marinade. Sprinkle with salt and pepper. Preheat a grill pan or large skillet and grill salmon, turning once, until just opaque in center, about 4 minutes per side. Transfer to platter and cover loosely with foil to keep warm.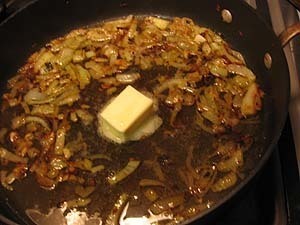 Now, I like to use the same pan that I cooked the salmon in, call me wacky. You could also, of course, use a new pan. Add the remaining olive oil, the fennel, onion and the remaining 2 cloves of chopped garlic. Sauté until just soft, about 2 minutes.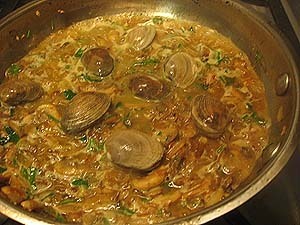 Add wine, butter, remaining mint, and clams, cover and bring to boil. Cook until clams open, about 8-10 minutes. Discard any clams that have not opened.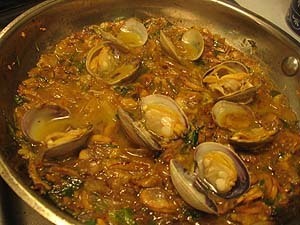 Place 1 piece salmon on center of each of 8 wide shallow bowls. Spoon clams, broth, onions, and fennel around salmon and serve immediately.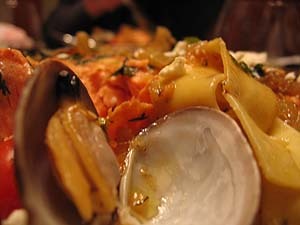 For an extra treat, cook some pasta or rice and place that in the bowl first, followed by the salmon and clams and sauce. Feta cheese makes a nice garnish, as does more fresh herbs. Also, (see lesson #2 above) you really can't go wrong with slices from a crusty baguette on the side.