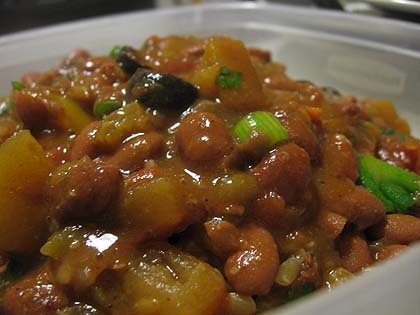 Weekend Cookbook Challenge is being hosted by La Mia Cucina this month and the theme is…pressure cookers (which I am scared of), crockpots (which I love) and Dutch ovens (which I also love, but I use pretty frequently already).
So, crockpot it is! And the cookbook I used was Fresh from the Vegetarian Slow Cooker by Robin Robertson. This is also the only crockpot cookbook that I have. Typically, I just get crockpot recipes off that Internet thing.
Oh and Happy Saint Patrick's Day — now, here's a Mexican recipe!
Pinto Picadillio
1 tbsp olive oil
1 medium-size yellow onion, chopped
1 small red bell pepper, seeded and chopped
2 garlic cloves, minced
1 tsp cumin
3 cups slow-cooked* or two 15.5-ounce cans pinto beans, drained and rinsed
One 14.5-ounce can diced tomatoes, drained
One 4-ounce can diced green chiles, drained
1 Granny Smith apple, peeled, cored, and chopped
1 cup vegetable stock
Salt and freshly ground black pepper
2 cups cooked long-grain white or brown rice
1/2 cup golden raisins
1/4 cup sliced black olives, drained
1/4 cup chopped fresh cilantro leaves (originally it called for parsley)
handful of chopped green onions
2 tbsp slivered almonds, toasted
Heat the oil in a large skillet over medium heat. Add the onion, bell pepper and cumin. Saute until softened, about 5 minutes.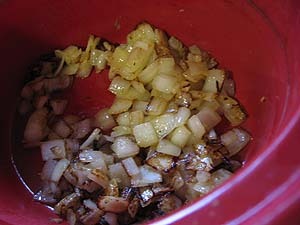 Transfer the vegetables to a 3 1/2- to 4-quart slow cooker. Add the garlic, beans, tomatoes, chiles, apples, and stock; season with salt and pepper, cover, and cook on Low for 6 to 8 hours.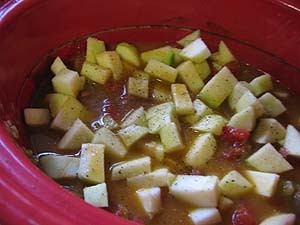 About 10 minutes before serving, stir in the rice, raisins, olives, cilantro, green onions and almonds. In addition to a dinner right out of the crockpot, this makes a great lunch. Add some cheese, sour cream and chips. You know you want to…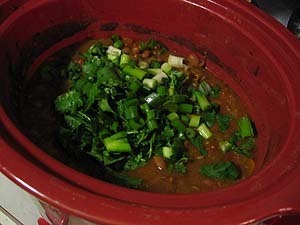 * Cooking dried beans in your crockpot is easy! And fun. But kind of boring. Anyway, soak your beans overnight, then, drain put into your crockpot and cover with water (I covered by about 3 inches). Add an onion, halved and a few cloves of garlic, cracked open.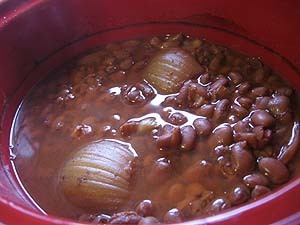 Cook on low for about 8 hours. Mmmm….beans. And, the nice thing is, I just drained out my beans, measured 3 cups out and then just used the crockpot to cook the Pinto Picadillio.
Thanks again to La Mia Cucina for hosting!