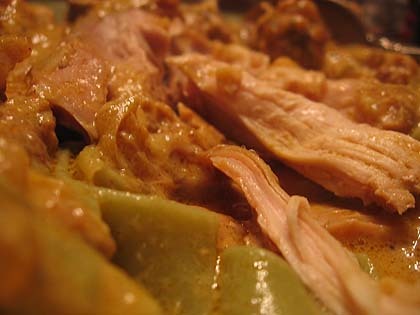 I had so much fun with the other day's WCC meal, that I made another crockpot dish a couple of nights later. Really, any excuse to use my smoked paprika.
Chicken Paprikash w/ Sour Cream
Adapted from a recipe on Epicurious.com
2 medium onions, thinly sliced
1 tsp kosher salt
1 tbsp sweet paprika
1/2 tbsp smoked paprika
2 garlic cloves, peeled and halved
2.75 – 3 lb pounds chicken pieces — legs, thighs, breasts (all bone in, skin on and ready for business)
1/2 tsp freshly ground black pepper
1 tsp + 2 tbsp olive oil
1 cup cup chicken stock or low-sodium chicken broth
1 can artichoke hearts in water, drained and quartered
1/3 cup sour cream (use full fat, low fat could curdle)
Fresh dill, chopped, for garnish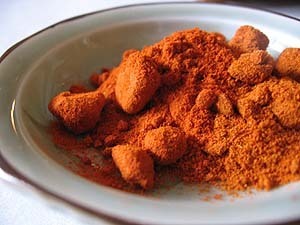 Add the 1 teaspoon oil to a heavy skillet and add the onions and paprikas and 1/2 teaspoon salt.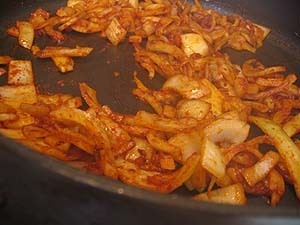 Cook until onions soften and paprika smells really good — about 4-5 minutes over medium heat. Spread mixture evenly over bottom of insert.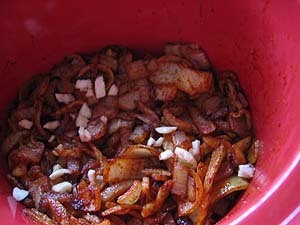 Rub garlic halves over chicken then throw the garlic in the crock pot. Sprinkle chicken with pepper and remaining 1/2 teaspoon salt. In the same pan used for the onions, heat the remaining olive oil until hot but not smoking (over moderately high heat).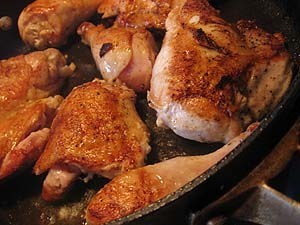 Add chicken pieces and brown, turning occasionally, until golden, about 6 minutes. Transfer to slow cooker (do not clean pan), layering chicken on top of onion mixture.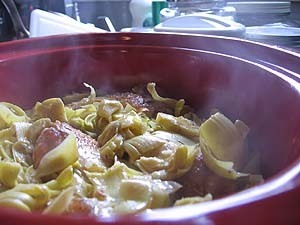 In same saucepan over high heat, bring stock and artichoke hearts to simmer, scraping up browned bits from bottom of pan.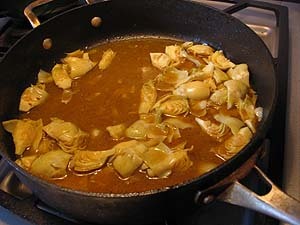 Pour over chicken in slow cooker, cover, and cook on low until chicken is tender but not falling off bone, 5 to 6 hours. Mine was good in about 5 hours. Remove the chicken to a platter and cover with foil. If there looks like there is a lot of chicken fat on the surface, try to skim some out.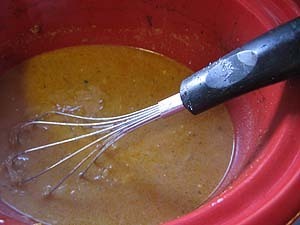 Turn the crockpot off. If you are kind of nervous, stir a little sauce into the sour cream to bring it up in temperature a bit. I am not ashamed to admit that I did this. Then, stir the warmed up sour cream into sauce. Combine well. Pour over the chicken. Garnish with dill and serve.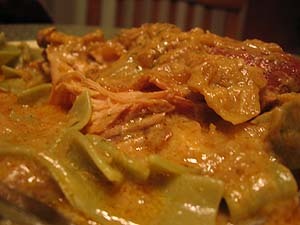 You can also put the chicken on a bed of spinach noodles and serve everything individually in bowls. Leftovers make a great lunch, as this makes at least 4 – 6 servings.