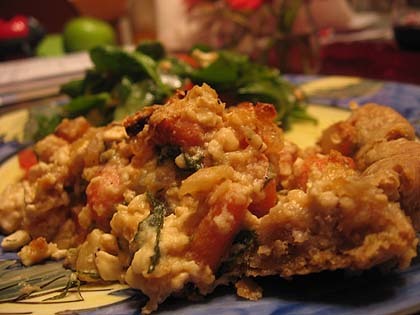 Oh, next week there will be Beef Wellington. But this week, it's a lovely Russian Carrot Pie from the new edition of the Enchanted Broccoli Forest by Mollie Katzen. And how fitting that January's Weekend Cookbook Challenge is all about the healthy vegetables. Perfect timing! And, I'm even early. Hooray!
I'm not quite sure what makes this Russian…the dill? The carrots? I dunno, but we liked it. It's the prefect meal to make before or after something really beefy. Or, you know, if you are a vegetarian, this is just a good everyday meal.
Actually, this used to be my favorite cookbook when I was a vegetarian. I had the older edition and then lost it sometime around when I moved to Arizona. But, I remember living in Indiana during grad school and making a lot of the recipes out of this cookbook with my friend Christy, who now has her hands full with, uh, Hadley.
Great…time for a recipe!
Russian Carrot Pie
1 tbsp butter
1 cup finely minced onion
1 lb carrots, thinly chopped (I used an extra 1 lb bag of baby carrots leftover from holiday snacking)
1/2 tsp salt
2 garlic cloves, minced
2 tbsp lemon juice (about 1 lemon)
1 tbsp AP flour
1 1/2 cups cottage cheese
1 egg
3 tbsp fine bread crumbs
black pepper
3 tbsp minced dill
2 tbsp minced mint
1 tsp smoked paprika
1/4 cup Parmesan cheese
Nut Pie Crust (below)
Preheat oven to 375 degrees. Melt the butter in a large skillet and add the onion and garlic and cook about 3-5 minutes. Next, add the carrots, salt and lemon juice. Cook until the carrots are soft but not mushy — about 8 more minutes. Sprinkle with the flour, mix well, and cook for about 2 more minutes. Remove from the heat.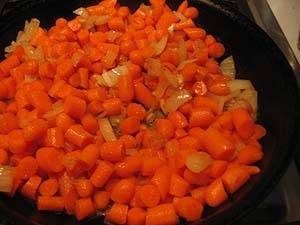 Beat the egg with the cottage cheese in a large bowl. Stir in the herbs, some black pepper and the breadcrumbs. Add the carrot mixture (it's okay if it's still hot) and combine well.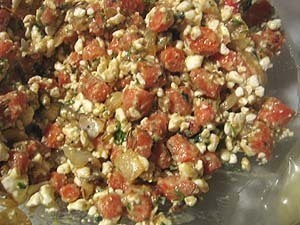 Spread into the crust and sprinkle with paprika and Parmesan cheese.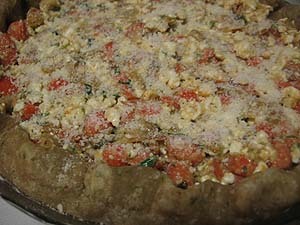 Bake for 15 minutes at 375 degrees, then turn the heat down to 350 degrees and bake for another 30 minutes. Let cool for at least 5 minutes before slicing. Serve hot, warm or at room temperature.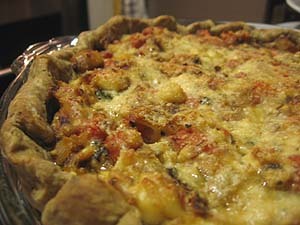 Nut Crust
6 tbsp cold butter
1 cup AP flour
1/4 cup whole wheat flour
1/2 cup finely minced nuts (I used walnuts)
1/4 tsp salt
1 tbsp chopped chives
3-6 tbsp cold water
Use a pastry cutter or a food processor to cut the butter into the flours, salt, nuts and chives. The mixture should get to the point where it resembles course cornmeal.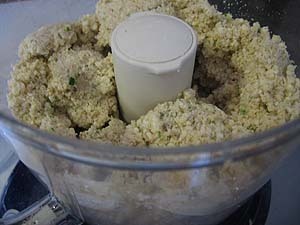 Add the liquid a little at the time until the dough comes together. I used all 6 tablespoons, but you never know.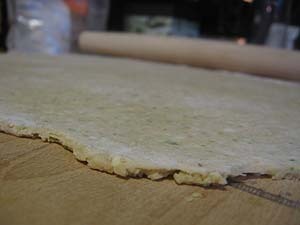 Wrap the dough in plastic wrap for storage in the fridge. After about an hour or so, roll it out using flour and place into a 9-10 inch pie plate, forming a crust with an edge.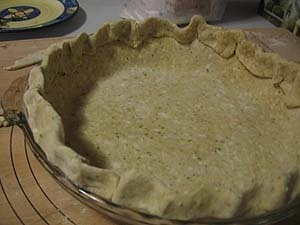 I chose to par-bake my crust — 20 minutes at 375. I used some parchment and dry beans to weight the crust down. After 20 minutes, remove the crust, take out the weights (beans, beads, whatever) and fill with the carrot mixture and proceed.
Thanks again to Sara for a great (and healthy!) Weekend Cookbook Challenge.