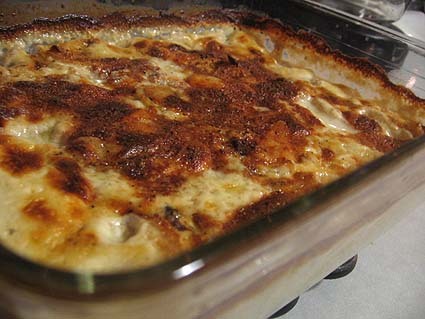 Here's a holiday side dish that we had on Christmas. It has all the things that make a holiday meal great — fatty, delicious, forbidden pork products, heavy cream and cheese. But, you know, it'll still work after the holidays. It's just a bit harder to justify…maybe if you only have a small taste. Yeah.
Parsnip and Hazlenut Gratin with Pancetta
Adapted from a recipe in Bon Appétit
2 oz pancetta, chopped
2 pounds parsnips, peeled, trimmed, thinly sliced lengthwise
1/2 cup hazelnuts, chopped, toasted, divided
2 cups whipping cream
1 tsp dried, rubbed sage
1 cup low-salt chicken broth
1 1/2 tsp kosher salt
1 tsp ground black pepper
1/4 cup parmesan cheese + 2 more tbsp
2 tbsp minced fresh sage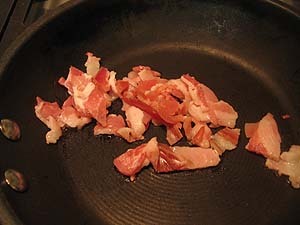 Preheat oven to 400 degrees F. Sauté the pancetta in a heavy, medium skillet over medium-high heat until golden brown, about 6 minutes. Using slotted spoon, transfer to large bowl.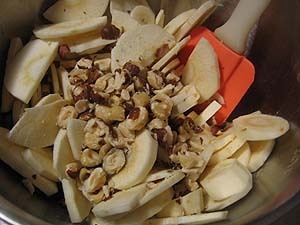 Stir in parsnips and 1/4 cup hazelnuts into the bowl with the pancetta. Then, arrange mixture in even layer in 2-quart baking dish. In a small pot, combine the cream, broth, salt, dried sage and pepper and bring to a simmer over medium heat. Stir in the 1/4 cup of parmesan and then pour over parsnip mixture in the baking dish. Sprinkle with the remaining parmesan cheese and a few grinds more of black pepper.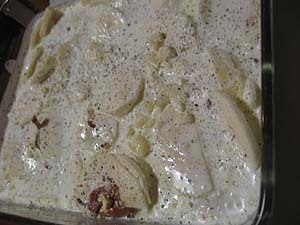 Bake gratin 30 minutes. Press down on parsnips with spatula to moisten evenly. Continue baking until parsnips are tender and liquid bubbles thickly, about 35 minutes longer. Let stand 10 minutes. Sprinkle with remaining hazelnuts and sage.
This was seriously good. You must make it. That is all.
***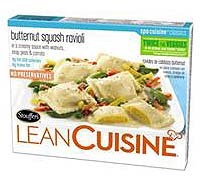 Public Service Announcement — Because I am Looking Out for You
On a completely, unrelated note, I bought a frozen Lean Cuisine the other day thinking I could bring it for lunch one day when I was desperate and had nothing else. I try to bring leftovers for lunch but occasionally, we have none or I am too lazy to get everything together.
But, today, I got home from running some errands and I was starving. Reluctantly, I grabbed the frozen ravioli bistro fare :: snort:: out of the freezer and popped it on the microwave. Okay, hmmm, I have to admit it, I was pleasantly surprised — it was actually edible.
Lots of good, non-soggy vegetables and the ravioli were well-flavored and I could even taste the walnuts in the sauce. Sure, homemade ravioli will always be better, and yes, most frozen meals generally kind of suck as a rule, but, if you need a cache of lean cuisine for an emergency…well, get this kind. It actually tastes good. Especially since Fred Meyer and other places seem to put the low fat frozen stuff on sale after the holidays. Oh, I have been burned by that deal before (damn you crappy chicken in gross basil sauce that I brought to work for lunch about two years ago*) but, Lean Cuisine butternut squash ravioli, you are okay in my book.
* I hold a grudge.