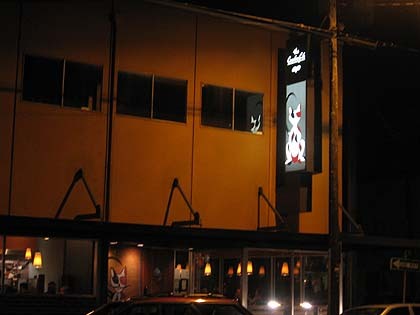 Country Cat Dinnerhouse
7937 SE Stark
Portland, OR 97215
Finally, jwa and I made it to the Country Cat on Sunday night. I know it's been open for quite a while, but this is actually ahead of schedule for us. Typically, we seem to not get to a new place until it has been open for a year or two. (Okay, no one burst my bubble and tell me CC has been open for like the past three years..)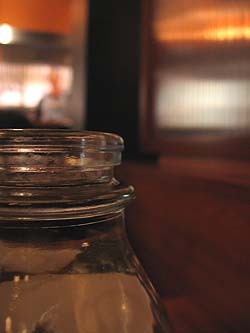 Going in, I kind of knew I would be having the skillet fried chicken. Specifically, the Cast Iron Skillet Fried Chicken, with a sweet cream biscuit & bacon braised collard greens. jwa went back and forth and finally decided on the Heritage Burger on a French onion bun with cheddar cheese, garlic mayonnaise & onion rings.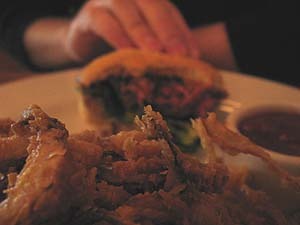 Mmmm! Okay, but I'm getting ahead of myself. We got there right around 5:15 and got a nice big booth by the open kitchen. jwa saw the pretzels and mustard written by the bar and ordered that first thing while we were still looking at the menu — he has a fondness for soft pretzels and mustard. I thought they were very good, even though I gave jwa about half of my pretzel. Even then, I knew I was saving myself for the chicken.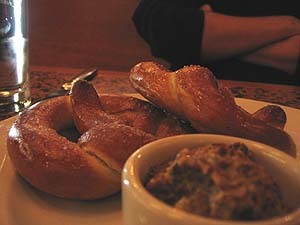 We each got salads (huge!) and then settled in for the entrees — the chicken and jwa's burger. We traded bites and enjoyed our meal quite a bit. We will definitely be back. The chicken was boneless and crispy and completely non-greasy. The greens had a smokey and sweet taste to them and I fell in love with my biscuit.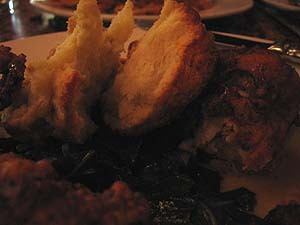 Next, I want to try the Grilled Leg of Lamb on scalloped potatoes with parmesan bread crumbs. Or maybe the Red Wine Braised Strawberry Mountain Beef on sour cream mashed potatoes with chanterelles, & chestnuts. Huh, the Cornmeal Fried Dover Sole on a chopped vegetable salad with a chunky olive & caper sauce sounds good too. This may be difficult.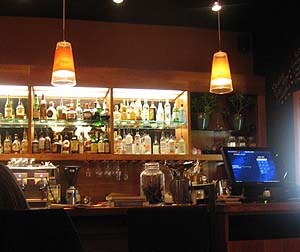 Oh, and I love the t-shirts. I want one. We ended the meal with some chocolate and coconut sorbet. I ate the macaroon while jwa was away from the table washing his hands. Too bad for him. Ma ha ha ha ha ha ha!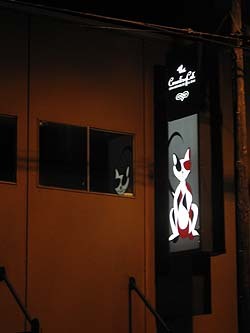 Afterwards, we went to Home Depot and bought lightbulbs and cleaning supplies. It was a good night.
***
Battle of the Toppers
We have two wedding cake toppers and I can't decide which couple I like better. I think we will use them both at the wedding — one set as toppers and the other as something else you might need a small bride and groom for. Sure, I know we could do flowers on top of the cake but I want to do the little bride and groom cake toppers. I don't know why — I just like them. Maybe it's because everyone does flowers on their cakes now, maybe it's because I just want little plastic people standing on our cake.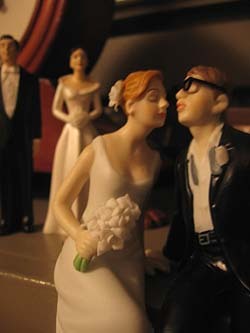 The first set is a bit big and they sit on the edge of a tier on the cake. They are a bit awkward and dorky looking. Perfect for us! You'll notice that I have also outfitted the groom with some big glasses for that touch of realism. My only concern here is that they might be a bit big for our size cake and they might fall off and plop onto the floor and end up covered in frosting and floor fuzz. Certainly not the end of the world but something to think about.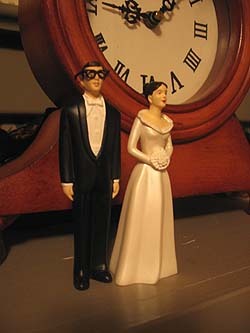 Set number two is smaller and stands on the top of the cake. They are a bit more sophisticated in appearance. They are designed after a retro set and produced by Martha Stewart but they are new and made of resin (instead of actually vintage and made of lead paint and asbestos). The glasses look a little big here but I think that makes it just the right amount of awesome. Currently, both sets are on our fireplace mantle looking spiffy and prepared to duke it out. We'll see which couple reigns supreme…