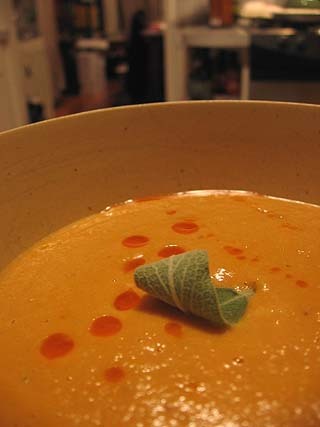 This is an easy oven-stovetop-blender soup. It might sound complicated because of all the appliances involved but it is S-I-M-P-L-E. Roast your potatoes and garlic. Heat up your broth. throw it all in the broth pot. Puree *whir* *whir* in your blender. Done.
I think without the orange juice it might be a bit too heavy and rich, but the citrus really evens it out nicely. I dare say this might even make a tasty Thanksgiving side. But, please, test run it first and make sure you like it because that's a lot of pressure, man.
Also, there is a lot of garlic in this soup, if you are a normal person, you might want to dial that down a bit.
Roasted Sweet Potato and Hazelnut Soup
This will feed 2 — double, triple or quadruple to meet your needs
1 large sweet potato, peeled and diced into about 8 chunks
3 large cloves garlic
salt and pepper
2 tbsp olive oil
1/4 cup toasted hazelnuts
1/4 cup fresh orange juice (about 1/2 an orange)
1/2 cup chicken or vegetable broth
1/4 cup marscapone cheese
1 – 2 sage leaves
1 sprig rosemary
Optional: I'm thinking that if you want to get all fancy and special occasion-y, you could also add some cream or half and half at the end — you know, just because it's the holidays
Possible garnish: A few drops of chili oil looks nice — as does a rogue sage leaf…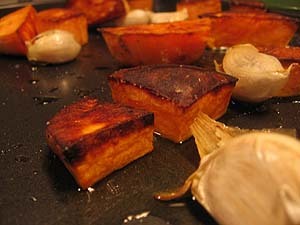 Preheat your oven to 425 degrees. Toss the sweet potato chunks and the unwrapped garlic cloves with the oil and spread out on a baking sheet. Salt and pepper and bake until nicely caramelized — about 20 – 30 minutes.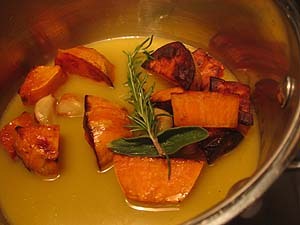 In a pot, add the chicken stock, cooked potatoes, toasted hazelnuts*, sage and rosemary. Bring to a boil and squeeze out the garlic paste into the pot. Let simmer for about 5 minutes just to get all the flavors melding and enjoying each other's company.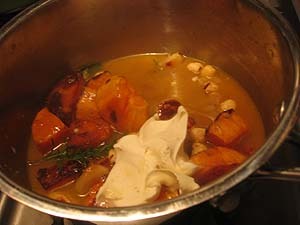 Turn off the heat and remove the rosemary sprig (a lot of the rosemary oils already came off the rosemary into the broth). Add the marscapone cheese and orange juice and head to your blender.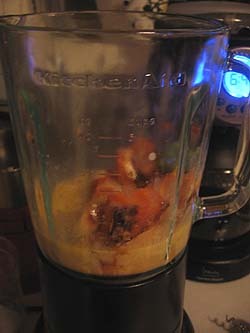 Blend until very smooth. Add more broth and/or OJ to get the soup to your desired consistency. Taste and salt/pepper as needed.
Like a lot of soups, this is even better the next day. So, maybe make it the day before you want to eat it. T'is very tasty!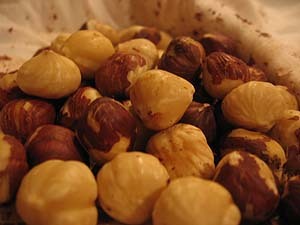 * I toasted my hazelnuts after the potatoes came out of the oven. I turned the heat down to about 350 and put them in there for about 5 minutes. Then, wrapped them in a towel and rubbed them together to try to get as much of the brown papery skin off that I could.
New Subject Starts Now
We are having a Thanksgiving potluck at work next week and I am trying to figure out what to make and bring — some kind of soup like this in a crockpot? The most awesomest cheeseball in the whole world? Martha Stewart cranberry-orange relish? Gingerbread-espresso-pecan brownies? Hmmmm….