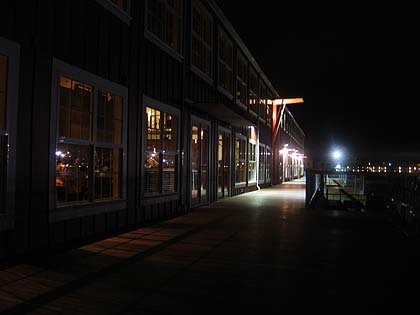 Bridgewater Bistro
20 Basin Street
Astoria, Oregon
503-325-6777
So, jwa and I headed out to Astoria this weekend (such a pretty drive along highway 30 with the leaves and the sun and all) to have dinner at Bridgewater Bistro. It's the new restaurant by Ann and Tony Kischner of the Shoalwater Restaurant in Seaview, WA. Not to put any pressure on the meal or anything, but they are catering our wedding at the Hotel Elliott in May and we wanted to go there and eat as many things on our menu as we could. Oh and we did.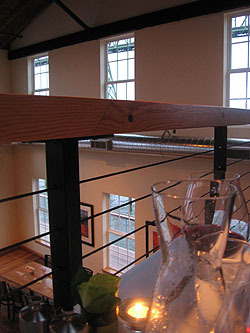 First off, the space at Bridgewater is Beautiful. It's a big, red barn-like building right on the waterfront. There's a downstairs seating room, an upstairs mezzanine, tons of windows and multiple fireplaces. So warm and inviting. And one thing that I really like is that the space is not over-crowded with too many tables crammed into the space. There's a nice amount of space between each table.
To start the meal we had a little complimentary glass of crisp fries and ketchup. I would have taken a pictures of these but we ate them too quickly.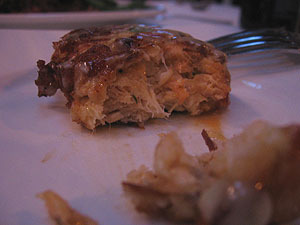 One of the appetizers on our menu is halibut cakes with green apple and avocado salsa. While this was not on the current bridgewater menu, they did have fish cakes (halibut, salmon & cod) with a mango-ginger sauce. We tried the two-cake version of this as an appetizer to our meal. Really good — lots of fish. As the bride, I will be demanding extra halibut cakes and green salsa at the wedding. So you know, you've been warned. I can come by and steal your halibut cake. Back off — I'm the bride.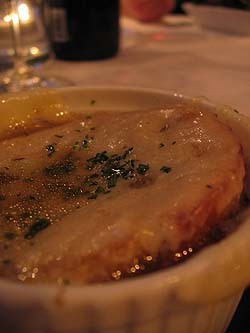 Next, jwa did the salad with salalberry vinaigrette and I did the French mushroom soup. Excellent all around. I loved the salad and the soup was really mushroom-y and good. We were trying to decide between a tomato soup and a mushroom soup as the second course and I think we'll be going with the mushroom. And the salad (the fourth course) will be a great transition between the entree and the wedding cake.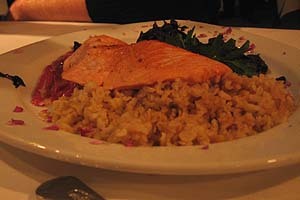 Now, for our main meals — jwa had the salmon (served here with a cranberry-mustard sauce, a side of rice pilaf and sautéed swiss chard) and I had the Moroccan chicken. The salmon on our menu will be grilled (we love grill marks) and finished in the oven with a dill sauce and a side asparagus. That said, the salmon at this meal was very good. And jwa especially loved the rice.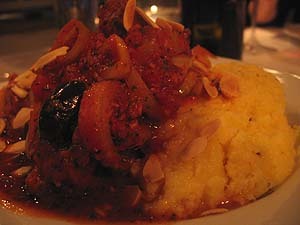 My Moroccan chicken was the surprise hit of the meal. Not that I didn't think it wouldn't be good, just that I had already decided that I would get the salmon at the wedding. And we were kind of going back and forth between the Moroccan chicken and coq au vin. Not anymore. Moroccan chicken all the way, baby. So tasty. If I get this at the wedding, I will have to fashion some sort of bridal bib as the sauce is very red and my dress is very ivory and that sort of set up pretty much has disaster written all over it.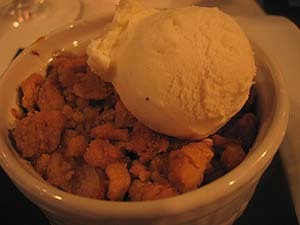 Desserts were a pear-fig-honey cobbler with vanilla ice cream and a bourbon-chocolate-pecan tart with vanilla ice cream. They were both delicious.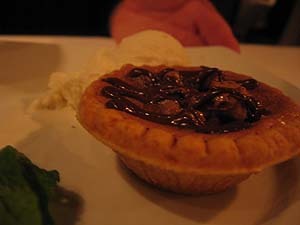 Price-wise jwa and I were trying to guess (before the check came) if this meal would be over or under what we just spent at Iorio for the Harvest Dinner we attended. And…Bridgewater was about $20 cheaper. We were both kind of surprised as we got a soup, a salad, three entrees (the fish cakes were an entree, not an appetizer) a bottle of wine and two desserts at Bridgewater.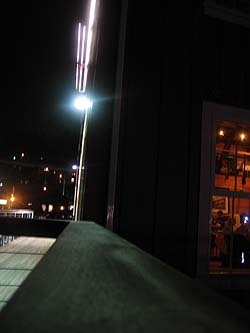 Also, while we were at the restaurant, they were having a wedding reception in the upstairs private dining room! That makes me super happy too — that they can handle a full house of regular diners and also be catering a wedding at the same time. Awesome.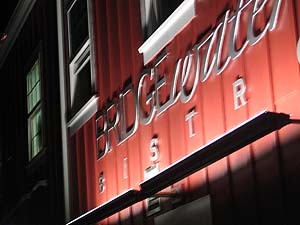 I'm just so happy we chose to go with them for our wedding catering. On top of the food, they're just so nice to work with while planning a reception meal culinary extranvganza — friendly, calm, knowledgeable and skilled with northwest ingredients. The whole wedding planning can all be so stressful it's a huge relief to have faith that the meal will be delicious and go smoothly. Hooray for Bridgewater Bistro!