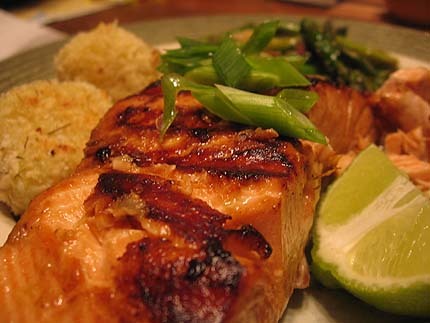 I have been wanting to make this recipe for the longest time — Ina Garten's Asian Marinated Salmon. I made it as written, except I added 1 tablespoon of honey to the marinade. And okay, I used a grill pan.
Fine, I also only used 1 pound of salmon instead of a whole side of salmon. But c'mon, that would have been super-duper expensive and a lot of fish for two people.
You might notice that there aren't any prep pictures here. Well…jwa brought the camera to work and I didn't have it to take pictures while making dinner. So sad.
Asian Marinated Salmon
1 lb wild salmon (the marinade below will accommodate up to 3 pounds)
For the marinade:
2 tbsp Dijon mustard
3 tbsp soy sauce
6 tbsp olive oil
1 tbsp honey
1/2 tsp minced garlic
Garnishes: chopped green onions and lemon or lime wedges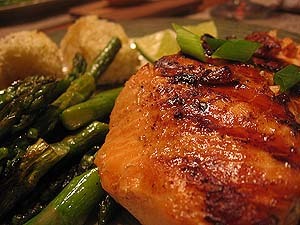 Whisk together the mustard, soy sauce, olive oil, honey and garlic in a small bowl. Drizzle half of the marinade onto the salmon and allow it to sit for 10 minutes.
Heat up a grill pan and brush lightly with oil. Alternately, you can light charcoal briquettes in a grill and brush the grilling rack with oil to keep the salmon from sticking.
Place the salmon skin side down on the hot grill surface; discard the marinade the fish was sitting in. Grill for 4 to 5 minutes, depending on the thickness of the fish. Turn carefully with a wide spatula and grill for another 4 to 5 minutes. The salmon will be slightly raw in the center, but don't worry; it will keep cooking as it sits.
Transfer the fish to a flat plate, skin side down, and spoon the reserved marinade on top. Allow the fish to rest for 10 minutes. Remove the skin and serve with the extra unused marinade.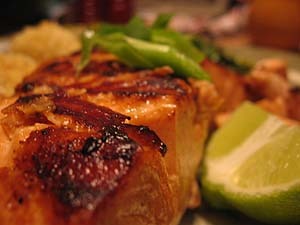 So, I was watching TV a couple of weekends ago and saw some of this show on the Food Network that I don't like that much — Simply Delicioso. Simply Annnoying-o, imho. But she made these potato balls with cheese in the middle which sort of intrigued me. So I built on that concept and created — wasabi potato balls! Woo! What? Cream cheese isn't uh, Asianesque?
Yeah, I know. I know. But I will not let authenticity stand in the way of my love of all things cheese. Besides, Dijon mustard isn't an authentic pan-Asian ingredient either. See, the meal all fits together perfectly!
Wasabi Potato Balls
2 medium russet potatoes, peeled
1 tbsp salt
2 cloves garlic (or 1 huge clove)
1 tbsp prepared wasabi
1 oz cream cheese
1/2 cup panko bread crumbs
Optional: 1/2 tsp Asian seasoning (I have this Oxo grind it Asian blend with lemongrass and ginger and other stuff that I couldn't resist adding to the breadcrumbs)
Salt and pepper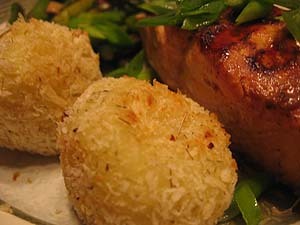 Preheat oven to 375 degrees. Put potatoes in a large pot and fill with water until potatoes are just covered. Add the 1 tablespoon salt. Bring to a boil and cook until potatoes are very soft, about 30 minutes. Test with a fork after 20.
Press potatoes through a potato ricer and blend until mashed. Add the garlic, wasabi and salt and pepper to taste. Get the potatoes to where you like them seasoning-wise. Then, let them sit for a few minutes until just cool enough to handle.
Slice up 8 small little cubes of your cream cheese. Add the extra seasoning to the bread crumbs if you are using it and set aside in a small bowl. Prepare a baking sheet with foil wrap and coat with vegetable spray or rub with oil.
Okay. While mashed potatoes are still warm, form them into 2-inch balls. You should have eight. Make an indentation with you finger and insert 1 cheese cube in the center of a ball, then roll it into bread crumbs and place on cookie sheet. Repeat with the 7 remaining balls, rinsing your hands as needed so the potatoes form evenly and don't stick to the bread crumbs in your hand.
Give the tops a spray with canola or olive oil and bake for 20 to 25 minutes. Halfway through the baking time, flip them over. Serve immediately. They are mighty tasty.