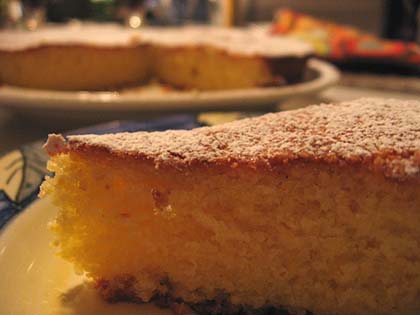 I originally envisioned this post for Weekend Cookbook Challenge 17, but I didn't get it up in time. Most of this week (in the evening) has been devoted to working on the wedding website with jwa. Happily, save the date cards went out last Thursday. Well, at least the main bulk of them — there's a few still lingering on the dining room table while we locate addresses.. Hopefully, those will make it out this week.
But, let's move on. This recipe is from Everyday Italian and it turned out pretty well. The texture is a little different due to the cornmeal but once you get used to that, it's really quite good. In addition to the almond paste, I also added about a teaspoon of almond extract, based on the recommendations from reviewers on the site.
Almond Cake
1/2 cup fine yellow cornmeal
1/2 cup cake flour
1 tsp baking powder
1 stick (4 ounces) unsalted butter, softened
1/4 cup almond paste, cut into half-inch pieces
1 1/4 cups confectioners' sugar, plus more for dusting
1/2 tsp pure vanilla extract
1 tsp almond extract
2 eggs
4 egg yolks
1/4 cup sour cream
Preheat oven to 350 degrees F. Grease an 8-inch round cake pan with vegetable spray or you could also butter and flour the cake pan. Your choice. After you decide that, in a medium bowl, whisk together the cornmeal, cake flour and baking powder and set aside.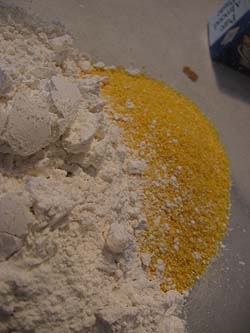 Then, using a stand mixer with a paddle attachment, beat the butter and almond paste on high speed until smooth, about 5 minutes. Reduce speed to low and slowly add confectioners' sugar. Mix until thoroughly combined and light and fluffy.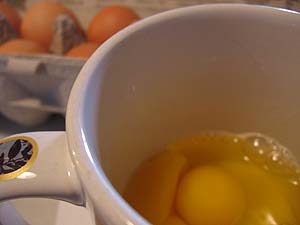 Raise speed to high and add the vanilla and almond extracts, whole eggs and egg yolks, 1 at a time. Mix until well combined. Reduce speed to medium and add the sour cream and dry ingredients and mix until just incorporated.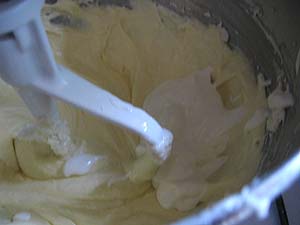 Pour the batter into the prepared cake pan and smooth the surface with a spatula.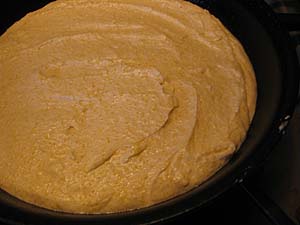 Bake in the lower third of the oven for 35 minutes, or until the cake is golden and pulls away from the sides of the pan.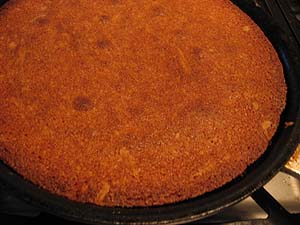 Transfer pan to a wire rack and let cool. Remove from pan and dust with confectioners' sugar.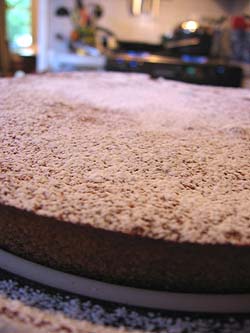 Let cool a few minutes and dive in!