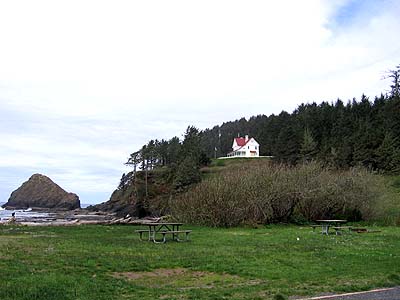 For Easter this year, instead of making a brunch at home, jwa and I headed off to Heceta Head Lighthouse, on the coast between Yachats and Florence. Okay, we actually headed there Saturday as it's a 3+ hour drive and that's pretty far to drive all in one day — even for a seven-course brunch.
I'm not saying we wouldn't do that, just that it would be far.
We stayed at the Ocean Cove Inn in Yachats that first night (Perpetua Room, no two night minimum, good price and it was sufficiently cute) and went to the Drift Inn for a huuuuge dinner of nachos, fish, key lime pie and beer. The nachos, beer and key lime pie were all awesome, the fish, sadly, was not. *sigh* Lying people on tripadvisor.com! You bastards! It did, however, remind both jwa and I of Flagstaff. Must have been the hippie waitress. Not to be confused with the more-prevalent-in-Portland, hip, indie waitress.
Anyway, the real reason for this post — The Lighthouse and the Never-Ending Brunch of Easter Awesomeness.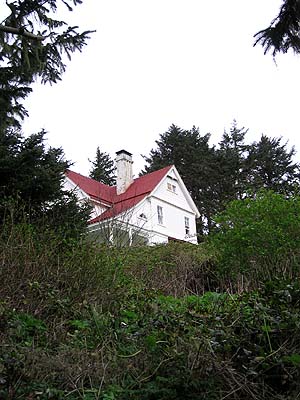 Coming up the trail from the beach…the house.
So, so good. Two hours of good. Geez. Where to start? Fruit. Salmon. Blueberry frappe. Strata-frittata thing. Chicken apple sausage. Apple strudel. Cheese and fruit. A bathroom full of ladybugs.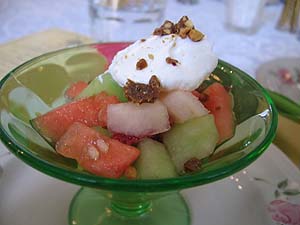 Oregon Pinot Gris Cocktail
Fresh strawberries, honeydew, Asian pear and watermelon infused with an Oregon Pinot Gris syrup, topped with marscapone cheese and candied roasted hazelnuts. This was served with some Heceta Bright Bread– zucchinis, cranberries, apricots and candied ginger baked together in a firm yet cheerfully crumbly treat.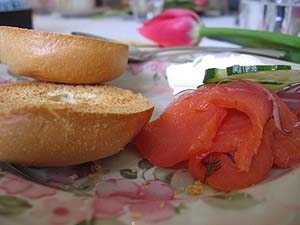 Oregon Lox & Bagels
with shaved onion. English cucumber, daikon and baby dill.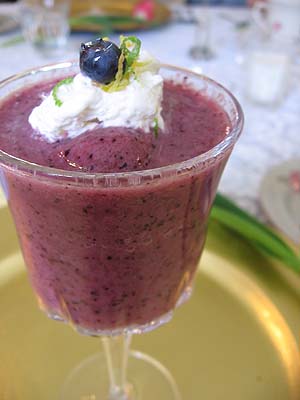 Oregon Blueberry Citrus and White Chocolate Frappe — A very nice palate cleanser after the fish.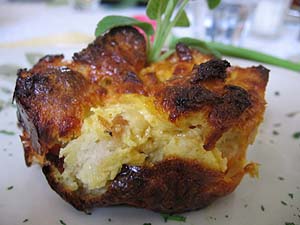 Heceta Head Strata
Garnet yams, caramelized onion, fresh garden sage and Juniper Grove Thor smoked chevre. Served with Taylor's Chicken Apple & Cherry sausage.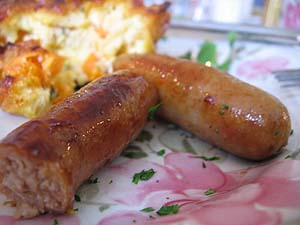 The sausages were so good, I had to take a picture of them too!
Grandma Marie's Apple Strudel
Served warm with fresh whipped cream. Unfortunately, I could not finish my strudel. It was very good, though. jwa finished his without hesitation.
And last, we have: Melon & Apple Jazz
Lavender Farmers cheese from Juniper Grove Farm. Yeah. I made a little room for the cheese!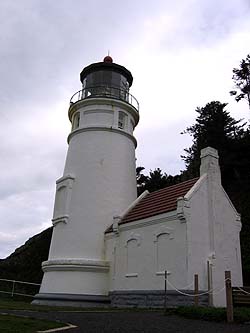 After brunch, we hiked up the trail to the lighthouse and took a tour. It's a very cute and squat lighthouse, with less than 108 stairs.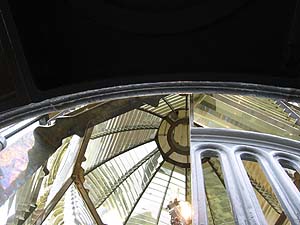 Looking up into the lighthouse light.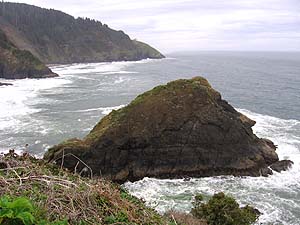 Looking at the ocean from the lighthouse bluff.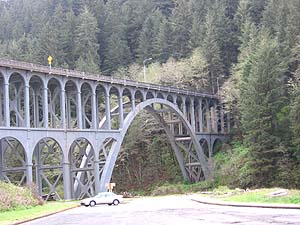 Highway 101 bridge as seen from the beach.
After brunch and the lighthouse exploring, we made our way up the coast and back home, choosing to cut over at Tillamook. It was rainy most of the way back but still a very pleasant drive. Oh and the lighthouse is one of the places we are considering for Wedding 08. The food would be amazing, that's for sure…
Strangely, the bathroom upstairs had about 10 ladybugs on the ceiling. Just hanging out. Wandering about. Being ladybugs and such. Not at all icky, though. I like ladybugs. They're cute!